1 Oz Canadian Maple Leaf Gold Coin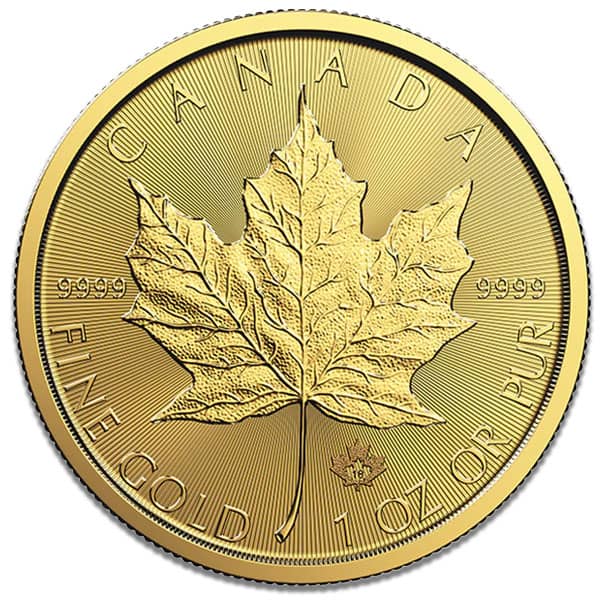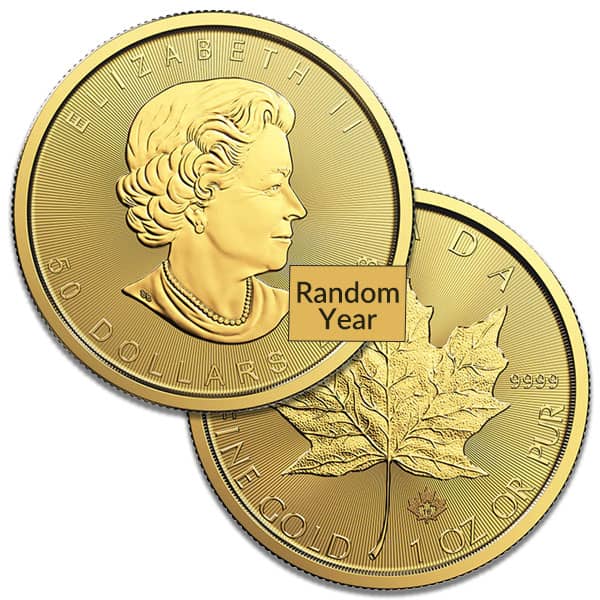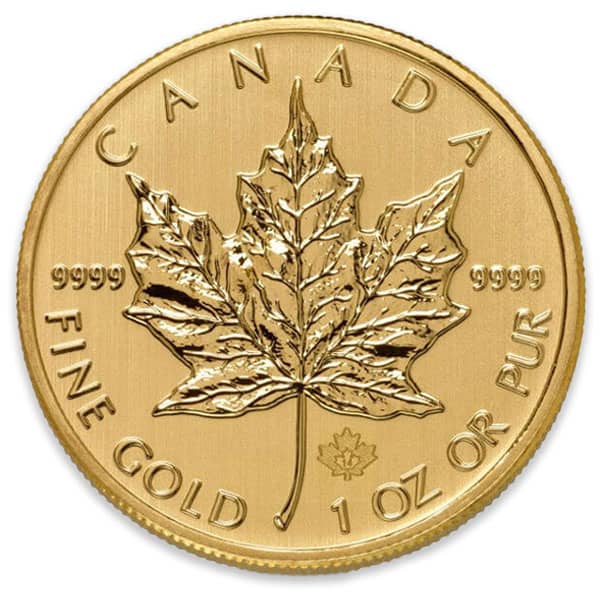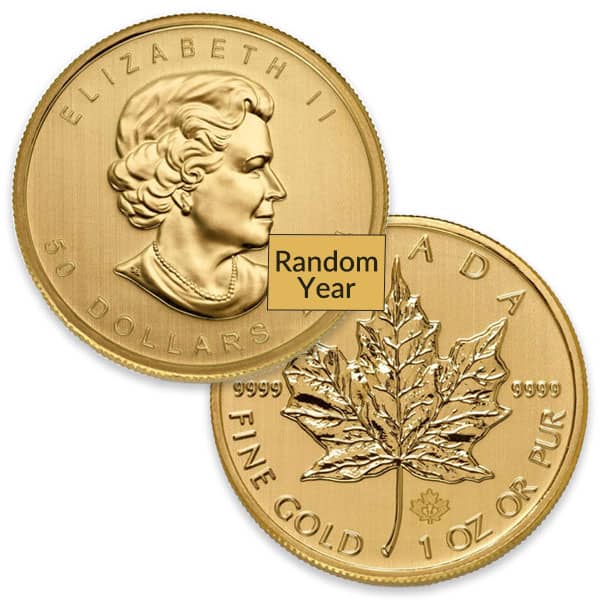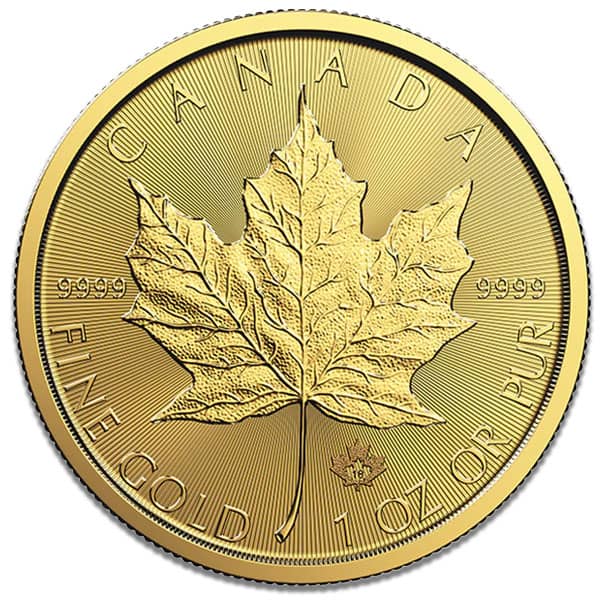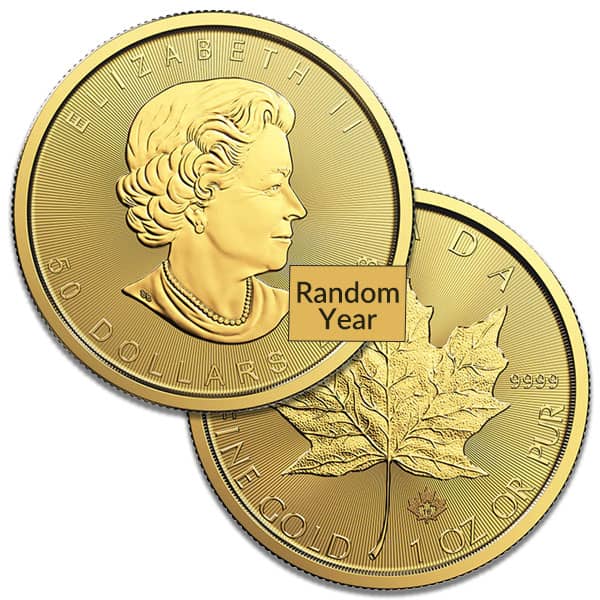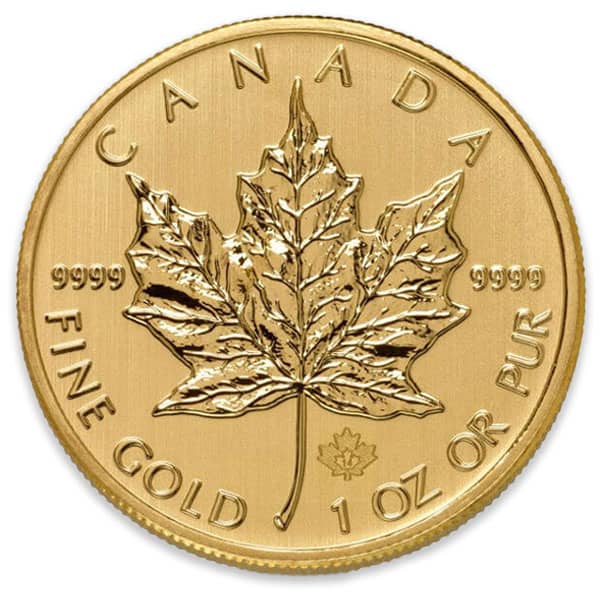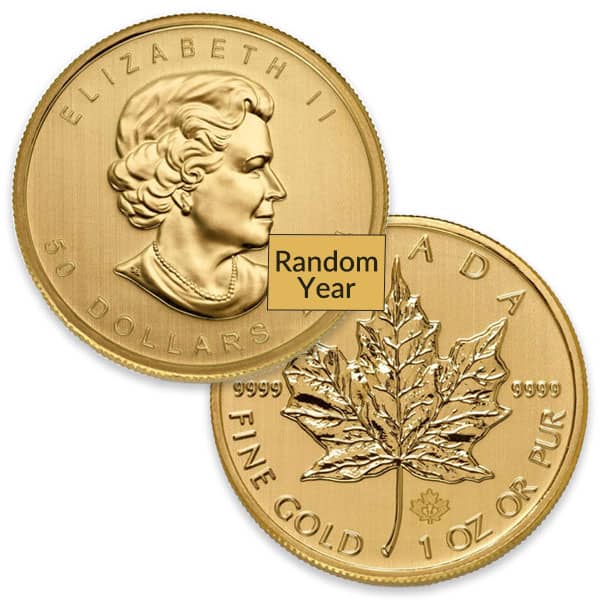 $1,970.75
(as low as $87.00 over spot)
Quantity
Premium/Oz
Total Price Each
1 - 9
$101.00
$1,984.75
10 - 19
$94.00
$1,977.75
20 - 50
$87.00
$1,970.75
51+
Please Call For Our Best Pricing! 1-800-800-1865
Full Tube Qty = 10



Free Shipping
On All $199+ Orders
Sell to Us Price: $1,873.75 each
Buy 1 Oz Gold Maple Leaf Coins
The famous 1 Oz Canadian Gold Maple Leaf is established as one of the finest gold bullion coins in the world. After four decades of producing great quality coins which are trusted by investors worldwide, the Royal Canadian Mint has a reputation to bank on.
Today, Gold Maples contain 99.99% ultra-pure gold, and coins minted today carry more advanced security features than most other gold coins.
The 1 oz Gold Maple Leaf is, by far, Canada's most popular gold coin and the most widely traded around the world. It is hugely popular in the United States.
History of the 1 oz Gold Maple Leaf
The Canadian Gold Maple Leaf was first issued in 1979. The original run was made up of one-ounce bullion coins of 99.9% purity gold. The coins carried the iconic maple leaf on the reverse and the portrait of a 39-year-old Queen Elizabeth II on the obverse.
The Royal Canadian Mint (RCM) introduced additional denominations and sizes in subsequent years, including coins as small as 1/20 ounce. RCM raised the purity of gold in the Maple Leaf to 99.99% in November of 1982.
Many special editions of the coin have been issued over the years, including 40th-anniversary coins and some with .99999 ("five nines") purity. In May 2007, the Royal Canadian Mint issued a set of six 100-kilogram coins. They were the largest gold coins ever issued before the Perth Mint issued a single Gold Kangaroo weighing one ton in 2011.
Design of the Coin
The design of the 1 Oz Canadian Gold Maple Leaf has remained largely uniform in design throughout its history. Particularly when compared to the Chinese Gold Panda or the Australian Gold Kangaroo which have updated images each year
The obverse of the one ounce coin (and all other denominations) features a portrait of Queen Elizabeth II. The inscription "ELIZABETH II" is found above the portrait and the face value and year of mintage below.
1979 to 1989 Gold Maple Leafs have the abovementioned profile of a 39-year-old Queen on the obverse. The RCM replaced it with that of a 64-year-old Queen Elizabeth II in 1990 and a 79-year-old Queen Elizabeth II in 2005.
The reverse side of the coin carries the maple leaf design for which the coin is named. The top inscription reads "CANADA" and the bottom inscription "FINE GOLD 1OZ OR PUR." The purity mark spans both sides of the maple leaf.
Specifications and Sizes
The standard one ounce Canadian Gold Maple Leaf is currently made of 99.99% pure gold and is among the purest bullion coins in the world. It has a face value of CAD$50.
The coin weighs 31.1035 grams, or 1.00 troy ounce, and it measures 1.181 inches (30 millimeters) across. The edge of the coin is serrated or "reeded".
Beginning in 2013, each coin has a laser-engraved maple leaf on the reverse. The year of issuance in the middle can only be seen under magnification. Two years later, the RCM added radial background lines to both the reverse and obverse sides of the coin. These are security features which make the coin difficult to counterfeit.
The one ounce Gold Maple Leaf has been in production since 1979. The production 1/2, ¼ and 1/10 ounce coins began in 1982. The lineup was expanded once again in 1993 with the introduction of the 1/20 ounce coin.
In 1994, the RCM added the 1/15 ounce coin only to drop it from the 1995 lineup. Finally, in 2014, the tiny 1 gram coin was added.
Gold Maple Leaf Special Editions
Over the years, the RCM has issued numerous special editions of its most famous coin. Many of them are made with the standard 99.99% gold, though some editions were struck with 99.999% purity gold.
In 2004, the Bimetallic Maple Leaf was issued. The six-coin set of 1/25 ounce coins are half 99.99% silver and 99.99% gold. Every coin had both 1979 and 2004 year designations. Only 839 sets were made.
The 10th anniversary Maple Leaf came out in 1989. In 1997, the RCM marked its 125th anniversary with a special Gold Maple Leaf. The 20th and 25th anniversary special editions were issued in 1999 and 2004.
Colorized versions of the coin were issued in 1999 and 2010, while the Hologram coins came out in 1991, 2001, and 2009 and the first 99.999% Gold Maple Leaf in 2005. The RCM has released many additional 99.999% special editions since.
The Big Maple Leaf
The Big Maple Leaf coins were introduced in 2007, six of them in total. At 100 kilograms, or 3,215 troy ounces, they were the largest gold bullion coins ever minted at the time.
The 99.999% gold coins have a portrait of the Queen on the obverse and a maple on the reverse. Each coin measures 530 millimeters in diameter and 30 millimeters (1.2 inches) in thickness.
The estimated value of each coin was CAD$1,000,000 at the time. The value may have gone as high as CAD$4,000,000 based on demand from collectors seeking to add such a rare and striking coin to their holding.
One of the six coins was stolen from Germany's Bode Museum on March 27, 2017. The trial began in January 2019 and one of the four suspects was a Bode Museum employee. The coin has not been recovered. Berlin police believe it may have been damaged or melted down.
Recent RCM Mintage Figures
As Canada's most popular bullion and proof coin, the Gold Maple Leaf is produced in very large quantities and widely available throughout the world. It accounts for the vast majority of all RCM gold bullion coin sales.
Since 2008, the sales of RCM gold bullion averaged around one million ounces per year with dips in 2014 and 2015.
Investing in 1 Oz Gold Maple Leafs
The Canadian Gold Maple Leaf is a great option for investors based on its recognizability, low cost and high liquidity. The standard bullion coins offer premiums below that of the American Eagle.
Some of the special issues and editions can be appealing both as a bullion investment and as a speculation as to their value as collectibles.
Also, keep in mind that the Gold Maple Leaf is made by one of the best regarded mints in the world – the Royal Canadian Mint, which produces over a billion coins every year for Canada and several other countries.
Should You Buy 1 Oz Gold Maple Leafs
Gold has made great sense as an investment and as a safe haven asset for centuries. There is no better way to buy gold than to choose the Maple Leaf. The coins are familiar everywhere, trusted and easy to buy or sell. Buyers will find the price lower than the US coin alternative - the American Eagle. Maple Leafs are a staple in the portfolio of bullion investors everywhere, so buy with confidence.
Product Specifications
| | |
| --- | --- |
| Mint Facility: | Royal Canadian Mint |
| Denomination: | 1 oz. - $50.00 CAD |
| Date: | 1979 to Present |
| Quality / Type: | Bullion, Uncirculated |
| Purity: | 99.99% gold (24 karat) |
| Gold Weight: | 1 oz. - 1 troy ounce (31.103 grams) |
| Diameter: | 1 oz. - 1.181 inches (30.0 mm) |
| Edge: | Reeded |
| Thickness: | 1 oz. - 2.65 mm |
| Obverse Design: | Queen Elizabeth II |
| Reverse Design: | Maple Leaf |
Sell to Us
We are buying this item back daily, and we pay you promptly!
Our current buy pricing is $1,873.75 each and we will buy up to 40 ounces at this price. Simply call us on any weekday to lock pricing at 1-800-800-1865.
Learn more about the process for selling to us here.
Shipping Info
We take great pride in the way your order is packaged and delivered.
You can expect:
Prompt Shipping – We ship orders shortly after your payment has been cleared – generally within 2 business days.
Fully Insured – We fully insure all shipments with Lloyd's of London.
Privacy – Your package will have no external markings that provide any clue as to the contents. Because we insure packages with Lloyd's of London, we do not declare a value or insure with the carrier.
Accountability for Package Contents – Your order will be packed under video surveillance, weighed and double-checked prior to shipping to ensure you receive exactly what you ordered.
Professional Packaging – Your order will be packaged securely and professionally.
Tracking – We will provide you with the carrier's tracking number for your shipment so you can monitor its progress and plan for delivery.
Signature Confirmation – Delivery carriers are instructed to request a signature upon delivery.
Cost to Ship & Insure
(absent periodic special offers for free or discounted shipping)
| Insured Value | Cost |
| --- | --- |
| Up to $198.99 | $7.97 |
| Insured Value | Cost |
| --- | --- |
| $199.00 + | FREE |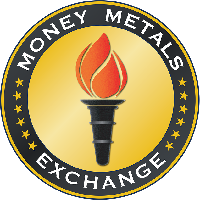 Sign in to Your Account
Please Sign In or Register to leave a review
5 stars is too low a number. 10 stars would be more appropriate.

Investopedia got it right. The quality of the product, packaging and service is unsurpassed in the precious metal business. Thank you for being there for us.

My second purchase because of the price. Thank you.

Michael Y.

November 24th, 2022

Great Coin Canadian Maple Leaf 1 oz Gold Coin

Very nice coin to add to my collection. My main source of buying metals will always be Money Metal Coins.

Catherine T.

October 20th, 2022

Excellent quality and service

My coins arrived safely, In good time, and well packaged. I bought again today. Thank you for your excellent quality and service.

Jeffrey B.

March 26th, 2022

I am a repeat customer of this coin and as before, it arrived on time and in perfect condition. This coin is a great deal. and it is a great looking coin.