10 Utah Goldback - Justitia, 1/100th Troy Oz 24K Gold-Backed Bill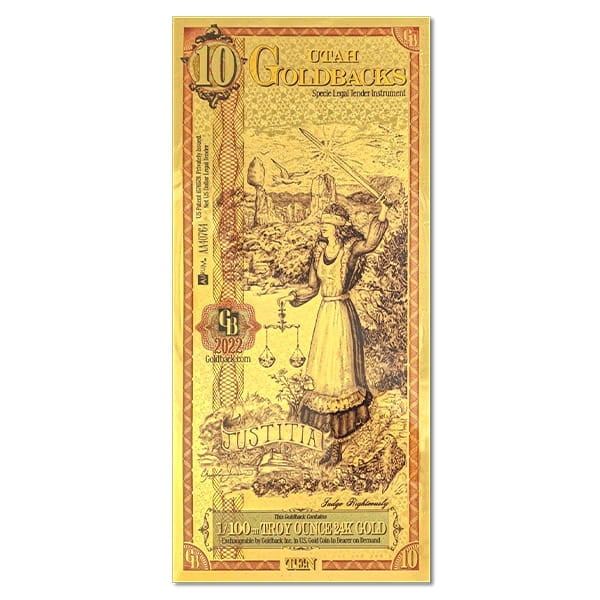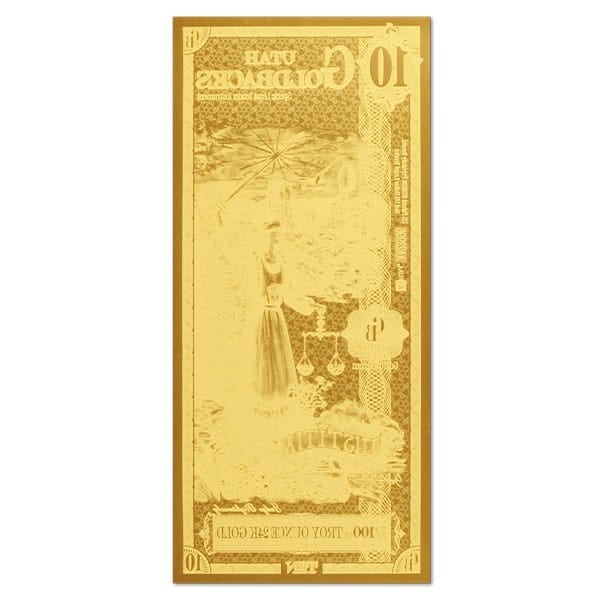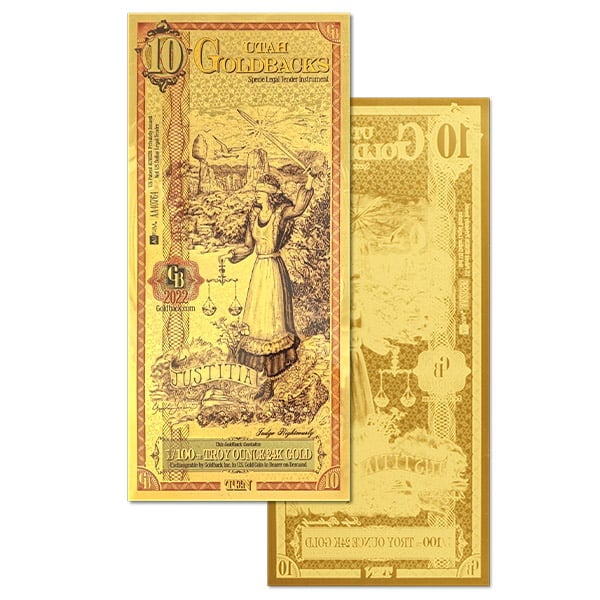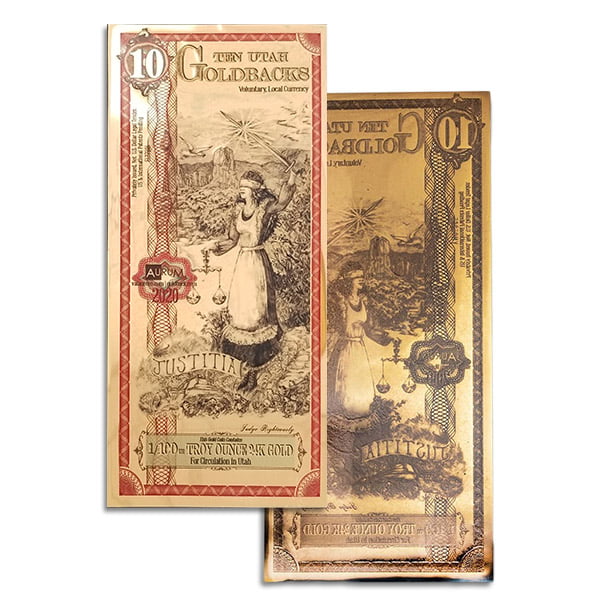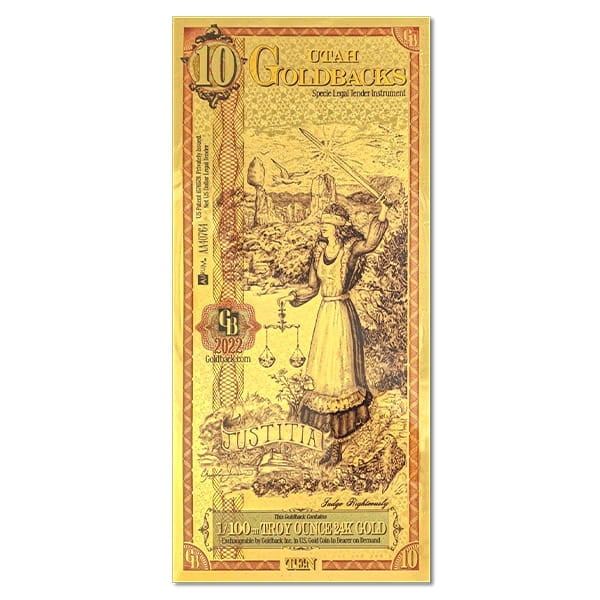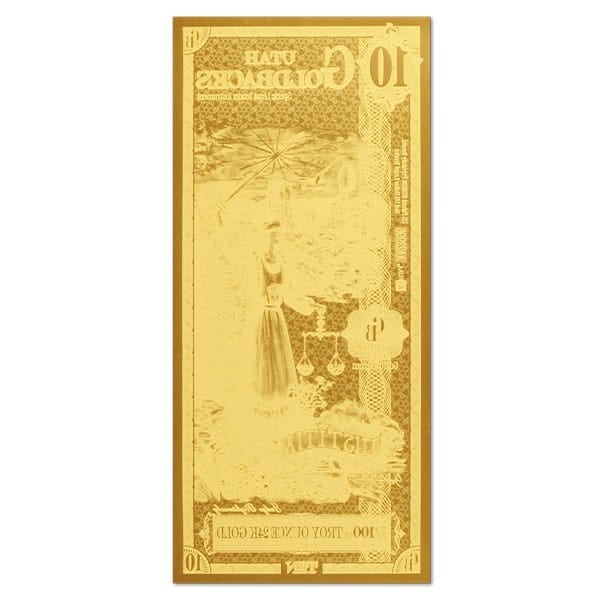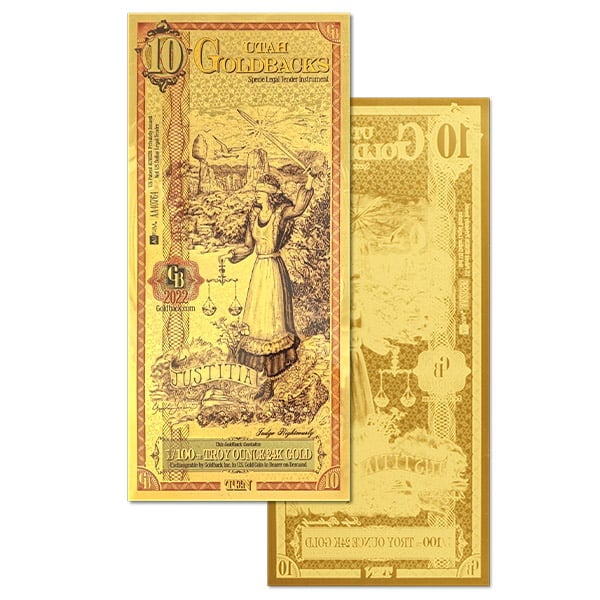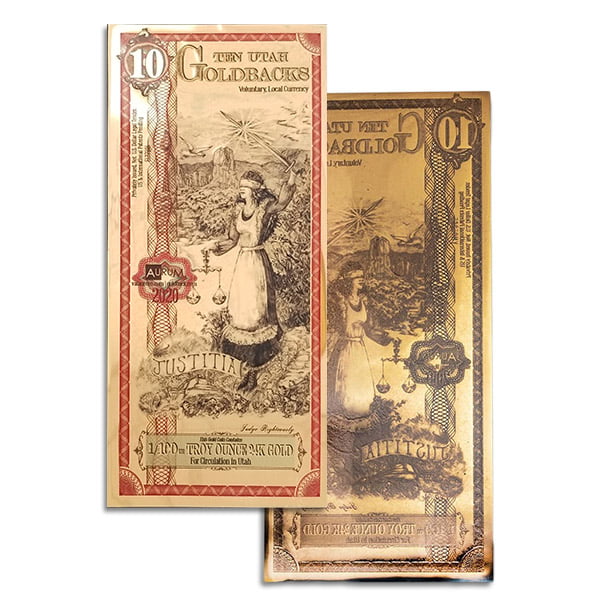 | Quantity | Total Price Each |
| --- | --- |
| 1 - 9 | $42.84 |
| 10 - 300 | $38.84 |
| 301+ | Call for discount |



Free Shipping
On All $199+ Orders
Sell to Us Price: $29.84 each
10 Utah Goldback - Beautifully Made Currency Containing 1/100th Oz .9999 Fine Gold
The Goldback is the world's first voluntary currency to be made of a spendable, beautiful, small denomination, physical gold.
When the Utah Legal Tender Act passed in 2011, the state became the first in recent times to recognize certain forms of gold as legal tender. Gold once again established a level of official recognition as money.
Since then the technology for minting physical gold into a spendable form for small transactions has developed. The makers use cutting-edge vacuum deposition technology to layer each bill with .9999 fine gold in exacting quantities. Goldback bills carry a precise amount of pure gold between layers of polyester which makes them resilient and durable.
The Utah Goldback Series is the first Goldback Series to ever be produced. It was drawn by Cheri Jensen, a local Utah artist, who does beautiful, intricate work, despite being blind in one eye.
It tells a somewhat chronological story of Utah throughout the series progression, highlighting specific pivotal moments in its history before the settlement of the Mormon Pioneers, through the settlement of the area, and some historic moments pertaining thereto. The progression culminates in an idyllic future representation of reaching a type of transcendence toward which we are encouraged to aspire through the application of the virtues featured in the series.
These are each shown on one of the Goldback denominations as a backdrop for the Lady Virtue being portrayed and symbolized thereon. Please enjoy the Utah Goldback Series.
Justitia, or Justice, is the virtue that appears on Utah's 10 Goldback Designs. She is cast in the southern region of Utah, with Balancing Rock and the iconic red cliffs in the background. She is depicted wearing the period settler's Sunday best attire. The scene is set just a few years after Utah was settled.
She is equipped traditionally with a blindfold over her eyes and a two-edged sword and scales in her hands, representing the responsibilities of impartiality, fairness, and decisiveness that Justice must use to be right and effective. Below her is the footing: "Judge Righteously". Note the cross, heart, and anchor on the balances that she carries, which are a nod to the role of faith, hope, and charity in justice as well to allow for mercy.
A seagull, the state bird of Utah, flies through the air with a cricket in its mouth ahead of a huge desert storm in the background. These represent two of the miraculous happenings that the Utah settlers experienced in the early years of settling in the area. First, when the gulls came and ate crickets that were swarming and eating the crops that the settlers desperately needed. The second recalls the southern Utah desert when a huge desert rainstorm brought an end to a long drought that had been raging across the state after the settlers joined in a united effort of fasting and prayer to be preserved by God.
Both of these symbols nod to the positive side of justice, one of the two sword edges, blessings are as large a part of divine justice as punishment is on the sword's other edge, though we tend to focus on the latter. In the brush at her feet is a sage hen with twelve chicks, also representing the protection and mercy that justice can bring, referencing the biblical gospels in the imagery.
Goldbacks can be, and are, used for barter transactions with anyone who recognizes the value of gold.
Product Specifications
| | |
| --- | --- |
| Weight: | 1/100th Troy Oz |
| Purity: | .9999 Gold Layered On a Bill |
| Size: | 14.2cm x 6.5cm (5.59" x 2.56") |
Sell to Us
We are buying this item back daily, and we pay you promptly!
Our current buy pricing is $29.84 each and we will buy up to 100 ounces at this price. Simply call us on any weekday to lock pricing at 1-800-800-1865.
Learn more about the process for selling to us here.
Shipping Info
We take great pride in the way your order is packaged and delivered.
You can expect:
Prompt Shipping – We ship orders shortly after your payment has been cleared – generally within 2 business days.
Fully Insured – We fully insure all shipments with Lloyd's of London.
Privacy – Your package will have no external markings that provide any clue as to the contents. Because we insure packages with Lloyd's of London, we do not declare a value or insure with the carrier.
Accountability for Package Contents – Your order will be packed under video surveillance, weighed and double-checked prior to shipping to ensure you receive exactly what you ordered.
Professional Packaging – Your order will be packaged securely and professionally.
Tracking – We will provide you with the carrier's tracking number for your shipment so you can monitor its progress and plan for delivery.
Signature Confirmation – Delivery carriers are instructed to request a signature upon delivery.
Cost to Ship & Insure
(absent periodic special offers for free or discounted shipping)
| Insured Value | Cost |
| --- | --- |
| Up to $198.99 | $7.97 |
| Insured Value | Cost |
| --- | --- |
| $199.00 + | FREE |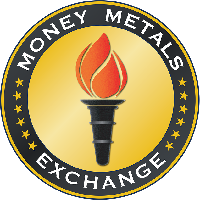 Sign in to Your Account
Please Sign In or Register to leave a review
Donna S.

August 10th, 2022

I have just started buying goldbacks. I didn't know about them until until Money Metals sent me the information after I made a silver purchase. I typically cannot afford to buy gold, but moneybacks has allowed me to buy small amounts when I can afford it. I think this is a great way to cater to those of us that are not rich, but still want to purchase precious metals. Thank you Money Metals for thinking of the little guy. Money Metals has been a great company to work with. Their product is great quality and is delivered quickly.

Better to have it and not need it...

Goldbacks are a great way to start stacking gold on a budget. Getting "some" gold is generally a good idea, though I suggest that silver (and possibly other PHYSICAL metals) also has a place in a well-diversified stack. They are intended to be a type of non-fiat currency that backs itself. It is pretty much inflation-proof, which these days (April of 2022) is on the minds of many, and it's value is adjusted against the value of gold, not the perceived value of the US dollar or other fiat currency.

Dennis F.

April 15th, 2021

Best thing I could have bought.