$2.50 Indian Head Gold Coin - .1209 Troy Ounce Gold Content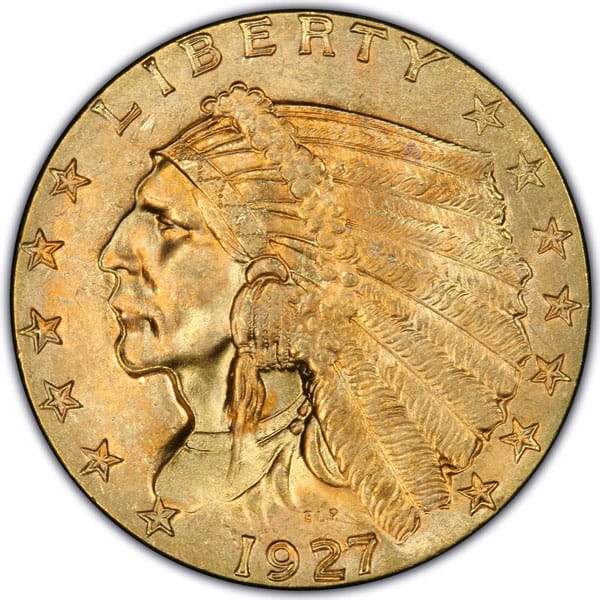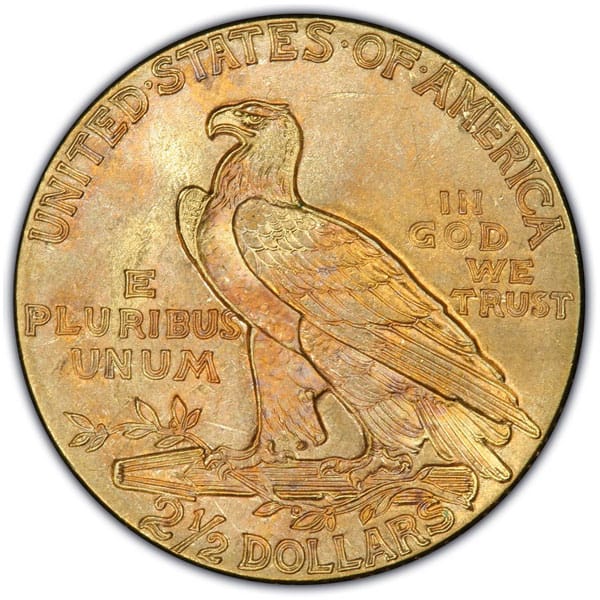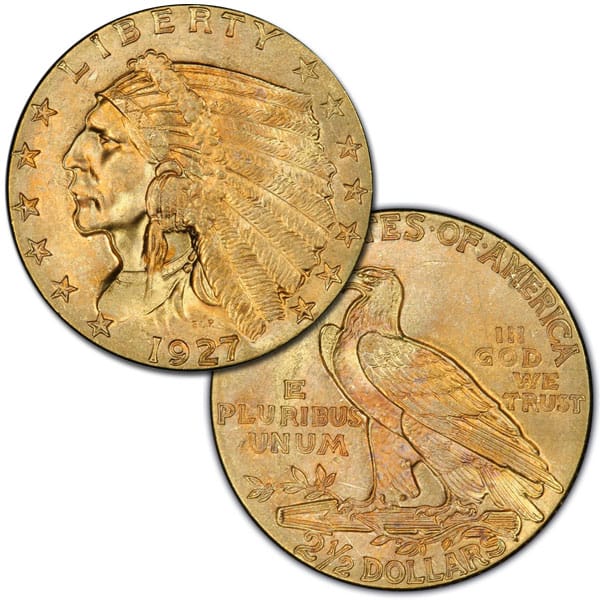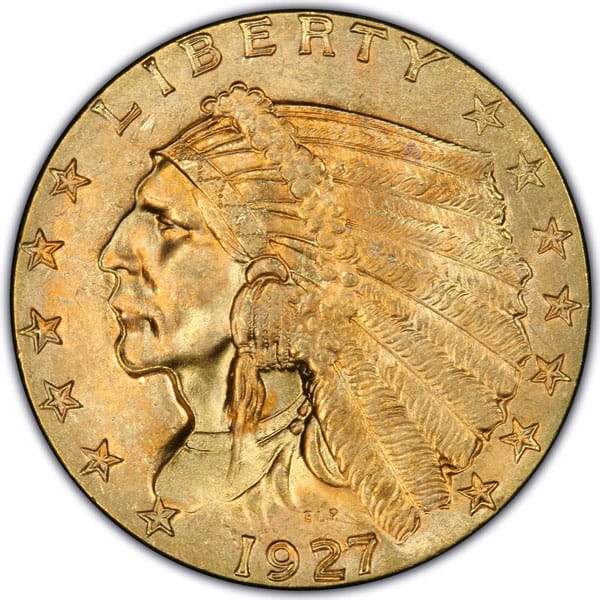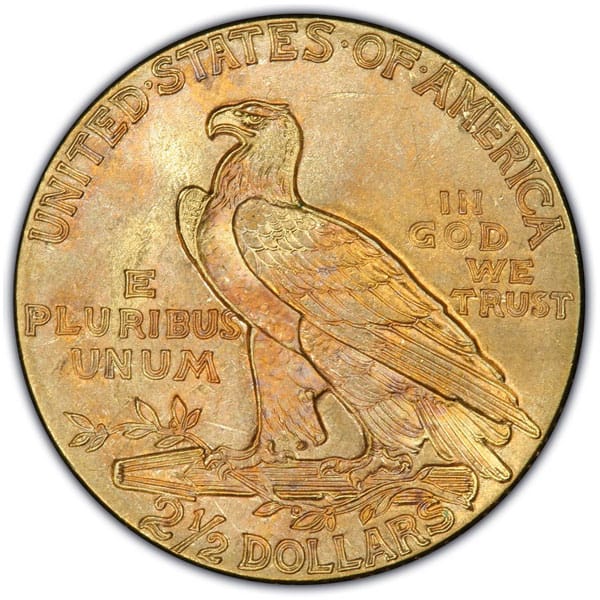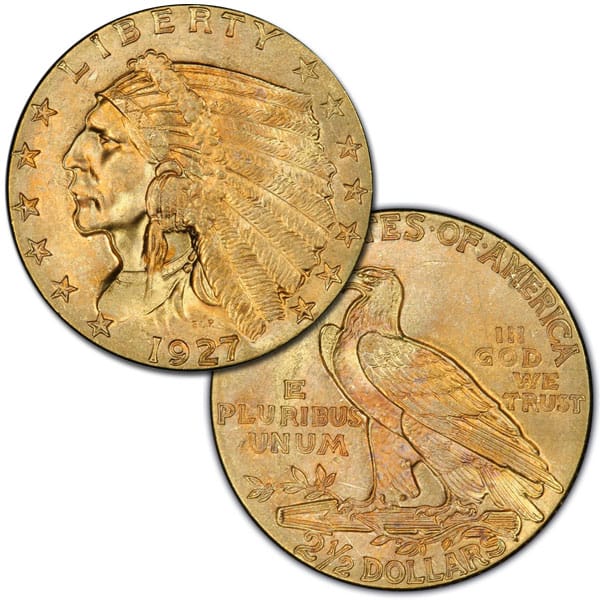 $535.12
(as low as $302.46 over spot)
Coins in jewelry grade/polished condition

Note: for availability of graded Pre-'33 gold coins, please check our Product Specials Page by clicking HERE
Quantity
Premium/Unit
Total Price Each
1 - 19
$302.46
$535.12
20+
Please Call For Our Best Pricing! 1-800-800-1865



Free Shipping
On All $199+ Orders
Sell to Us Price: $255.93 each
$2.50 Indian Head Gold Coin: What You Need to Know
Americans once carried gold coins in their pockets. They used gold coins to make purchases from the moment the United States was founded until 1933 when President Franklin D. Roosevelt put an end to gold as circulating money.
The US Mint stopped production of gold coins, but that did not stop aficionados, collectors, and investors from pulling the existing coins from circulation and storing them away. They instinctively knew the move to end the official gold standard would make those coins more valuable, not less. The coins were also beautiful and seemed worth saving.
There are several iconic coin designs and denominations from prior to 1933, but the 2.5 gold coin is among the most popular gold coinage. The design is simple and impactful, featuring the profile of a Native American chieftain and a feather headdress. Check out all our old gold coins for sale. This $2.50 gold coin is a great piece.
$2.50 Gold Indian Head Coin History
The $2.50 Indian head gold coin is an important piece of American history, but the way the story of their origin is somewhat amusing. In 1904, President Theodore Roosevelt wasn't too pleased with the way American coins for sale looked at the time. He was so unhappy that he complained to his Secretary of the Treasury, Leslie Mortier Shaw.
It was said that the Hero of San Juan Hill thought the current coins were not grand enough and did not represent America well enough. Following his complaint, an artist by the name of Augustus Saint-Gaudens was brought in to change the designs. He altered the cent coin, and also the 4 gold coins – the $10 Eagle as well as the double Eagle, American Eagle 1 oz, half, and quarter Eagle.
The Indian Head quarter eagle was first minted by the San Francisco Mint in 1908. The production eventually moved to the Philadelphia Mint. The Philadelphia-made coins are noticeable because they were made without a mint mark.
Gold $2.50 Indian Head Design
Coin collectors refer to the design as "Indian Head" because it features an Indian chieftain wearing a traditional feather headdress. Circling the head is the text 'Liberty' and '1908,' in addition to 13 stars representing the original colonies.
The reverse of the coin carries the familiar symbol of America, a bald eagle. The eagle sits perched on a bundle of arrows clutching an olive branch, surrounded by the words "United States of America," "In God We Trust," "E Pluribus Unum," and "2 ½ Dollars."
$2.50 Indian Head Gold Coin Value Weight
The 2.50 Indian Head gold coin has a diameter of 18mm. With a reeded edge, it weighs in at just 4.18g. Being the Quarter eagle, as its name suggests, it is smaller than the other coins. For example, the Half Eagle has a diameter of 21.6mm. The Quarter Eagle is very similar in diameter to a modern dime.
Like all United States Mint gold coins minted before the key date of 1933, the composition is 90% gold and 10% copper. Mint officials used this alloy to enhance the durability and wear resistance of coins that were meant for circulation. The addition of copper increased the hardness significantly. Check out all our Indian head gold coin pieces today!
Differentiating
When differentiating between this coin and the others in the Indian Head series, it is the diameter (and weight of course) that changes. The gold weight in each coin doubles with each step up in denomination. For example, the $5 half Eagle contains exactly twice as much gold as the $2.50 coin.
Each coin in the series is stamped with its face value. Referencing that detail along with the coin size makes it simple to distinguish between coins in the series.
$2.50 Indian Head Gold Coin Value
The worth, or value, of the 2.5 Indian Head gold coin can vary dramatically. The date and condition are the primary drivers of any collectible value. A coin with a certain date in mint condition may be worth far more as a rarity than it is based purely upon its gold content.
Mint condition coins dated 1911 with a "D" mint mark are the most valuable.
The $2.50 Indian Head should never be worth less than its melt value, which is calculated by multiplying the .1209 troy ounces of gold content by the current market price for gold.
In Conclusion
The $2.50 Indian Head gold coins are a great way for gold investors to start a collection. They are small in size and can be very affordable unless the buyer is after the rarest dates and conditions.
Before you buy Gold Indian Head Coins just remember the design is iconic, making the coins popular and well-recognized. And they add a bit of American history to any gold holding.
Product Specifications
| | |
| --- | --- |
| Mint Facility: | U.S. Mint |
| Denomination: | $2.50 |
| Date: | 1908–1915, 1925–1929 |
| Quality / Type: | Coins are not graded and may be polished. Condition will vary. Some coins may have extensive wear. |
| Purity: | 90% Gold, 10% Copper |
| Metal Weight: | $2.50 = .1209 Troy Ounces (Uncirculated) |
Sell to Us
We are buying this item back daily, and we pay you promptly!
Our current buy pricing is $255.93 each and we will buy up to 100 ounces at this price. Simply call us on any weekday to lock pricing at 1-800-800-1865.
Learn more about the process for selling to us here.
Shipping Info
We take great pride in the way your order is packaged and delivered.
You can expect:
Prompt Shipping – We ship orders shortly after your payment has been cleared – generally within 2 business days.
Fully Insured – We fully insure all shipments with Lloyd's of London.
Privacy – Your package will have no external markings that provide any clue as to the contents. Because we insure packages with Lloyd's of London, we do not declare a value or insure with the carrier.
Accountability for Package Contents – Your order will be packed under video surveillance, weighed and double-checked prior to shipping to ensure you receive exactly what you ordered.
Professional Packaging – Your order will be packaged securely and professionally.
Tracking – We will provide you with the carrier's tracking number for your shipment so you can monitor its progress and plan for delivery.
Signature Confirmation – Delivery carriers are instructed to request a signature upon delivery.
Cost to Ship & Insure
(absent periodic special offers for free or discounted shipping)
| Insured Value | Cost |
| --- | --- |
| Up to $198.99 | $7.97 |
| Insured Value | Cost |
| --- | --- |
| $199.00 + | FREE |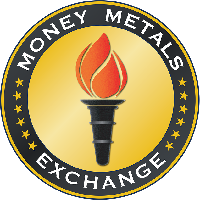 Sign in to Your Account
Please Sign In or Register to leave a review
Michelle H.

September 14th, 2022

A treasure in excellent condition. Thanks to the friendly gentleman who educated & assisted me.

William K.

February 5th, 2021

I purchased 4 of the coins and was pleased with the condition of each. A bit worn but the relief was still very good. After all, these coins are 120 years old. From a personal point of view, I prefer to use the term " invest" rather than purchase when acquiring precious metals. Any form of gold and silver is a wise investment. Thanks MME!

Robert J.

October 7th, 2020

0love the luster, history and low premiums

Awesome coins, look like they were minted last decade not century ago.

I have recently started to buy more fractional gold and MMX has a lot to offer. The $2.50 Indian Head gold coin is an excellent coin. Great quality and price with the superior service from MMX.

A Beautiful Little Surprise

I was contemplating what the condition of my latest purchase would be and was surprised to receive a graded MS-61 quality piece. It certainly exceeds my expectations! Thanks guys!