2019 Silver American Eagle - 1 Troy Ounce, .999 Pure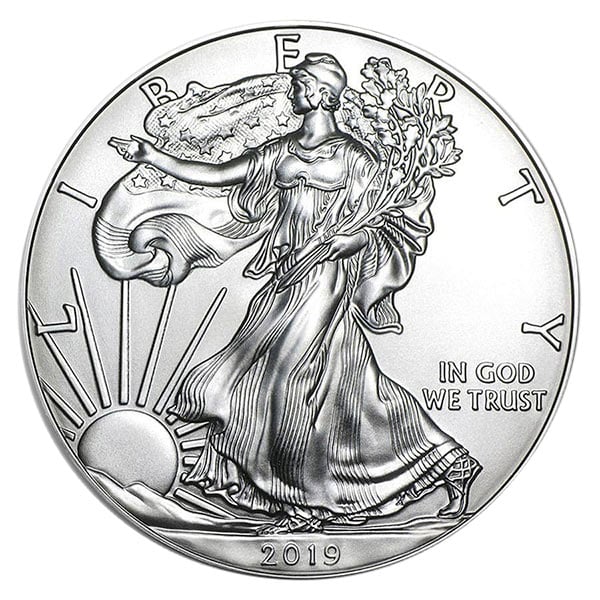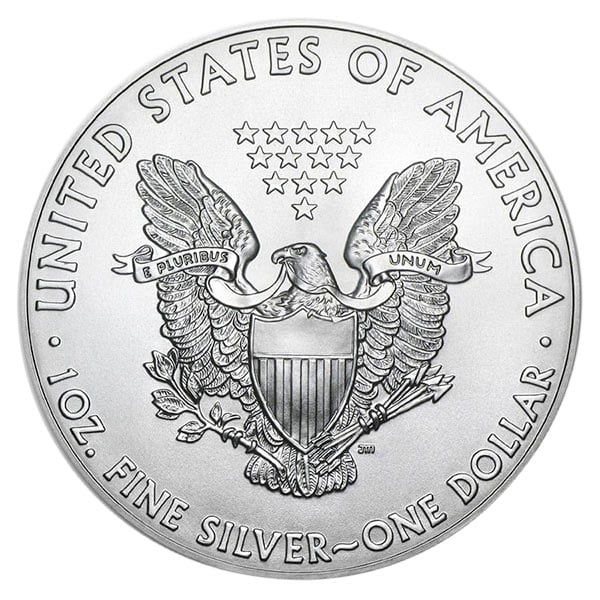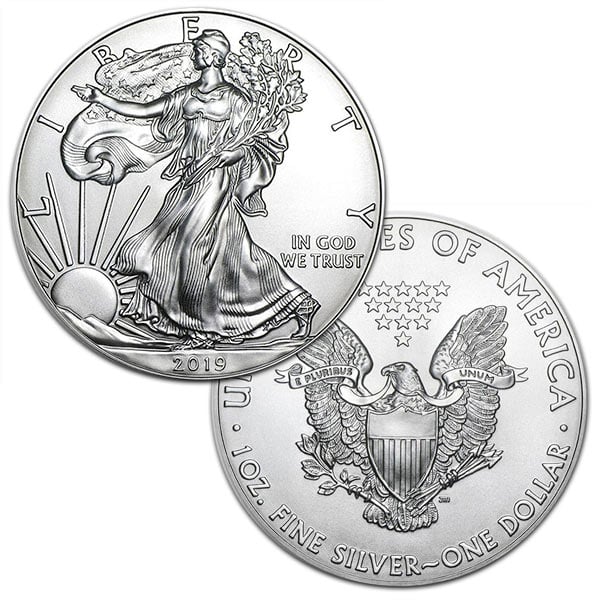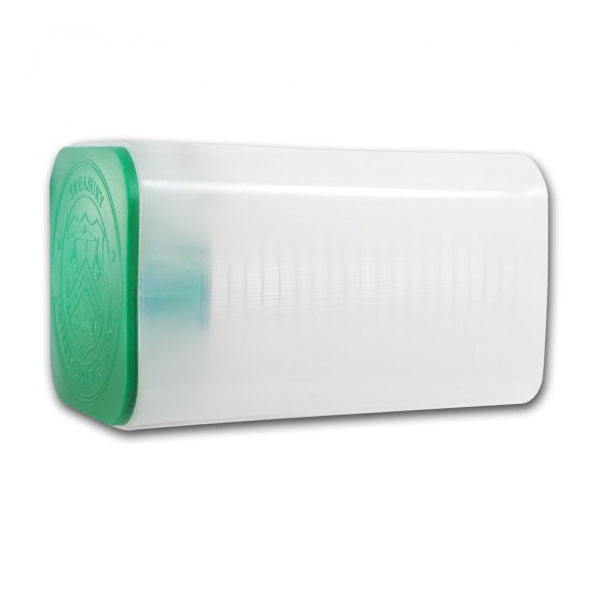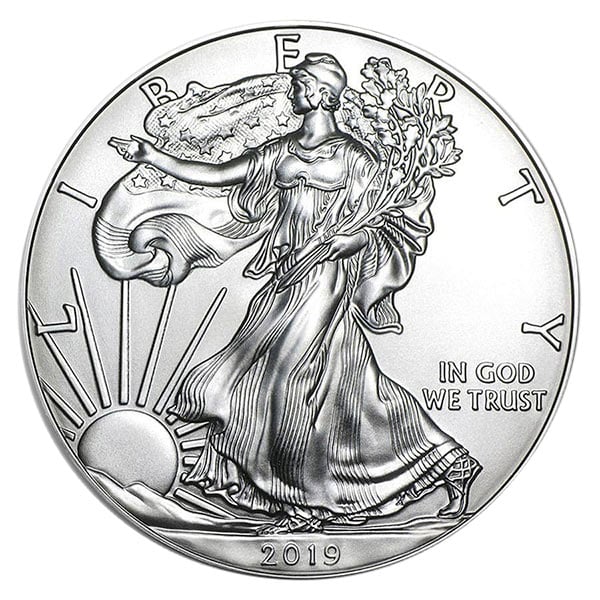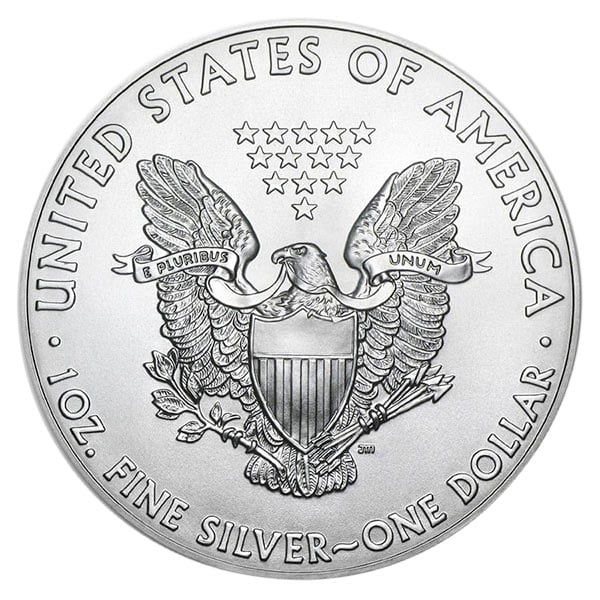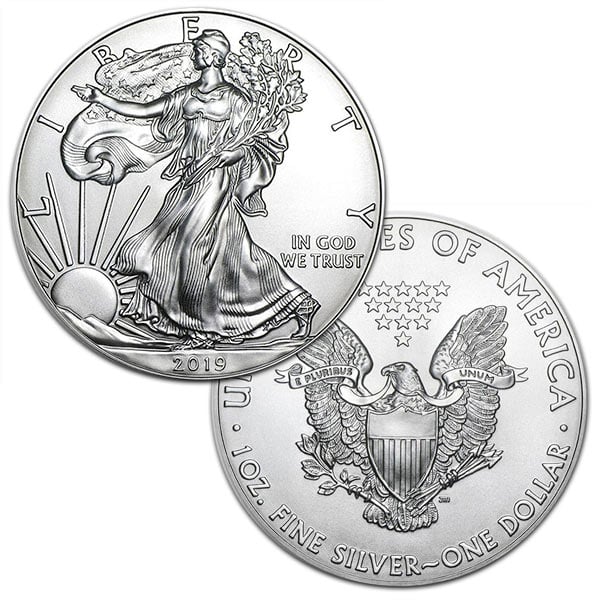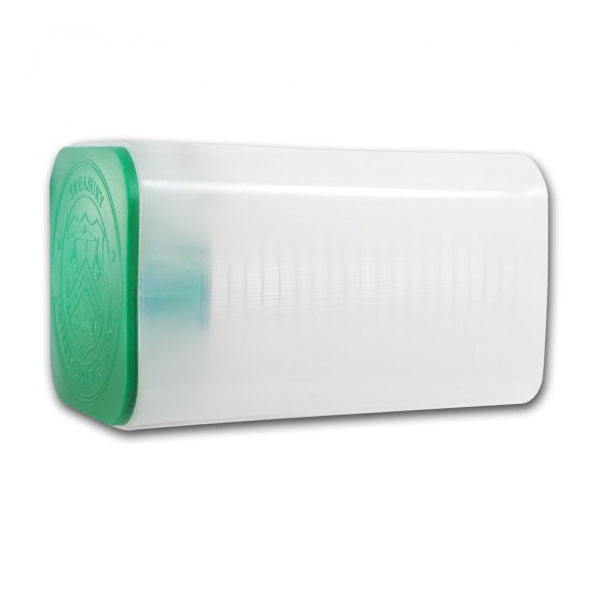 $36.09
(as low as $11.69 over spot)
Get a Free Kennedy 90% Silver Coin w/ Your $500+ Silver Order (excludes Vault Silver & Monthly)
Quantity
Premium/Unit
Total Price Each
1 - 39
$12.69
$37.09
40 - 499
$12.19
$36.59
500 - 2500
$11.69
$36.09
2501+
Call for discount
Full Tube Qty = 20



Free Shipping
On All $199+ Orders
Sell to Us Price: $26.00 each
Buy 2019 Silver Eagle Coins
It was in the fall of 1986 when the U.S. introduced its Gold and Silver American Eagle series via the Liberty Coin Act of 1985 (Public Law 99-51). The American Silver Eagles were an instant success among numismatic coin collectors and silverstackers alike. The revived design of the Walking Lady Liberty on the exceptionally brilliant silver coin was enough to beckon attention.
Since then, it has sustained its popularity among investors and collectors alike. Available in uncirculated, proof burnished, and reverse-proof varieties, these minted bullion coins are well worth the consideration.
Money Metals Exchange has a long-held reputation for providing people access to the 2019 American Silver Eagle coins at cost-effective rates.
Composition
The 2019 American Silver Eagle is the 34th edition of the American Silver Eagle. Each coin is 1 Troy ounce containing .999 (three-nines fine) or pure silver. The weight and purity of the coin are supported by the United States government, which also assigns the face value of one dollar ($1 USD).
It is a legal tender silver bullion coin that was authorized by the United States Mint. Although the 2019 Silver American Eagle has a $1 face value, it remains popular for its silver melt value and its impeccable and collector-worthy appearance.
The Walking Liberty Design on the American Silver Eagle
The designs on both the obverse and reverse sides of the 2019 American Eagle silver coins are steeped in U.S. history. Before appearing on Silver Eagles, the Walking Liberty design was featured on the Half-Dollar from the years 1916 to 1947.
The design was adapted by Adolph A. Weinman, depicting a US flag dress made of Stars and Stripes draped over the shoulders of Lady Liberty walking her way towards the setting sun on the left while carrying branches of oak and laurel. The sun has 13 sunrays, symbolic of the 13 colonies. The phrase or motto, In God We Trust, is on the right of the coin while Liberty is cast behind her. The coin highlights the American movement toward growth and expansion under God.
On the reverse side of the 2019 American Silver Eagle, US Mint Chief Engraver John Mercanti's heraldic bald eagle stands proud with talons clinching symbolic coinage items - an olive branch in one talon and arrows in the other. John Mercanti's initials, JM, are to the right of the eagle's tail feathers. The eagle is protected behind a Liberty Shield, which explains why some people call the design a Shielded Eagle. The design looks extremely identical to the Great Seal of the United States of America. The banner in the eagle's beak says "E Pluribus Unum," and there are 13 stars, made of stars with five points, over the eagle's head - this is another symbol for the thirteen original colonies. Also included on the reverse (tails) are the words "United States of America" and "1 oz. Fine Silver ~ One Dollar."
This formerly half-dollar Walking Liberty design image is now used for the one-dollar face value American Silver Eagles silver bullion coins, as well as the gold coin issues. Each coin weighs about one Troy oz or 31.103 grams, with .999 fine silver (three-nines fine) and .001 copper content. The coins' width is a diameter of 40.6 mm, the thickness is 2.98 mm, and the edge is reeded. Security features, such as a notched reeded edge, were not added until the Type-2 design was released in late 2021.
Each coin is predominantly valued for its silver melt value, as a store of value that helps to hedge against inflation. While, simultaneously, many numismatists or coin collectors are proud to add the 2019 American Silver Eagles to their coin collection for the possibility of being a numismatic collectible item.
In 2019, a total of 14,863,500 American Silver Eagles were minted. Each coin was minted at one of three mints: the Philadelphia Mint, the San Francisco Mint, and the West Point Mint (W mint mark). All 2019 American Silver Eagles (ASE) sold by Money Metals come with a Certificate of Authenticity (COA) and in a protective and discreet package to keep your coins in premium condition and safe. A signature is required upon delivery, no matter the quantity, to ensure safe shipping and delivery of your precious metal product purchase.
Alternatives to the American Silver Eagle currency may include such world silver currencies as the Australian Perth Mint kangaroos, the British Royal Mint's Queen's Beasts, the Austrian Mint's Philharmonic, or the Royal Canadian Mint's silver maple leafs.
Additionally, an investor or silver collector can consider junk silver coins (pre-1965 dimes, quarters, and half-dollars), silver rounds, silver bars, silver ingots, silver statues, and silver investment jewelry.
Why Buy Silver American Eagle Coins Dated 2019?
One of the most prevalent reasons for people's interest is investment. Over the years, their value has appreciated, creating opportunities for additional gains in the future.
This makes the 2019 Silver Eagle coins effective for hedging against inflation and the volatile nature of the current economic situation. Eligible for a self-directed precious metal Individual Retirement Account (IRA), these coins are held in self-directed retirement accounts as their value is dictated by the current silver spot prices.
Also, the design and symbolism of the coin are more than enough to make it worthy of being a part of personal collections. Numismatists all over the world cherish the 2019 American Silver Eagle, and this suggests how popular American Silver Eagles remain in the U.S. and around the world.
Money Metals Exchange – Making 2019 American Silver Eagles Accessible
13+ years of experience, industry acumen, and continuously growing expertise in precious metals, and the U.S. Mint enables us to provide professional services.
Added layers of international acclamation and stringent moral and ethical codes of conduct allow us to ensure your peace of mind and uncompromised levels of excellent service. Our offerings are not limited to high-quality products and excellent service, as we also maintain cost-effectiveness.
Money Metals Exchange provides discounts for larger quantity purchases: 40+, 500+, and 2501+. Money Metals can also provide special discounts if you require more than one thousand five hundred (1,500) 2019 American Eagle Coins, but you will need to call our customer service to set that up… 1-800-800-1865
To properly store your 2019 American Silver Eagle coins, there are several good options. First, most Silver American Eagle coins are shipped in a box, monster boxes, tubes, and other protective packaging. Second, you can store your silver bullion coins in a home safe hidden in your home and bolted or welded to the floor. Third, you can store your precious metals in the Money Metals Depository for a lower cost than most people pay for safe deposit boxes. The Money Metals Depository keeps your items safe, separated, and secure.
Where can I buy or sell the 2019 American Silver Eagles?
When selling your precious metals items made of gold, silver, platinum, palladium, or rhodium, it is important to know the current spot prices and average premium (standard company overhead charge) and to only sell to reputable dealers. Money Metals lists spot prices 24/7 on the website and always shows the premiums charged for each product to remain as transparent as possible. Money Metals pays people for their precious metals as quickly as possible, usually within days of receiving the items and verifying their metal content and purity.
Money Metals has been voted as being the Best Overall Precious Metals Dealer by Investopedia. Money Metals Exchange has maintained an A+ rating with the Better Business Bureau (BBB) and received thousands of 5-star reviews from satisfied customers all over the United States of America.
If you have any questions (FAQ) regarding the 2019 American Silver Eagle, discounts, the coins, sale price, product details or description, shipping insurance, payment method, place an order, review past orders, send gifts, or help with your Money Metals Exchange site account or cart, don't hesitate to get in touch with one of our customer care experts at our phone number: 1-800-800-1865
Be sure to subscribe to the Money Metals Newsletter to stay informed about the latest precious metals news, economic updates, product information, unique market perspectives, and more.
You can also follow us on most of your favorite social media platforms, including TikTok, Instagram, Facebook, YouTube, LinkedIn, X (Twitter), and more.
Product Specifications
| | |
| --- | --- |
| Mint Facility: | U.S. Mint |
| Denomination: | $1.00 USD |
| Date: | 2019 |
| Quality / Type: | Bullion, Uncirculated |
| Purity: | 99.9% silver |
| Metal Weight: | 1 troy ounce (31.103 grams) |
| Diameter: | 1.598 inches (40.6 mm) |
| Edge: | Reeded |
| Obverse: | Walking Liberty |
| Reverse: | Eagle with Shield |
Sell to Us
We are buying this item back daily, and we pay you promptly!
Our current buy pricing is $26.00 each and we will buy up to 5,000 ounces at this price. Simply call us on any weekday to lock pricing at 1-800-800-1865.
Learn more about the process for selling to us here.
Shipping Info
We take great pride in the way your order is packaged and delivered.
You can expect:
Prompt Shipping – We ship orders shortly after your payment has been cleared – generally within 2 business days.
Fully Insured – We fully insure all shipments with Lloyd's of London.
Privacy – Your package will have no external markings that provide any clue as to the contents. Because we insure packages with Lloyd's of London, we do not declare a value or insure with the carrier.
Accountability for Package Contents – Your order will be packed under video surveillance, weighed and double-checked prior to shipping to ensure you receive exactly what you ordered.
Professional Packaging – Your order will be packaged securely and professionally.
Tracking – We will provide you with the carrier's tracking number for your shipment so you can monitor its progress and plan for delivery.
Signature Confirmation – Delivery carriers are instructed to request a signature upon delivery.
Cost to Ship & Insure
(absent periodic special offers for free or discounted shipping)
| Insured Value | Cost |
| --- | --- |
| Up to $198.99 | $7.97 |
| Insured Value | Cost |
| --- | --- |
| $199.00 + | FREE |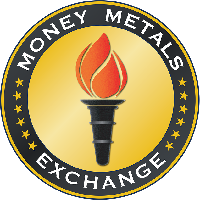 Sign in to Your Account
Please Sign In or Register to leave a review
Excellent coin and great service

John B.

February 10th, 2022

Service, Quality, Price, Packaging, On time delivery.

As I have just started collecting, MoneyMetals has been very helpful in making my decisions. Prices are more than fair. I couldn't be happier with MoneyMetals.

I do enjoy purchase of silver,reasonable price and prompt delivery,but just started to buy more,and never too late to invest in solid Gold and Silver...JC

STEVEN H.

August 10th, 2020

I would be categorized as new to the silver market and have to say the items I have received are outstanding. But, since 07/28/20, I have ordered 7 total oz's and only received 2 oz's. Understanding the state of the market, Money Metals Exchange has received 90% of my business and I can say moving forward, once I receive my outstanding 5 oz's, will have 100% of my business. Love the offerings

Very Nice Coins and great company to purchase from.