25 Utah Goldback - Victoria, 1/40th Troy Oz 24K Gold-Backed Bill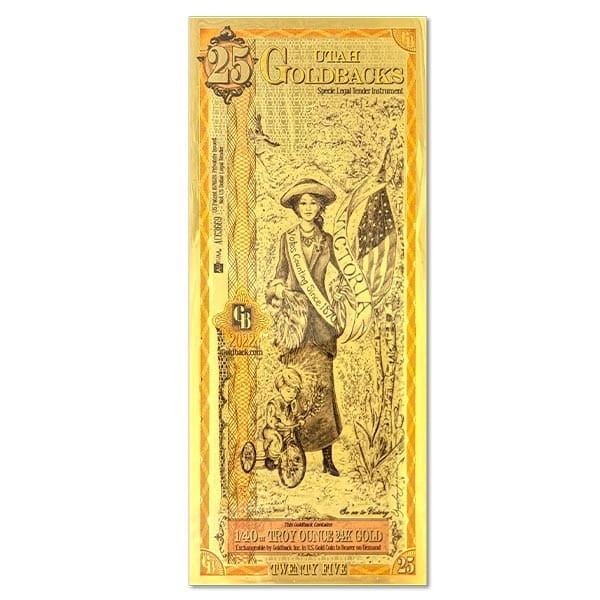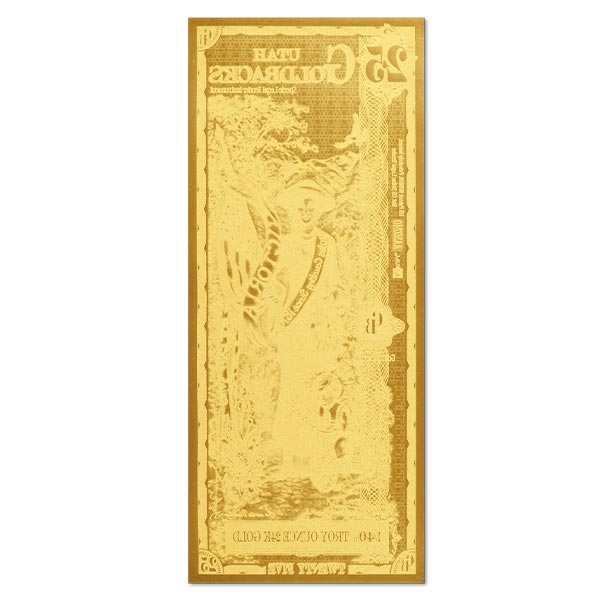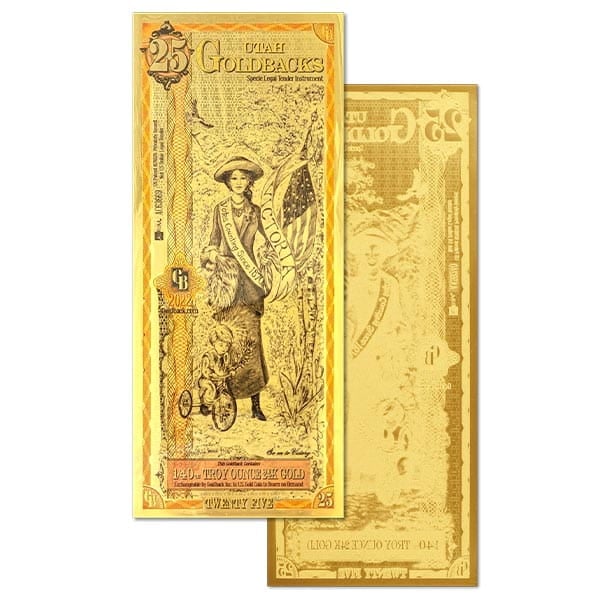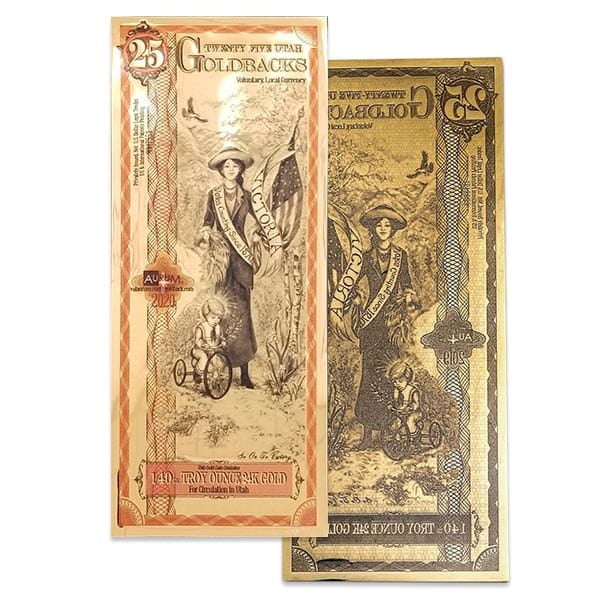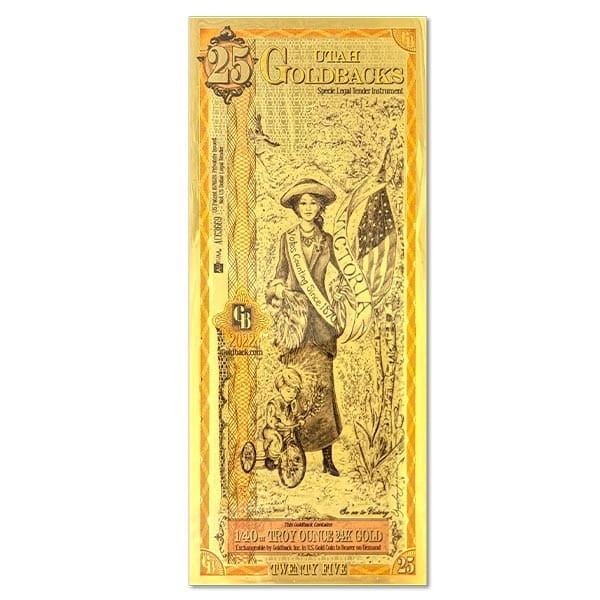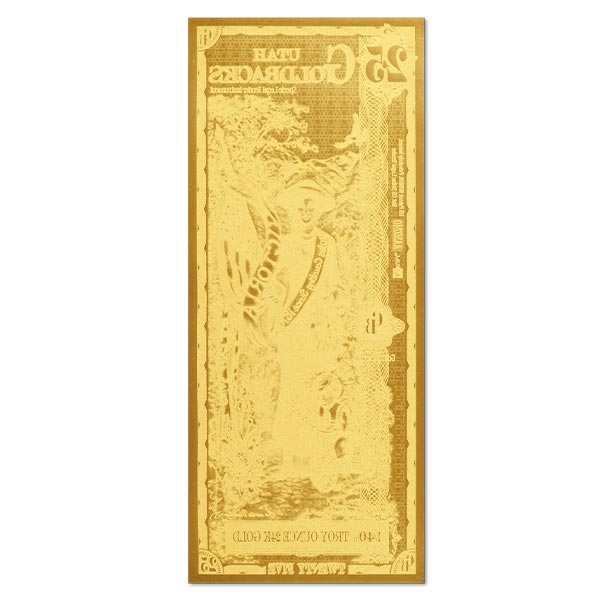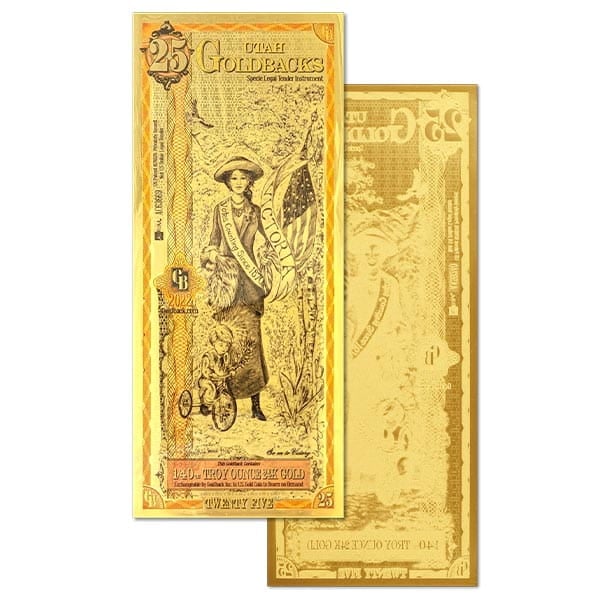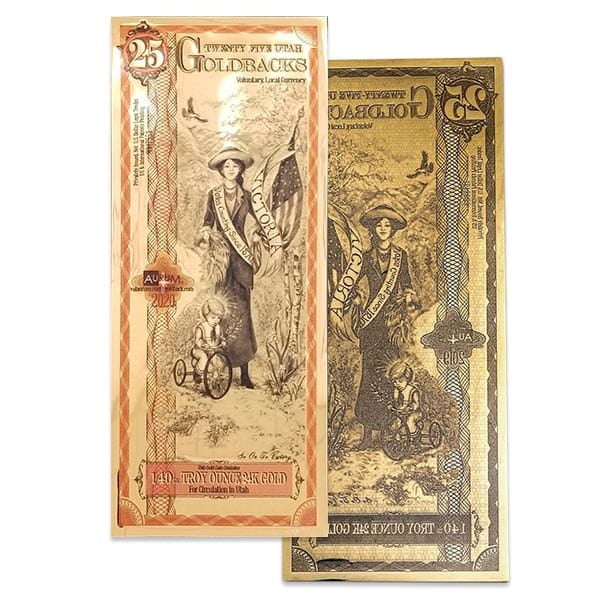 | Quantity | Total Price Each |
| --- | --- |
| 1 - 120 | $101.03 |
| 121+ | Call for discount |



Free Shipping
On All $199+ Orders
Sell to Us Price: $78.53 each
25 Utah Goldback - Beautifully Made Currency Containing 1/40th Oz .9999 Fine Gold
The Goldback is the world's first voluntary currency to be made of a spendable, beautiful, small denomination, physical gold.
When the Utah Legal Tender Act passed in 2011, the state became the first in recent times to recognize certain forms of gold as legal tender. Gold once again established a level of official recognition as money.
Since then the technology for minting physical gold into a spendable form for small transactions has developed. The makers use cutting-edge vacuum deposition technology to layer each bill with .9999 fine gold in exacting quantities. Goldback bills carry a precise amount of pure gold between layers of polyester which makes them resilient and durable.
The Utah Goldback Series is the first Goldback Series to ever be produced. It was drawn by Cheri Jensen, a local Utah artist, who does beautiful, intricate work, despite being blind in one eye.
It tells a somewhat chronological story of Utah throughout the series progression, highlighting specific pivotal moments in its history before the settlement of the Mormon Pioneers, through the settlement of the area, and some historic moments pertaining thereto. The progression culminates in an idyllic future representation of reaching a type of transcendence toward which we are encouraged to aspire through the application of the virtues featured in the series.
These are each shown on one of the Goldback denominations as a backdrop for the Lady Virtue being portrayed and symbolized thereon. Please enjoy the Utah Goldback Series.
The 25 Goldback Design depicts the Lady Virtue Victoria, or Victory, primarily in celebration of Women's rights to vote. This is the first Goldback design to ever have been done. It was the artist's audition piece for the series. Victory bears a banner that states "Votes Counting Since 1870", nodding to the fact that when Utah became a state, women were already voting by that time. The first state to have a woman cast a vote in it was Utah (Seraph Young was the voter), though as a state, Wyoming granted women's suffrage a few months before that.
This Goldback design was created by keeping in mind many of the firsts by Utah women, such as women teaching over the pulpit and Martha Hughes Cannon becoming the first woman State Senator in 1911.
Victoria is accompanied by a child in the artwork, representative of how many of the women marched for suffrage with their children, and how teaching children the truth has been a major driving force for the women of Utah. The child carries a branch representing how our children are the future, and ultimately are responsible tomorrow for the stewardship of any victories that we win today.
This design urges the viewer to "Go on to Victory". The backdrop of this design is the mountainscape in Alpine, Utah, viewable through the window of the building where these designs were done. The flag that Victory carries in her left hand is topped by the Chi-Rao Greek symbol for Christ, nodding to the help that the women of Utah credited to him at that time for their attaining the many freedoms that they earned. In her right hand she holds bundled wheat, representative of small victories gathered together in a powerful, significant whole. Behind her, a falcon is soaring, representing faithful actions, and the hope to return to the things that we love.
We should return and review the actions through history that brought us the victories that we now enjoy. Victory stands along a straight path bordered by a stone wall on one side, representing building good things one small victory at a time; and aspen trees on the other side, representing the interconnectedness of humankind and common heritage, especially through the women who bore each child of the human family.
Goldbacks can be, and are, used for barter transactions with anyone who recognizes the value of gold.
Product Specifications
| | |
| --- | --- |
| Weight: | 1/40th Troy Oz |
| Purity: | .9999 Gold Layered On a Bill |
| Size: | 15.5cm x 6.5cm (6.1" x 2.56") |
Sell to Us
We are buying this item back daily, and we pay you promptly!
Our current buy pricing is $78.53 each and we will buy up to 50 ounces at this price. Simply call us on any weekday to lock pricing at 1-800-800-1865.
Learn more about the process for selling to us here.
Shipping Info
We take great pride in the way your order is packaged and delivered.
You can expect:
Prompt Shipping – We ship orders shortly after your payment has been cleared – generally within 2 business days.
Fully Insured – We fully insure all shipments with Lloyd's of London.
Privacy – Your package will have no external markings that provide any clue as to the contents. Because we insure packages with Lloyd's of London, we do not declare a value or insure with the carrier.
Accountability for Package Contents – Your order will be packed under video surveillance, weighed and double-checked prior to shipping to ensure you receive exactly what you ordered.
Professional Packaging – Your order will be packaged securely and professionally.
Tracking – We will provide you with the carrier's tracking number for your shipment so you can monitor its progress and plan for delivery.
Signature Confirmation – Delivery carriers are instructed to request a signature upon delivery.
Cost to Ship & Insure
(absent periodic special offers for free or discounted shipping)
| Insured Value | Cost |
| --- | --- |
| Up to $198.99 | $7.97 |
| Insured Value | Cost |
| --- | --- |
| $199.00 + | FREE |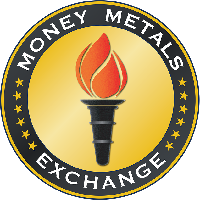 Sign in to Your Account
Please Sign In or Register to leave a review
Donald L.

December 13th, 2022

Really cool product, you can feel the weight.

Really like the products. Cool alternative to the round n bar bullion options. I did notice a slight difference in color tone around the border on some bills. I compared them to another seller. But still happy.

The goldbacks are beautiful works of art. MoneyMetals was secure and reliable with delivery.

Better to have it and not need it...

Goldbacks are a great way to start stacking gold on a budget. Getting "some" gold is generally a good idea, though I suggest that silver (and possibly other PHYSICAL metals) also has a place in a well-diversified stack. They are intended to be a type of non-fiat currency that backs itself. It is pretty much inflation-proof, which these days (April of 2022) is on the minds of many, and it's value is adjusted against the value of gold, not the perceived value of the US dollar or other fiat currency.

Beautiful investment. Great quality. I have purchased through Money Metals several times now and am very impressed with the quality, ease of use and the efficient turn-around time that I receive my investments. I have recommended Money Metals to several friends and will continue to do so.

Floyd H.

February 2nd, 2021

I recently received an order of $1, $5, $10, and $25 notes. Absolutely magnificent notes that will greatly enhance my collection. Thank you Money Metals for making these available, and at a very affordable price. You have been my ONLY source for bullion purchases.