PAMP Suisse Gold Bar, 5 Gram, .9999 Pure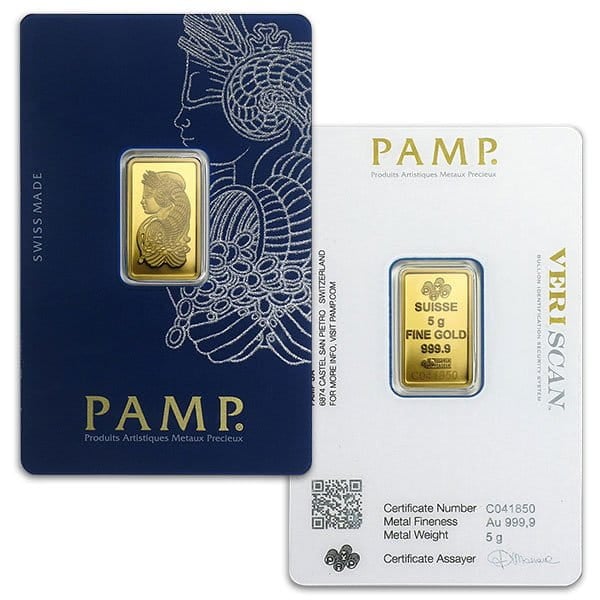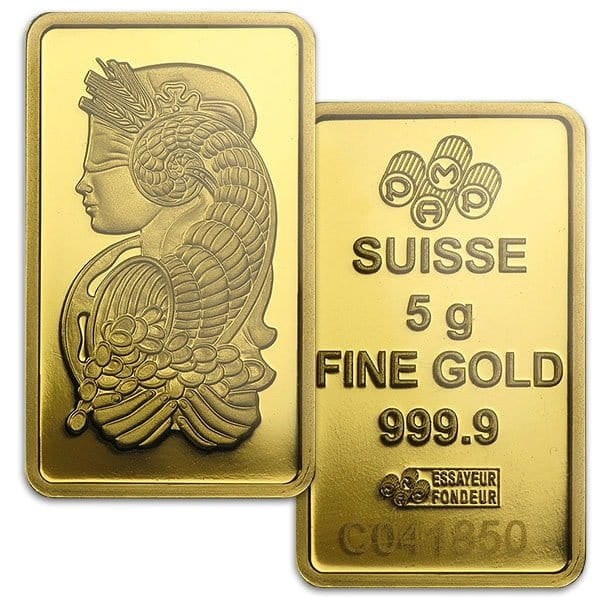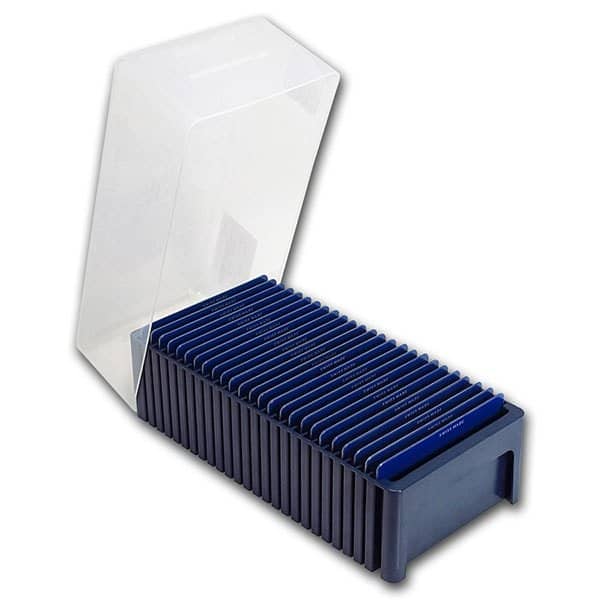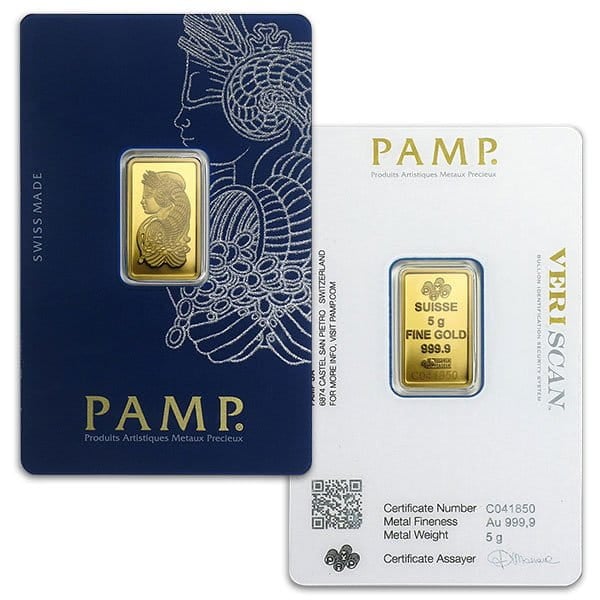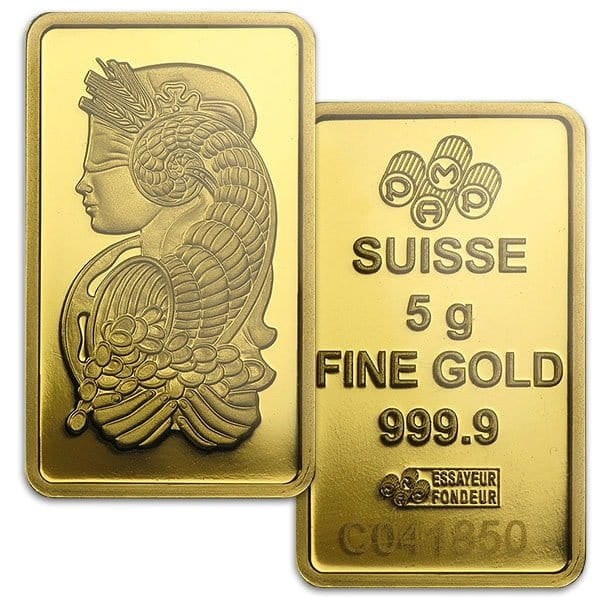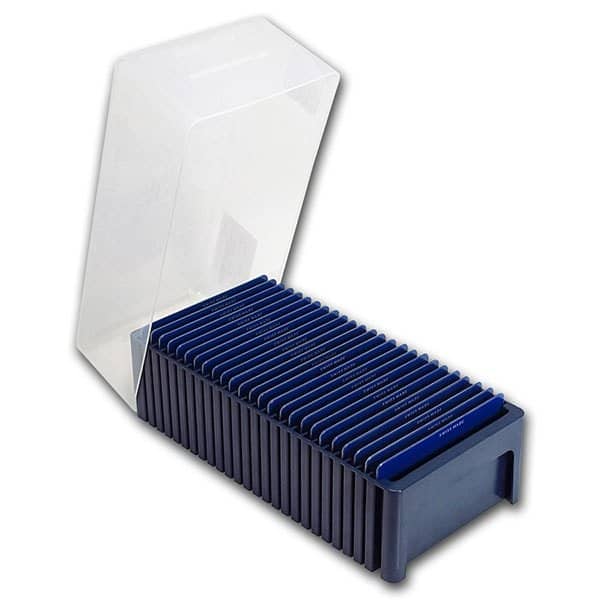 $374.50
(as low as $44.00 over spot)
Quantity
Premium/Unit
Total Price Each
1 - 24
$54.00
$384.50
25 - 49
$49.00
$379.50
50 - 199
$44.00
$374.50
200+
Call 1-800-800-1865 for our best pricing!



Free Shipping
On All $199+ Orders
Sell to Us Price: $322.24 each
The gold price is currently near $1,300 per ounce and will only go higher over time if history is a guide. And if the US dollar should weaken dramatically, it will go a lot higher. One-ounce gold coins such as Gold Candian Maple Leafs or American Eagles, along with bars are already difficult to afford for many people. That is why the popularity (and availability) of gold in smaller units is rising.
5-gram gold bars are a good example. These bars, the equivalent of just 0.16 troy ounces, cost a fraction of what a standard 1-oz bar does. That makes them accessible to investors with very modest budgets. Take a look at all our gold for sale!
Some argue that in periods of very high demand for metal, smaller units may outperform this broader appeal. Order a Swiss gold bar today!
In any event, it makes sense to include a variety of sizes in any gold holding. When it is time to sell metal, the investor will be able to choose exactly the quantity needed. In the event metal is needed for barter and trade, having the right denomination to trade with may be important.
5 Gram Gold Bar Premiums
Investors who buy gold bullion pay what is called the "premium" in addition to the market price of the metal. This premium represents the cost of fabricating the item, shipping costs, the wholesale premiums the dealer may have paid to acquire the item, and the dealer's profit.
There are premiums associated with both coins and bars, but they will vary from item to item depending on size and type. For example, coins tend to carry higher premiums than bars. Order quantity is another variable. As a rule, larger order quantities mean lower premiums.
The 5-gram gold bar carries a bit higher premium as a percentage of the gold content due to its size. The machine time and labor involved in fabricating smaller bars is similar to that required for larger bars. The good news is that smaller bars also command a bit higher premium when it is time to resell them.
The 5-gram gold bar is a popular choice for collectors, investors, and people looking for a more unique gift. The bars come in an attractive package with the bar in a clear plastic hold at the center of an assay card with details including the manufacturer, weight, purity, and serial numbers.
5-Gram Gold Bar vs. Gold Bullion Coins
The 5-gram gold bars for sale offer some differences from gold coins that investors should consider. The most obvious difference is the appearance. The gold bars are rectangular rather than round. Unlike coins, they typically are not stamped with the year of issue. Many bars will carry the manufacturer's logo but often do not feature other images such as faces or animals which are commonly struck on coins.
Gold bars are also made by private mints and refiners rather than a government mint. They are not legal tender for some face value amount. Some people value coins because of their status as legal tender and because their weight and purity are guaranteed by the government issuing them.
But these distinctions are less meaningful than many people imagine. The face value amount is far less than the value of the metal content in precious metal coins. For example, the $50 gold American Eagle from the US Mint contains 1 oz of gold which is currently valued at 26 times its face value (around $1,300). It is safe to say the coin will never be spent for its face value, even if that is technically possible. The government guarantee of weight and purity is not a major factor when private mints and refiners offer their guarantees.
The packaging of bars versus coins is also quite different. Coins generally do not come packaged in the assay card holder, while bars typically do. The package itself is the certification of weight and purity.
Are There 5-Gram Gold Bar Investment Opportunities?
5-gram bars are an excellent addition to any holding of physical metal. As long as the value of fiat money, including the US dollar, keeps falling these bars will protect your wealth and savings. In times of crisis or uncontrolled inflation, these bars can be expected to outperform other conventional asset classes. Gold has been, and always will be, a go-to asset for investors who seek a safe haven.
The 5-gram size is particularly well suited for investors who seek to invest a modest amount in gold. Current gold prices put the value of a single bar around $250. They are well within reach of young investors, those with limited capital, and those seeking to dollar cost average into a larger position by investing smaller amounts regularly.
Should gold prices skyrocket, perhaps in response to a currency crisis, the smaller and most affordable units may be the easiest to sell or trade. In that event, the premiums associated with items such as the 5-gram gold bars can be expected to rise relative to larger bars and coins. This effect would magnify the returns for investors.
Benefits of the 5-Gram Gold Bar
The primary advantages of 5-gram gold bars are their affordability and packaging. Investors do not have to spend a lot to get a well-made bar, securely packed in an assay holder. The holder both protects the bar from damage and provides certification as to the metal content.
Trust is a big deal for people buying and selling gold. They need to know the metal is genuine and unadulterated. Assay packaging goes a long way to inspire confidence. It includes security features to provide some assurance the item has not been tampered with.
For example, if the laminated layers in the package are peeled and separated, images are revealed which makes it clear package is not in its original state. The package is also designed to be difficult to counterfeit with holographic seals and other features.
The private mints and refiners who produce bars also tend to offer the best security features on the bars themselves. Micro-engraved mint marks which are difficult to copy are becoming commonplace. The Swiss refiner PAMP Suisse scans each bar they produce to get a unique topographical fingerprint for each bar. Investors will be able to verify the bars are genuine by comparing them against that fingerprint if necessary.
Conclusion
A 5-gram gold bar can be a great stepping stone on the path to building a well-rounded position in physical gold. The most versatile gold holding will have a variety of sizes and denominations of gold in them, including smaller bars. And 5-gram bars make dollar cost averaging via smaller, regular investments in gold feasible for lots of people.
The assay card packaging keeps the bars in "mint" condition over time and inspires confidence in prospective buyers. All-in-all they are a terrific option for anyone planning to buy gold. Add a gold bar to your investment portfolio or collection today at a great price.
Product Specifications
| | |
| --- | --- |
| Mint Facility: | PAMP Suisse |
| Quality / Type: | Bullion, Uncirculated |
| Purity: | .9999 pure gold |
| Metal Weight: | 5 grams (.1608 troy ounces) |
Sell to Us
We are buying this item back daily, and we pay you promptly!
Our current buy pricing is $322.24 each and we will buy up to 20 ounces at this price. Simply call us on any weekday to lock pricing at 1-800-800-1865.
Learn more about the process for selling to us here.
Shipping Info
We take great pride in the way your order is packaged and delivered.
You can expect:
Prompt Shipping – We ship orders shortly after your payment has been cleared – generally within 2 business days.
Fully Insured – We fully insure all shipments with Lloyd's of London.
Privacy – Your package will have no external markings that provide any clue as to the contents. Because we insure packages with Lloyd's of London, we do not declare a value or insure with the carrier.
Accountability for Package Contents – Your order will be packed under video surveillance, weighed and double-checked prior to shipping to ensure you receive exactly what you ordered.
Professional Packaging – Your order will be packaged securely and professionally.
Tracking – We will provide you with the carrier's tracking number for your shipment so you can monitor its progress and plan for delivery.
Signature Confirmation – Delivery carriers are instructed to request a signature upon delivery.
Cost to Ship & Insure
(absent periodic special offers for free or discounted shipping)
| Insured Value | Cost |
| --- | --- |
| Up to $198.99 | $7.97 |
| Insured Value | Cost |
| --- | --- |
| $199.00 + | FREE |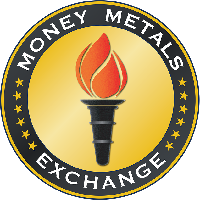 Sign in to Your Account
Please Sign In or Register to leave a review
Michael P.

May 31st, 2023

Perfect choice for my investments I feel...

I've made a couple small purchases from money metals, but I like the service and selection paired with the fast shipping. No need to look around for me.

Barry K.

January 5th, 2023

A Great Way To Start With Gold.

I like the way it is packed, proofed and identified. My first gold purchase and I am pleased with it.

My favorite sized, highest quality Gold Bar you can get without breaking your bank account. The five grams of .9999 gold in a high quality, Swiss manufactured gold bar for a nice size and reasonable cost. The easiest way to invest over time to get into Gold Investments at a manageable size and quality down to the assayed packaging. You will enjoy accumulating the purest bars with easy storage and investment size available.

Mauricio S.

May 26th, 2022

Just in this month alone I've made 6 purchases couple silver bars, $5 face half dollar pieces and today I received my 5 gram gold bar..I cannot stop looking on the website.. thank you MMX

Being new to Gold I did my homework as best I could. And found Pamp Veriscan, also downloaded the app. For now, I'll be sticking to Pamp but in addition, I found Money Metals. I have nothing to compare it to, but I see no need to shop around. Buying from a trusted source that makes it so easy, why would I go anywhere else. I do look around at prices and YOU know, they're all the same, no one is giving this stuff away. So, it all comes down to service and ease. Money Metals for me......