Aztec Round - First Sun God 1 Oz Silver Round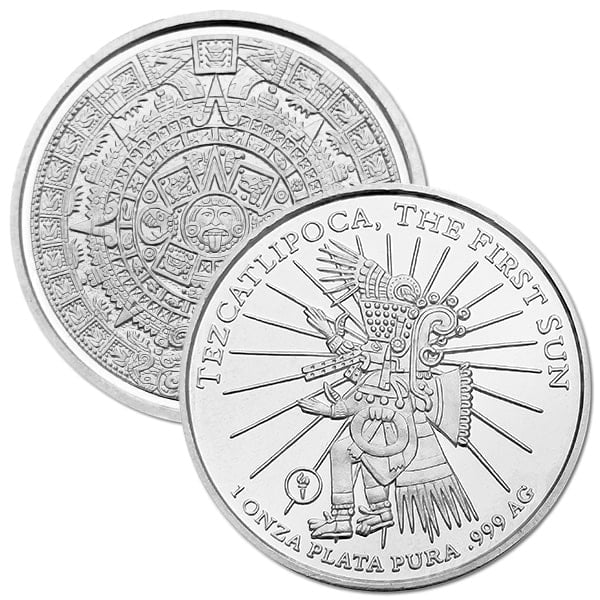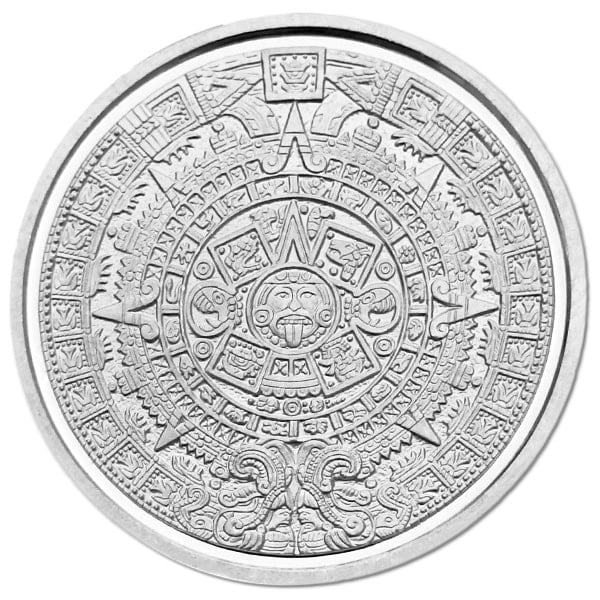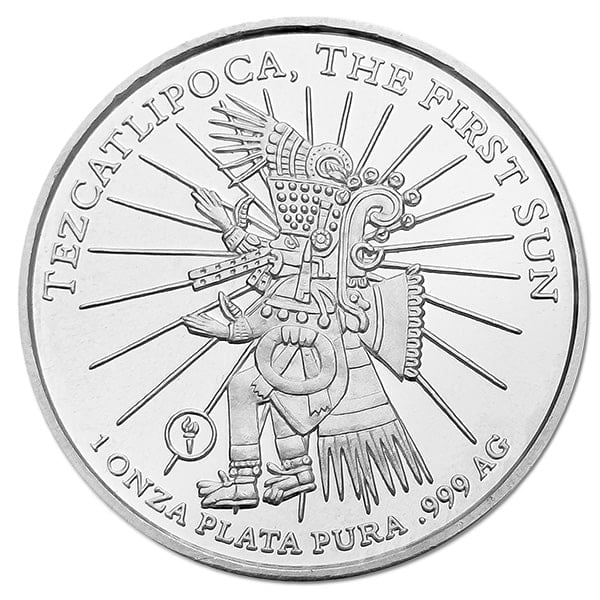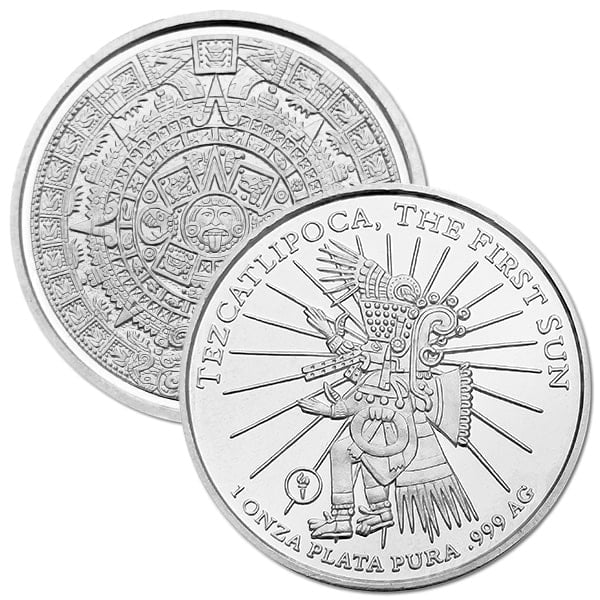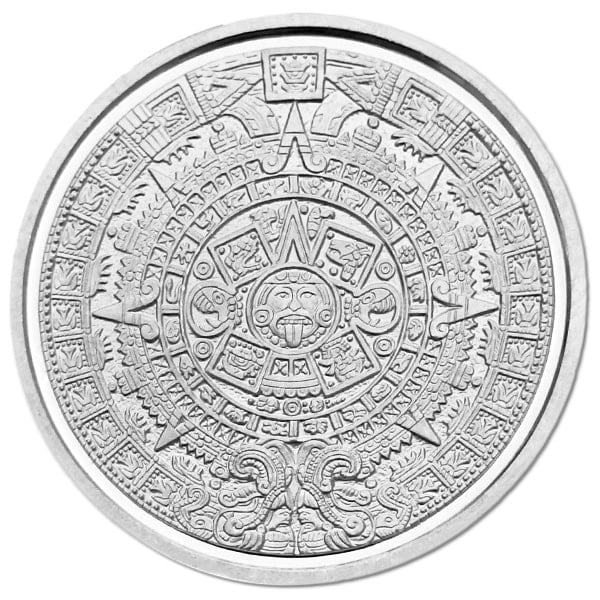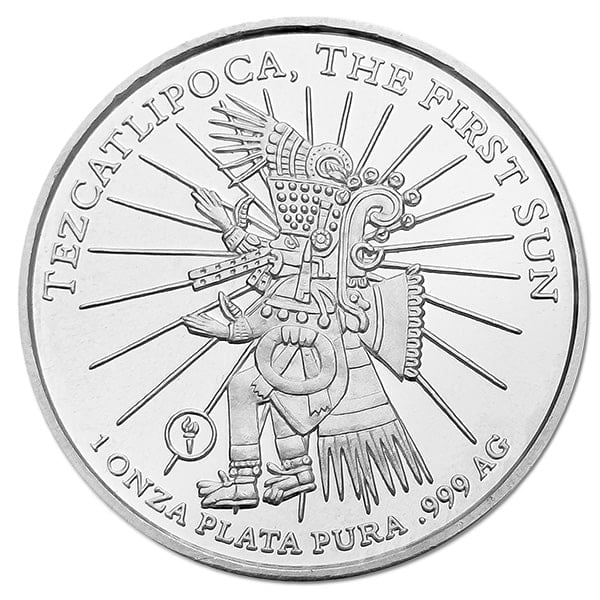 $27.49
(as low as $3.09 over spot)
Get a Free Kennedy 90% Silver Coin w/ Your $500+ Silver Order (excludes Vault Silver & Monthly)
Quantity
Premium/Oz
Total Price Each
1 - 39
$4.09
$28.49
40 - 499
$3.59
$27.99
500 - 2000
$3.09
$27.49
2001+
Call for discount
Full Tube Qty = 20



Free Shipping
On All $199+ Orders
Sell to Us Price: $23.98 each
Money Metals Exclusive - Tezcatlipoca, Aztec god of the First Sun in a 1 Oz Pure Silver Round
Money Metals Exchange is pleased to offer brand new Aztec First Sun God rounds, minted of .999 fine silver. The first release of these striking new rounds was designed to commemorate Tezcatlipoca (pronounced Tez-cat-lee-poke-uh or "Smoking Mirror"), the god of the Great Bear Constellation, and the night sky.
While silver bullion rounds are not legal tender, you get more silver ounces for the price than most other options. And Money Metals has the best sale prices on silver rounds found just about anywhere.
Aztec Sun Stone (Obverse)
The reverse of the beautiful Aztec round features the stone of Axayacatl, which is often called the Aztec calendar stone and is more properly known as the Sun Stone. At the center of the stone, the face of the god Tonatiuh represents the current Aztec world - the Fifth Sun. The surrounding symbols represent the calendric signs of the past four eras. On the stone, Tonatiuh's tongue is a sacrificial flint or obsidian knife protruding outwards.
Tezcatlipoca - The First Sun God (Reverse)
In Aztec times (14th–16th Century AD), Tezcatlipoca presided with his peers at the summit of the divine hierarchy. He reigned together with Huitzilopochtli, Tlaloc, and Quetzalcóatl. Tezcatlipoca was also known as Yoalli Ehécatl ("Night Wind"), Yaotl ("Warrior"), and Telpochtli ("Young Man"). Aztec warriors might encounter Tezcatlipoca waiting to challenge them at crossroads when traveling at night. He presided over the telpochcalli ("young men's houses") in which the sons of the common people received basic education and training in the warrior arts. He was the patron god of slaves and severely punished masters who mistreated "Tezcatlipoca's beloved children." He bestowed riches and fame on the virtuous and condemned those without virtue to poverty and slavery.
The main rite for Tezcatlipoca's followers took place during Toxcatl, the fifth ritual month. Priests selected a young and handsome war prisoner to impersonate the god. He lived in princely luxury for one year, with four beautiful girls dressed as goddesses as companions. After one year, on the appointed feast day, the prisoner climbed the steps of a small temple while breaking flutes he had played. The rite ended at the top of the stairs where he was sacrificed by priests who removed his heart.
Why Invest in Aztec Silver Rounds?
Aztec rounds are an exclusive design from Money Metals Exchange and will add interest to any investor's portfolio. Aztec history and culture are fascinating for the people of the Americas and worldwide.
Silver rounds also provide an ideal investment opportunity for people hedging against inflation. In today's uncertain economy, the strength of the dollar cannot be easily identified, nor can its future. As such, many investors look to alternative sources of wealth, and silver is an ideal form due to its worth and value as a precious metal. With a purity of .999, the coin's resale value will remain as there is likely to be a constant demand for silver. Silver's use in jewelry and, as has been reported, medicine, makes it a metal that will always be in high demand.
Rounds make a good alternative to both gold and silver bars and coins, as they are unique in size and design, attractively rounding off a collection. Although they cannot be used as legal tender, their value remains and is dictated by the spot price of silver. Just look at what a bar of silver is worth, or how much you will get when you sell silver coins back to the dealer, and then you will understand the value of silver rounds.
Why Money Metals Exchange (+ How to Buy)?
Money Metals Exchange can offer you a fantastic price on these commemorative rounds, and do so whilst guaranteeing a high-quality service. If you are unsure about anything, simply pick up the phone and call us at 1-800-800-1865.
Alternatively, our online chat function connects you with a member of our team of experts instantly. We are happy to answer any questions or queries you may have either before, or after purchase, and we enjoy not only selling products to you at great prices but educating you along the process. We place our customers at the heart of everything we do, to ensure that you are getting the right product for your circumstances. If you want further reassurance, why not read some of our customer reviews, on the right hand side of the page?
Simply order online using a range of cards, and we will have your product shipped out to you as soon as we can. If you spend over $1000, shipping is free. So, what are you waiting for?
Selling to Money Metals
If you decide that now is the right time to cash in on your silver, Money Metals Exchange would be happy to offer you a price, regardless of whether we purchased the silver from you initially (this is another area where we differ from our competitors). Simply contact us, and we will be happy to lock down a price for you.
Product Specifications
| | |
| --- | --- |
| Mint Facility: | Various |
| Quality / Type: | Bullion, Uncirculated |
| Purity: | 99.9% Pure Silver |
| Metal Weight: | 1 troy ounce |
| Diameter: | 39mm (1.535") |
Sell to Us
We are buying this item back daily, and we pay you promptly!
Our current buy pricing is $23.98 each and we will buy up to 1,000 ounces at this price. Simply call us on any weekday to lock pricing at 1-800-800-1865.
Learn more about the process for selling to us here.
Shipping Info
We take great pride in the way your order is packaged and delivered.
You can expect:
Prompt Shipping – We ship orders shortly after your payment has been cleared – generally within 2 business days.
Fully Insured – We fully insure all shipments with Lloyd's of London.
Privacy – Your package will have no external markings that provide any clue as to the contents. Because we insure packages with Lloyd's of London, we do not declare a value or insure with the carrier.
Accountability for Package Contents – Your order will be packed under video surveillance, weighed and double-checked prior to shipping to ensure you receive exactly what you ordered.
Professional Packaging – Your order will be packaged securely and professionally.
Tracking – We will provide you with the carrier's tracking number for your shipment so you can monitor its progress and plan for delivery.
Signature Confirmation – Delivery carriers are instructed to request a signature upon delivery.
Cost to Ship & Insure
(absent periodic special offers for free or discounted shipping)
| Insured Value | Cost |
| --- | --- |
| Up to $198.99 | $7.97 |
| Insured Value | Cost |
| --- | --- |
| $199.00 + | FREE |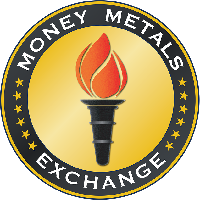 Sign in to Your Account
Please Sign In or Register to leave a review
Jason H.

October 25th, 2023

I love the Aztec Sun Stone design, and the details in this piece are well done. It can be a fine addition to your silver portfolio.

Mark p.

August 25th, 2023

Awesome detail and customer service

The detail of this round is amazing and the shine makes it seem like you're holding a piece of Aztec treasure.

These are gorgeous and very detailed. Another great purchase from Money Metals! I'm hoping that different Aztec rounds will become available.