First Lady - U.S. Commemorative 1/2 Oz .9999 Gold $10 Coin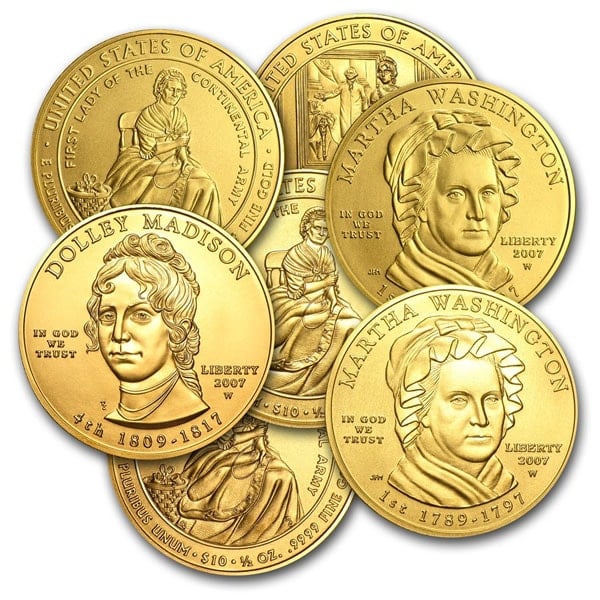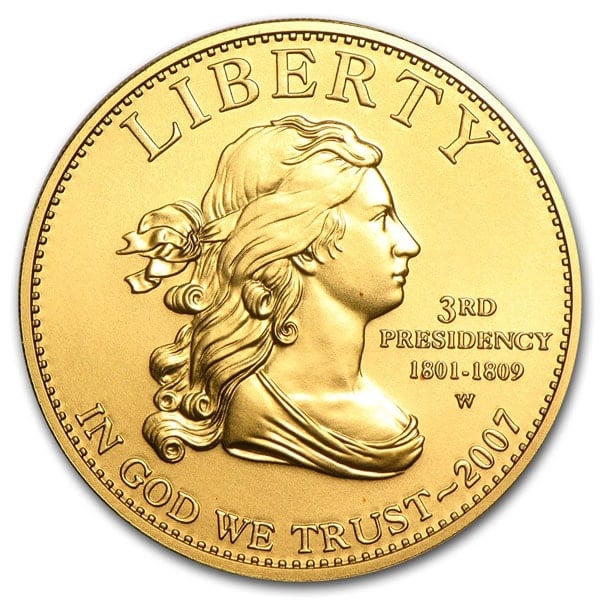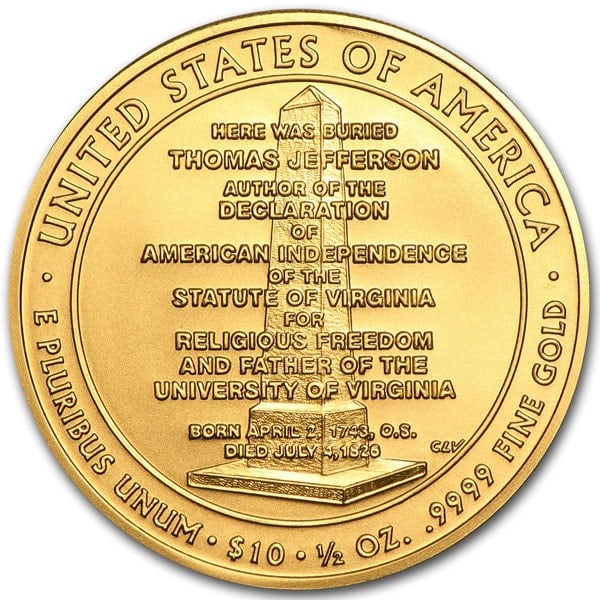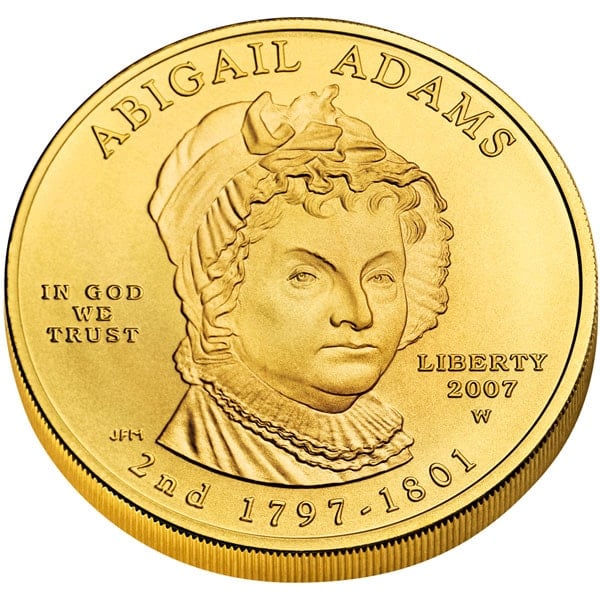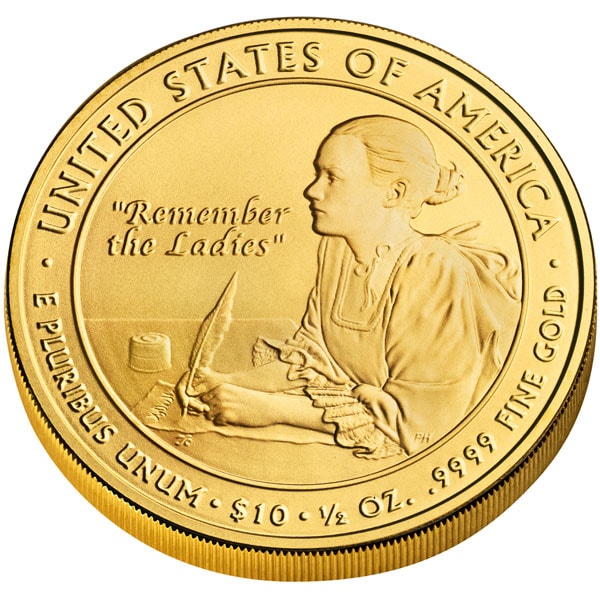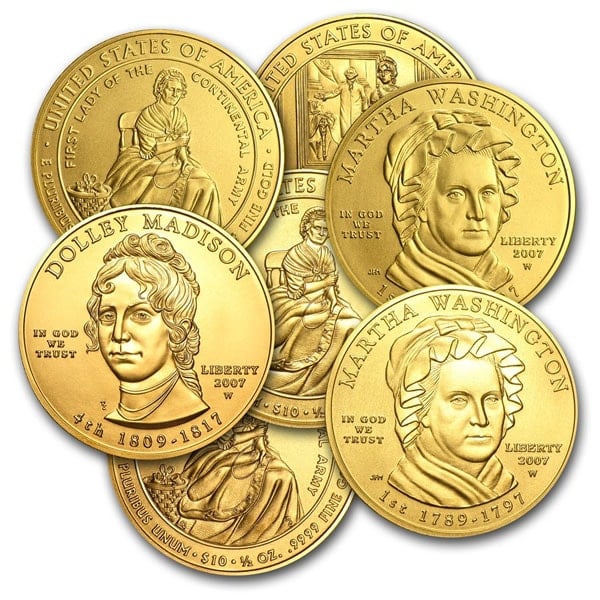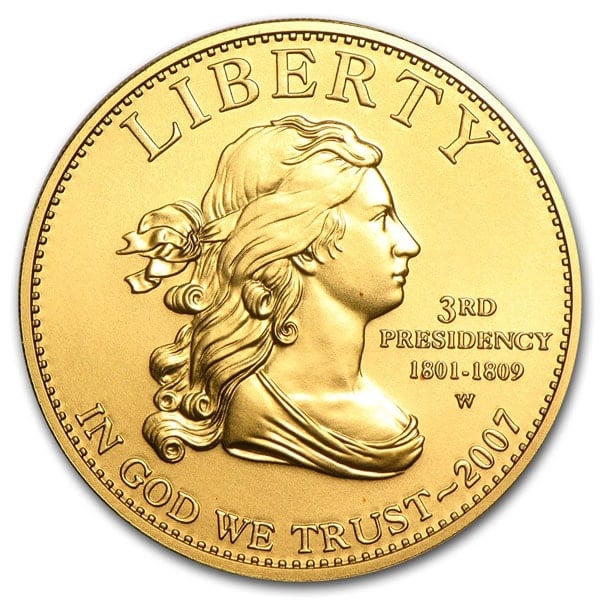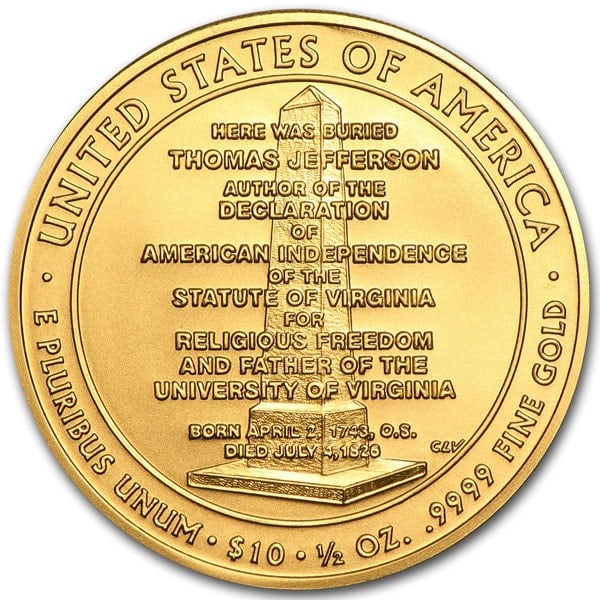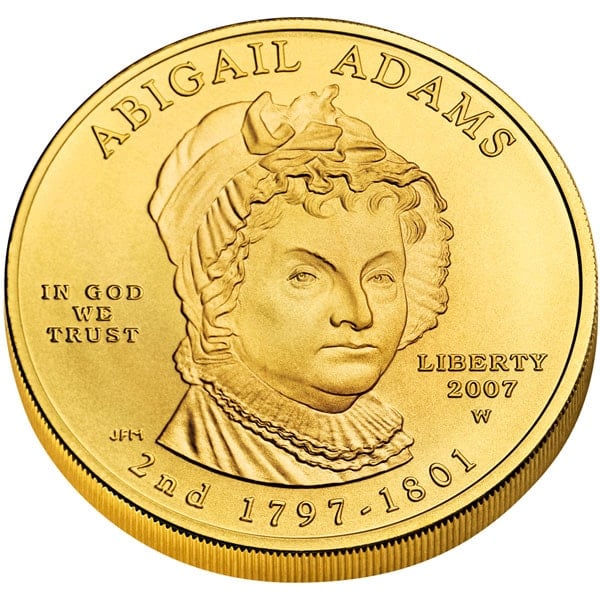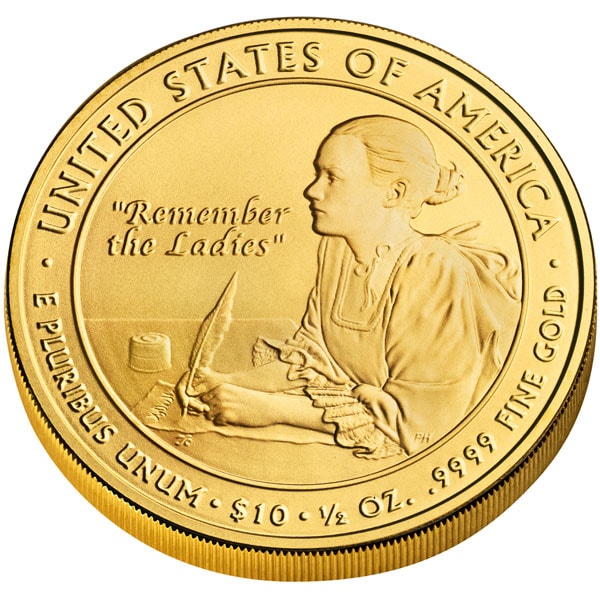 $1,107.95
(as low as $86.80 over spot)
Quantity
Premium/Unit
Total Price Each
1 - 9
$104.67
$1,125.82
10 - 40
$86.80
$1,107.95
41+
Call for discount



Free Shipping
On All $199+ Orders
Sell to Us Price: $980.30 each
Buy First Spouse Gold Coins
Throughout history, investing in precious metals – especially gold – has been one of the safest ways to increase one's wealth. Precious metals, though subject to value fluctuation, have traditionally been far more stable than stocks or fiat money.
Gold, silver, platinum, and other precious metals can easily be obtained in the form of coins, rounds, and bars. These are issued by government-owned as well as private mints, and represent a great option for individuals looking to expand and diversify their portfolio.
Usually, coins issued by government mints have the status of legal tender, meaning they can be used in transactions. They are a great way to get into gold trading, as they usually cost less than heavy bars which, naturally, makes them easier to trade.
Perhaps one of the best starting points for investors and collectors who'd like to give gold investment a try is the US Mint First Spouse Commemorative ½ oz. .9999 $10 Gold Coin series. It is a line of affordable, tastefully designed coins with great collector's value. Read on for a detailed analysis of the First Spouse gold coins.
Coins vs. Rounds
Coins of precious metals are legal tender made exclusively in government-run mints. Generally, bullion gold coins tend to bear the year of issuance, purity, face value, and weight on the obverse side. They also sport intricate designs on the reverse side. Usually, the coins from the same series will differ in design from year to year, though there are exceptions. Due to their equivalence to currency, they tend to sell above the spot price.
In addition to regular bullion gold coins, there are also uncirculated and proof coins. These two are special-made coins. They have the same percentage of precious metal (in this case gold) as the regular ones. The proof coins feature a fancier finish with higher detail and definition. Uncirculated coins come in mint condition and without the wear present on circulated coins. They are made the same way as circulated coins but usually with a somewhat higher coining force, special packaging, and special cleaning after minting.
Rounds, on the other hand, are issued by private and government-run mints and do not have legal tender status. They are very similar in appearance to coins and are quite frequently mistaken for them. Rounds can be considered the round-shaped counterparts of bars. They usually feature the mint's logo, purity, and weight information. They generally have a low premium and represent a good starting point for inexperienced investors.
First Lady Coins
First Lady coins, also known as First Spouse gold coins, were issued from 2007 to 2016, commemorating the spouses of former US presidents found on the Presidential $1 coins (also issued from 2007 to 2016). Initially, the series sold rather well, with high production numbers for the early models (around 40,000 each). Some of them remained available far longer than the initially planned 365-day periods.
This would indicate lower-than-expected demand and soon the numbers of issued coins were lowered. The low production numbers in later years created a gap in the market, making some of the coins highly sought after, thus significantly boosting their resale value.
Thomas Jefferson's Liberty (issued in 2007) holds the record with the audited mintage of 19,823 uncirculated and 19,815 proof coins (39,638 coins in total). At the other end of the spectrum, there were only 2,168 uncirculated Lucretia Garfield coins (also audited mintage).
Features and Design
According to US law, which forbids the portraits of living persons on currency, only deceased first ladies were included, starting with Martha Washington and ending with Nancy Reagan. All coins are 26.49 mm in diameter and 1.88 mm thick.
In the case of Thomas Jefferson, James Buchanan, and other presidents who weren't married (or widowed) during their time in office, Liberty is featured instead of the portrait on the obverse side. The reverse side features an image with key themes of the particular president's life or term in office. The exception was the appearance of the suffragist Alice Paul on the coin representing Chester A. Arthur's term.
On the obverse side, the coins show the portraits of the first ladies, their names above the portraits, and their husbands' terms in office. On the left side of each portrait, the inscription "In God We Trust" can be found, while the inscription "Liberty" and the year of issuance are on the right side of the first ladies' portraits.
On the reverse, each coin features an illustration of the central themes of each first lady's life. The inscriptions include "The United States of America," "E Pluribus Unum," and the specifications of the coin. The $10 face value, ½ oz. weight (Troy ounce), and.9999 quality mark (24-karat gold) are also featured on the reverse.
Should You Buy Them?
The short answer is yes – as gold is always a viable and safe investment option. The First Spouse gold coins are a great investment and a sound choice for those looking to diversify their portfolio and get into gold.
If you are a collector, this series offers great value as it pays homage to the first ladies, which is quite rare in the world of numismatics. Also, given the scarcity of the later coins, the prices might go up significantly in the future.
On the other hand, if you are looking to invest in coins that have good value and are easy to sell, this series might be your best starting point. These coins are made of 24-karat gold and some of them are available in very limited numbers. As legal tender coins, they are far easier to trade than bars and rounds.
Conclusion
Whether you are looking for some nice and valuable coins to add to your collection or you're into the trading of numismatics, these coins are an excellent investment of your money. Their availability is limited and there's a substantial interest in them on the market.
The early First Spouse gold coins, such as Martha Washington, Jefferson's Liberty, and Dolley Madison were minted in relatively larger quantities, though still small enough to be considered a good catch. In comparison, some of the later coins are in a much shorter supply which may make them even more desirable.
Any way you slice it, the First Spouse series is a safe bet for both collectors and investors as the future of 24-karat gold looks as solid as its quality.
**Note - these coins are not in their original mint boxes.
Product Specifications
| | |
| --- | --- |
| Mint Facility: | US Mint |
| Denomination: | $10 USD |
| Date: | 2007 - 2016 |
| Quality / Type: | Bullion, Uncirculated |
| Purity: | .9999 Pure Gold |
| Metal Weight: | 1/2 troy oz |
| Diameter: | 26.49mm |
| Thickness: | 1.88mm |
Sell to Us
We are buying this item back daily, and we pay you promptly!
Our current buy pricing is $980.30 each and we will buy up to 10 ounces at this price. Simply call us on any weekday to lock pricing at 1-800-800-1865.
Learn more about the process for selling to us here.
Shipping Info
We take great pride in the way your order is packaged and delivered.
You can expect:
Prompt Shipping – We ship orders shortly after your payment has been cleared – generally within 2 business days.
Fully Insured – We fully insure all shipments with Lloyd's of London.
Privacy – Your package will have no external markings that provide any clue as to the contents. Because we insure packages with Lloyd's of London, we do not declare a value or insure with the carrier.
Accountability for Package Contents – Your order will be packed under video surveillance, weighed and double-checked prior to shipping to ensure you receive exactly what you ordered.
Professional Packaging – Your order will be packaged securely and professionally.
Tracking – We will provide you with the carrier's tracking number for your shipment so you can monitor its progress and plan for delivery.
Signature Confirmation – Delivery carriers are instructed to request a signature upon delivery.
Cost to Ship & Insure
(absent periodic special offers for free or discounted shipping)
| Insured Value | Cost |
| --- | --- |
| Up to $198.99 | $7.97 |
| Insured Value | Cost |
| --- | --- |
| $199.00 + | FREE |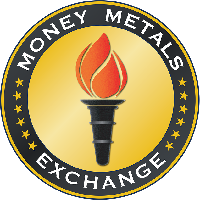 Sign in to Your Account
Please Sign In or Register to leave a review
Robert B.

December 21st, 2017

A beautiful 1/2 oz coin of .9999 purity! Money Metals Exchange is a top notch dealer!

Kenneth G.

November 26th, 2017

The First Lady is a beautiful coin. While perusing other companies I came across the same coin at nearly 90% higher cost because of the coin's rating.

David E.

November 24th, 2017

Don't bye when u can't afford them love to have one great price very nice love it everyone of them 5 stars