The decision to invest in precious metals is a wise one, and Silver bars from Money Metals Exchange are a good way to diversify your investments. They represent a tangible asset and can be an important way of protecting — and increasing — your wealth.
Why Buy Silver Bars?
There are several compelling reasons for Purchasing Physical Silver bars rather than coins, proofs, or rounds. Bars are often more popular than these other types of bullion for the following reasons:
You pay a lower premium than you would on coins.
Silver bars are more easily stored at home or elsewhere.
Silver bars, regardless of their size, are going to cost you less than silver coins.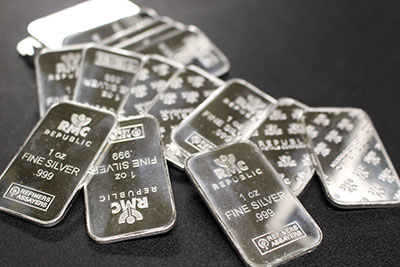 Coins carry designs, and those designs, as beautiful as they are, bring a higher cost. Even silver art bars are likely to have a lower premium markup (the price you pay above the current "spot price" of silver) than coins do. The larger the bar, from 1 ounce up to 5,000 ounces, the lower your premium will be.
A 10-ounce silver bar currently has a premium as low as $1.49 per ounce (prices quoted are from October 2019), whereas a Silver American Eagle coin has premiums that start at $2.54 per ounce and can rise as high as $3.34 or more.
Another benefit that silver bars have is the ease of storage. We think of coins as small and convenient — and they are — in small quantities, but, in larger quantities, silver bars take up half the amount of space as their coin equivalent. Bars are also easier to store correctly, an important consideration when it comes to your silver.
How Much Are Silver Bars Worth?
Most silver bars are 99.9% pure silver. Their value is based on the current spot Price of silver plus a premium markup.
The spot price of silver is the current trading value on the market. It is critical that you check this price when you are considering purchasing or selling silver, gold, or other precious commodities. This number changes often, sometimes several times a day, so being an educated investor pays off in dividends.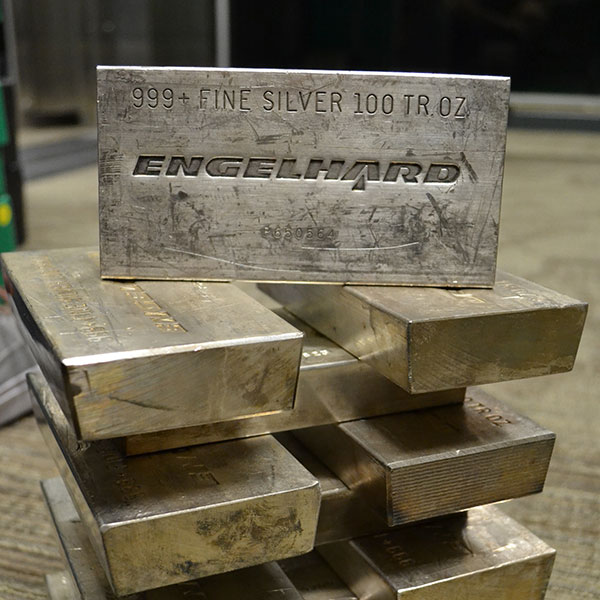 The premium markup for silver bars is typically below 10%, depending on their size and whether they are art bars (silver bars with imagery stamped on them) or have no decoration beyond the refinery's stamp on them. If you are working with a dealer that is pricing their bars beyond the spot price and a reasonable markup, it might be best to find another dealer.
All reputable refiners or dealers will have stamps for their bars. They include the content, weight, purity, name, and serial number. If their bars don't have this information, again, consider another dealer.
Where Do You Store Silver Bars?
Silver is a soft metal that can easily be nicked and scratched. It can also tarnish when in contact with air, heat, or moisture. These unsightly spots and surface markings can deflate the value of your silver significantly. We advise handling your silver with cotton jeweler's gloves and using special sterling silver cloths to keep them clean. Some even recommend cleaning your silver every month.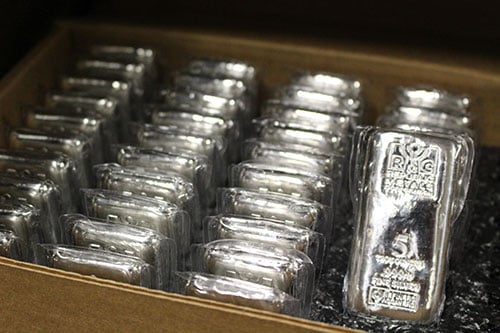 Some investors choose to store their silver in a bank vault or safety deposit box. These services cost a monthly or annual fee and, while secure, typically do not have controlled environments. Also, when choosing your bank, consider the following:
Is the bank in a stable financial position?
Is it close to home?
Do you have 24-hour access to your silver?
Others choose to store their silver bars at home in a safe or strongbox. Storing your silver at home gives you constant access to your silver bullion and is more accessible but comes with its risks. Store or install your safe in a cool, dry, dark area, and keep these security concerns in mind:
Purchase a fire-proof safe, but understand that, in case of fire, your silver might melt.
Make sure that your safe is well-hidden in case of burglary.
Don't tell people you have a stash, let alone that you keep it at home.
If you do choose to store your silver products at home, we recommend calling your insurance broker to cover your investment in case the worst happens.
Regardless of whether you choose to store your silver bars at home or a bank, we suggest tossing a few silica gel packets in with them to help counteract any humidity that might cause the silver to tarnish.
Some businesses specialize in storing silver bars. For more information on Money Metal's storage options, please go here.
Where Can I Sell My Silver Bars?
If you've checked the spot price of silver and feel it's the right time to sell off some of your bullion, you have several options.
Local coin dealers or shops are often the first stop for those selling their bullion. Most local coin shops can send you home with a check in hand on the same day. If you need cash fast, this might be the best option for you.
If time is not an issue for you, larger businesses, like Money Metals Exchange, can also purchase your physical silver. There will be the added cost of shipping to pay, but, working with a larger dealer or exchange has benefits as well.
Major online dealers can offer you a better deal. They have more stock than a local shop. Additionally, their product turnover is higher because they're working in a national (if not worldwide) market, and this means they can afford to charge less.
Selling your silver to an online dealer is easy. With Money Metals Exchange, it just takes three steps.
Please remember to package your silver carefully — nicks, scratches, and tarnish will devalue your investment
Are Silver bars worth buying?
As with selling, when you intend to buy silver, educate yourself. Ensure the person you are working with is a reputable dealer and that the bars have a refiner's stamp on them. Selling unmarked silver bars is difficult, if not impossible, so the stamp is critical.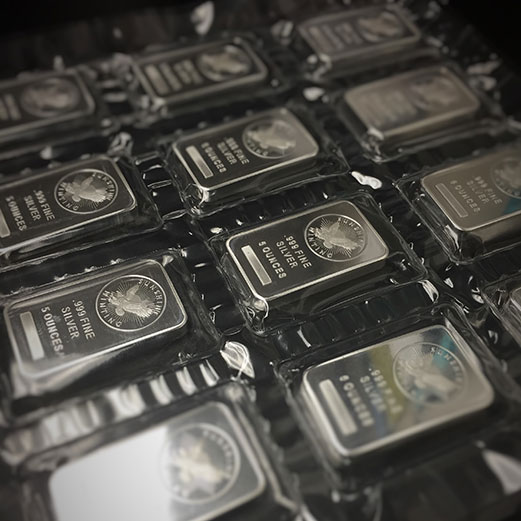 Do your research on your dealer too. If you're using a site like eBay, verify the seller's rating. If you're buying locally, ask around, call the Better Business Bureau, and whether you're purchasing online or locally, check their business reviews.
Ultimately, going with a well-established dealer is the best way to guarantee that you're getting good silver for your money.
Whether you're buying a 1-ounce bar or a 1,000-ounce bar, Money Metals Exchange can give you the best deal for online purchases or sales of silver bars. Talk to one of our specialists and get started today.

About the Author:
Clint Siegner is a Director at Money Metals Exchange, a precious metals dealer recently named "Best in the USA" by an independent global ratings group. A graduate of Linfield College in Oregon, Siegner puts his experience in business management along with his passion for personal liberty, limited government, and honest money into the development of Money Metals' brand and reach. This includes writing extensively on the bullion markets and their intersection with policy and world affairs.