Silver dimes, with a U.S. denomination of ten cents face value (USD $0.10), offer an affordable way to accumulate physical silver. Each Roosevelt dime contains just 0.07234 troy ounces of actual silver content, meaning the price per coin is rather modest. And buyers get something that is both trusted and recognizable because it is an official US coin.
Along with silver quarters and half-dollars, silver dimes constitute a class of coins referred to as "junk silver."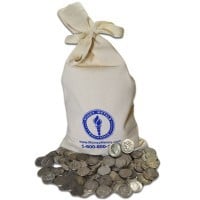 90% Silver Quarters & Dimes
View Details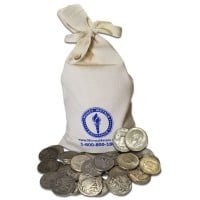 Junk silver - 90% Silver half dollars
View Details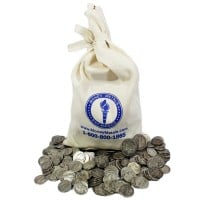 Mercury Dimes - 90% Silver (1916 - 1945)
View Details
When Did They Stop Making Silver Dimes?
Silver dimes (90% silver) were minted until 1964. The US Mint switched from silver to a copper-nickel alloy in 1965. This alloy remains in use today. Using silver in the US circulated coins ended with the signing of the Coinage Act of 1965.
There are three main designs that are available in 90% silver dimes – "Barber" dimes, Winged Liberty Head dimes (also known as "Mercury" dimes due to a resemblance to the Roman god Mercury), and the Roosevelt dime.
Mercury dimes are perhaps the most iconic of the designs and command a small premium in price because of the design's popularity.
How Much Are Silver Dimes Worth?
Silver dimes were minted for decades in very large quantities. Most are not collectibles and can usually be purchased near the melt value of the metal they contain. This includes coins minted more than 100 years ago. Age alone does not make a coin highly desirable for collectors. Scarcity is the bigger consideration, as opposed to the coin's history, mintage, mintmark, proof, dates, or many other details. Junk silver dimes are strictly valued for their melt value by the ounce as compared to relevant spot prices.
That is good news for silver investors who like the idea of buying official silver coinage, without paying extra to do it.
Read on for a more detailed overview of silver dimes.
What is Junk Silver?
The term junk silver is used for a category of silver coins that were minted in huge numbers and circulated, and, therefore, do not command any fine silver pricing, collectible add-ons, or numismatic premium. However, don't let the junk moniker fool you. These silver coins are always in high demand from investors who are interested in owning silver, not rare coins. You may even occasionally find some pre-1965 junk silver coins in your piggy bank at home. Some junk silver coins may also include such currency denominations as 35% silver War Nickels, 40% silver 1965-1970 Kennedy half dollars, and various silver dollars, but no pennies.
Junk silver coin values are measured based on the silver they contain, plus a small premium. The silver composition of junk silver coins helps to keep the value of the coin higher than its mere face value.
Until 1965, the United States Mint typically issued silver coins in an alloy that consisted of 90% silver and 10% copper. This alloy is also referred to as "coin silver," and "silver coinage."
Today, it is more common for mints and refiners to produce silver in at least .999 purity. Modern coins are not designed for circulation, so alloy metals to improve wear characteristics are often dropped from the formula. Metals that are at least .999 grade purity, or "bullion" purity, are built into some important laws. For example, investors seeking to own precious metals in their retirement account must have .999 in most cases. Junk silver is not eligible to be held inside a precious metals IRA.
Any combination of heavily circulated pre-1965 "junk" silver dimes, quarters, and half dollars with a face value of $1 will be averaged as having 0.715 ounces of actual silver content due to the circulated condition of the coins. This is true whether the silver coin is considered antique or not. In other words, ten silver dimes contain 0.715 troy ounces of pure silver, if the coins were to be melted and the silver extracted.
Interestingly, the one-dollar coins, such as Peace and Morgan silver dollars, have slightly more silver content than the equivalent face value of smaller coins. Each silver dollar contains 0.77344 oz of silver content. An investor or collector might find it important to know that this will be reflected in the total price, as they tend to have higher premiums than dimes, quarters, and half dollars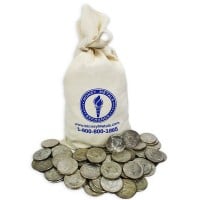 40% Silver Kennedy Half Dollars
View Details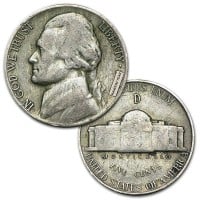 War Nickels - 35% Silver
View Details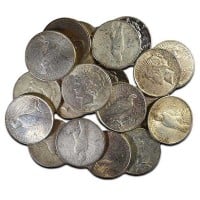 Peace Silver Dollars, No Grade, 90% Silver
View Details
Types of Silver Dimes
Liberty Head Barber Dime
The Liberty Head "Barber" coins were introduced in 1892 to replace dimes with the antique Seated Liberty motif. Seated Liberty silver dimes, as the Barber dimes are also known, had been in circulation since the 1830s, and officials determined it was time for a change.
Mint Director Edward O. Leech organized a design contest in 1891. However, no designers applied for the contest as only the winner would get the cash prize. Later that year, Leech appointed Charles Barber to design the new coins.
President Benjamin Harrison approved the design in November 1891. Production of the new coins finally commenced in 1892. The coins were met with mixed reception and discontinued in 1916, as soon as it was legally possible to do so.
According to the U.S. Bureau of Engraving and Printing: Department of The Treasury, "Treasury Coin Notes were authorized on July 14, 1890, through the Treasury Note Act of 1890, also known as the Sherman Silver Purchase Law. The law required the Treasury to purchase 4.5 million ounces of silver bullion a month and to pay for it with notes [paper bills] soon known as Treasury Notes of 1890 or Treasury Coin Notes."
The Barber Liberty Head Dime coin weighs 2.25 g and measures 17.91 mm in diameter. It was struck in an alloy of 90% silver and 10% copper and circulated dimes each containing 0.07234 oz. of silver content.
The Liberty Head is the primary motif on the obverse side. The inscriptions "UNITED STATES OF AMERICA" and the year of issuance are also featured on the obverse. The reverse side sports the denomination in raised letters and is surrounded by a wreath.
Winged Liberty Head "Mercury" Dime
The Winged Liberty Head dime, widely referred to as the "Mercury dime," was introduced in 1916 as part of a series that replaced coins designed by Charles Barber. Famous sculptor Adolph A. Weinman designed the new ten-cent coins. The Winged Liberty Head dimes were minted until 1946 when they were replaced by the Franklin D. Roosevelt dimes.
This dime was created in 1916, which is 3 years after the establishment of the U.S. Federal Reserve and ratification of the 16th Amendment which included the federal income tax.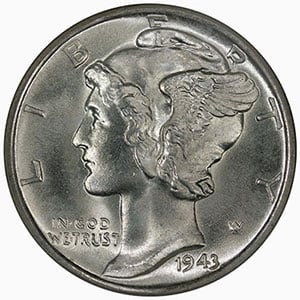 On the obverse side, the Winged Liberty Head dime features the goddess Liberty with a winged Phrygian cap, a traditional symbol of liberty and freedom in the West. The inscriptions "LIBERTY" and "IN GOD WE TRUST" are also featured on the obverse side. The year of issuance can be found beneath the sculpture. Thanks to the winged cap, the coin quickly became known as the "Mercury" dime, as Lady Liberty with the winged cap resembled the Roman god Mercury.
The reverse side features an image of fasces wrapped with an olive branch. The inscriptions on the reverse side include "UNITED STATES OF AMERICA," "E PLURIBUS UNUM," and "ONE DIME."
The pre-1965 silver dime is 17.9 mm in diameter and 2.5 g in total weight. The alloy is 90% silver and 10% copper and each circulated coin contains 0.07234 troy oz of silver.
Roosevelt Dime
Silver Roosevelt dimes were introduced in 1946, a year after Roosevelt's death. At the time of this writing, the Roosevelt dime was still in production, though in a copper-nickel alloy. Before 1965, all Roosevelt dimes were struck in 90% silver alloy.
They were designed by John R. Sinnock, one of the mint's employees.
On the obverse side, the Roosevelt Dime features a portrait of the late President Franklin Delano Roosevelt (F.D.R.), looking to the viewer's left. Along with the bust, the obverse side also features the words "LIBERTY" and "IN GOD WE TRUST." The mintmark, year of issuance, and designer's initials can be found below the bust.
On the reverse side, the coin sports a torch accompanied by branches of oak and olive. The inscriptions featured on this side include "E PLURIBUS UNUM," "UNITED STATES OF AMERICA," and "ONE DIME."
Before 1965, those coins equalling ten cents in face value had the same size and weight as both of their silver predecessors. The Roosevelt dime also had the same amount of silver (0.07234 troy ounces).
Are Silver Dimes a Good Investment?
Silver dimes, along with other junk silver coins, don't require a lot of money to start investing. Junk silver dimes can be bought in bags, in a box, in rolls, or as loose change. These low-cost deals make them a great starting point for people to establish a store of value and a way of creating savings.
The fact that they were struck in huge numbers and remain popular means the market for silver dimes is deep and liquid.
The Winged Liberty "Mercury" dimes even command a small premium based on the popularity of the design.
These times offer an enticing combination of features that can be otherwise hard to get. They are low cost AND they are official government issue coinage. For the majority of investors who do not mind holding previously circulated coins, these are a great quality option.
Conclusion
Junk silver coins, including silver dimes, are probably the best way to get official coinage at the lowest cost. They don't require a big initial investment.
The unit values are small, particularly for dimes, and that detail makes them a useful addition to any barter stash of coins or a small silver coin collection.
Likewise, these coins are always easy to buy and sell. Vast quantities of these coins remain in the market and are traded daily. Much like gold, silver, and platinum, areas around the world even make jewelry and other silver items or accessories with junk silver coins.
If you have any questions about junk silver, check out the Money Metals Exchange site for more information, or call to speak with our customer service team of experts to assist.

About the Author:
Clint Siegner is a Director at Money Metals Exchange, a precious metals dealer recently named "Best in the USA" by an independent global ratings group. A graduate of Linfield College in Oregon, Siegner puts his experience in business management along with his passion for personal liberty, limited government, and honest money into the development of Money Metals' brand and reach. This includes writing extensively on the bullion markets and their intersection with policy and world affairs.