Silver Price Today
Change
Silver
$18.15
0.34

1.87%
Gold Price Today
Change
Gold
$1,255.65
10.35

0.82%
Download this Free Report:
The Coming Silver Squeeze
Position yourself to profit from the coming silver mania - it's never been easier!
Enter your email address to access your free report...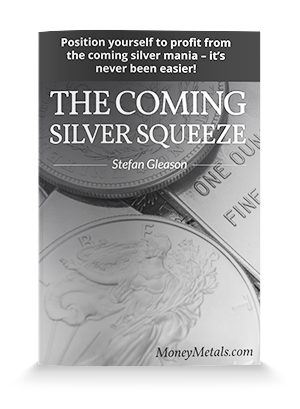 What Could You Buy With $100 Worth of Silver or Gold if You Invested 40 Years Ago?
As the purchasing power of the U.S. dollar decreases by the year, investors are turning to precious metals. The public has not yet figured out that the dollar's devaluation is ongoing and that holding physical precious metals rather than cash is an effective way of protecting their purchasing power over time. Grasping the concept of dollar devaluation is difficult for many. One of the most effective methods used to illuminate this concept is through illustrations.
We at Money Metals Exchange decided to use a $100 gold/silver investment from 1971 and convert the value into its worth today. The infographic below was designed to help you decide if you should buy silver or gold today to protect your assets...

Publish This Infographic On Your Own Website!
Simply copy and paste the code snippet below:
How Much is Gold Worth Today?
If you had purchased $100 in gold in 1971, it would be worth over $3,040 in today's dollars. Let's explore exactly how much your gold investment would be worth in terms of individual purchases. Today, $3,040 would buy you 2 60" LED Smart 3D HDTVs, 6 plane tickets to the Bahamas, a paid sports package for 30 years, or you could pay your annual electric bill not once, but twice.
The purchasing power of your 1971 dollars not only maintained itself, it increased. But if you had left your $100 in cash, you would still have only $100 in cash, which today only retains about 17% of its former value (even when using the U.S. government's understated inflation numbers).
How Much is Silver Worth Today?
Similar to gold, if you had purchased $100 in silver back in 1971, it would be worth over $1,200 in today's dollars due to the price of silver per ounce succumbing to inflation. So, what would $1,200 buy? A weekend getaway for 4 people, groceries for 4 months (2 people), 2 wireless surround-sound systems, or 3 new digital SLR cameras.
Because the Federal Reserve continues to print money out of thin air, or inject new dollars into the financial system with mere keystrokes, real gold and silver will continue to rise in nominal dollar price. We suggest saving in the form of money that stands the test of time, gold and silver bullion.
Sources: