Money Metals is the top-ranked national dealer that both buys and sells precious metals. If you sell your gold to a local dealer near you, you will generally get paid less for your metals as compared to doing your transaction with Money Metals. Learn more about selling to us here.
---
Purchasing (or Selling) Gold and Silver in Buffalo, NY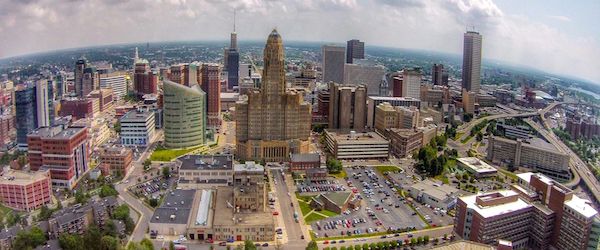 About Buffalo, NY
Located on Lake Erie and in the western part of the state, Buffalo is the second most populous city in New York. The city of Buffalo is named after a creek near the city and is home to many art galleries and museums. Buffalo was burned down during the War of 1812. Today, Buffalo is home to culture, sports and entertainment, and is known as a cuisine destination.
Local Gold and Silver in Buffalo, NY
Be sure to check out these coin and bullion shops next time you're in Buffalo, NY:
Harold B Rice Coins & Stamps
Since 1945, Harold B. Rice has been an icon in Western New York. Harold B. Rice Coins & Stammps is located in the village of Kenmore, New York, just at the north border of Buffalo. The warm, friendly yet professional atmosphere is the first indication that you are definitely in the right place for all your numismatic needs. Whether you're adding to or refining your collection, finding that "missing piece" or simply enjoying the chase, Harold B. Rice is the only choice. Always fair and honest, generations of Western New Yorkers have come to rely on Harold B. Rice for fair and accurate appraisals. As always, immediate payment is made for all they buy. Stop in and see why Western New Yorkers call Harold B. Rice first!
993 Kenmore Ave
Buffalo, NY 14217
Lincoln Coin & Stamp Co
For the best inventory and the best staff in Buffalo, NY, you must visit Lincoln Coin & Stamp Co. Lincoln Coin and Stamp Co has been serving the community for decades and their staff is the most knowledgeable around. Whether you're looking for modern coins or relics, U.S. Minted or foreign, silver or gold, and much more, Lincoln Coin & Stamp Co should be your destination.
33 W Tupper St
Buffalo, NY 14202
Jack Hunt Coin Broker
Jack Hunt Gold & Silver, originally known as Jack Hunt Coin Broker, was founded in 1968. Through 1979, their business was primarily a wholesale numismatic operation. In 1980, emphasis shifted to bullion, coins and scrap precious metals. Since then, Jack Hunt Gold & Silver has bought and sold over 35 million troy ounces of silver, gold and platinum.
They have developed their reputation in the precious metals business by providing their customers expert knowledge and honest pricing that results in real value with every transaction.
2746 Delaware Ave
Buffalo, NY 14217
TAG Diamond Jewelry
TAG Diamond Jewelry is western New York's largest buyer and seller of gold, silver, coins, watches, jewelry, bullion, sterling silverware and tableware, estate collections, and collectibles for more than 30 years. TAG Jewelers has served Buffalo and the western New York region by offering unparalleled value, along with providing our customers a diverse range of numismatic services. We are buyers of every form of precious metal, plus watches, diamonds, bullion, large private collections, as well as estate collections.
936 Dick Rd
Buffalo, NY 14225
Side By Side Antiques
While scrutinizing the antique market for incomparable furniture and jewelry items, we have come across an assortment or rare antique coins. If you are a collector or rare coins or would like an appraisal of your uncommon coins, come to Side By Side Antiques today.
26 Abbott Rd
Buffalo, NY 14220
Nachbar Rare Coins
Do you have a collection of rare coins or paper money that you would like to convert to cash? Have you been wondering how much it is worth but don't know who to trust?
Every year, Nachbar Rare Coins purchases millions of dollars worth of rare U.S. coins and paper money, often in direct competition with the largest national firms. Nachbar pays in full, up front and guarantees your complete satisfaction.
5820 Main St #601
Buffalo, NY 14221
Craig's Gold and Silver
Craig's Gold and Silver buys and sells new and used jewelry, watches, antiques, and collectibles. Jewelry and watch repair is also taken care of here. Get the best prices for your old gold, platinum, and silver jewelry or coins. We also sell precious metals at excellent rates, letting you diversify your wealth with tangible precious metals you can actually hold in your hands!
3065 Delaware Ave
Buffalo, NY 14217
Be sure to check out these coin shops next time you're in Buffalo. Please contact us if you know of other coin shops that would like to be listed.