Money Metals is the top-ranked national dealer that both buys and sells precious metals. If you sell your gold to a local dealer near you, you will generally get paid less for your metals as compared to doing your transaction with Money Metals. Learn more about selling to us here.
---
Purchasing (or Selling) Gold and Silver in Charleston, WV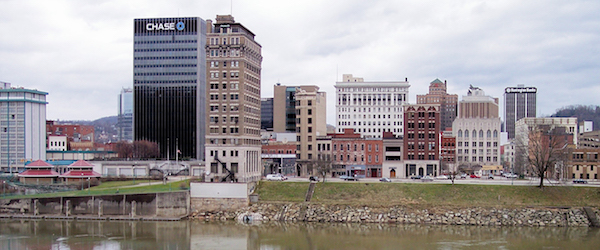 About Charleston, WV
Located where the meeting points of the Elk River and the Kanawha River, Charleston is the capital of West Virginia. Incorporated in 1794, Charleston has a population of about 50,000 residents. Charleston is home to the campuses of West Virginia, Marshall University, and West Virginia State University.
Local Gold and Silver in Charleston, WV
Be sure to check out these coin and bullion shops next time you're in Charleston, WV:
Kanawha Coin & Relics
Founded in 1962, Kanawha Coin & Relics is constantly buying coins, currency & precious metals that can be sold in the shop over-the-counter. If you have U.S. & foreign coins, U.S. & foreign currency, gold or silver jewelry, gold, silver, or platinum, bars & rounds, mint sets, proof sets, etc, that you want to sell, visit Kanawha for the best value.
712 Brawley Walkway
Charleston, WV 25301
Sams Rare Coins LLC
Sam's Rare Coins LLC specializes in buying and selling an assortment of collectible coins but they also buy and sell gold bullion & silver bullion too. Check out their coin products and supplies section for a wide range of different coin supplies as well. Sam's has a large inventory of coins that fit the needs of all collectors from beginners to experts.
Charleston, WV
KV Jewelry and Loan
As the leading gold buyer in the Kanawha Valley of West Virginia, KV Jewelry and Loan pays the most cash for your scrap gold and silver jewelry, gold and silver coins, bars, bullion, dental gold and other precious metals.
Established in 2002, KV Jewelry and Loan is far from a fly by night operation. You won't see the words "Cash4Gold" in their brand name as many "pop-up stores" and shopping mall kiosks display. KV's offered exceptional prices for gold when the value of gold was low and will continue to pay the most as prices climb.
Be sure to check out these coin shops next time you're in Charleston, WV. Please contact us if you know of other coin shops that would like to be listed.