Money Metals is the top-ranked national dealer that both buys and sells precious metals. If you sell your gold to a local dealer near you, you will generally get paid less for your metals as compared to doing your transaction with Money Metals. Learn more about selling to us here.
---
Purchasing (or Selling) Gold and Silver in Charlotte, NC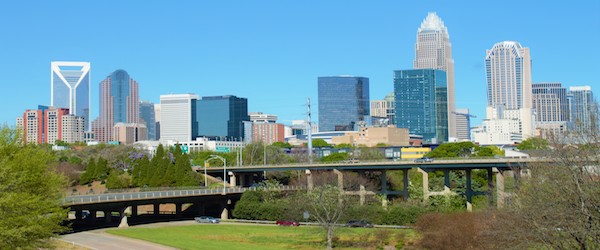 About Charlotte, NC
Known as The Queen City, Charlotte is the most populous city in North Carolina with a population of about 850,000. Charlotte is famous for being home to Bank of America, Wells Fargo east coast operations, and other prominent banking institutions, making it one of the most important banking hubs in the United States.
Local Gold and Silver in Charlotte, NC
Be sure to check out these coin and bullion shops next time you're in Charlotte, NC:
Money Metals Exchange
Atlantic Metals Xchange
You can be sure that Atlantic Metals Xchange will treat you fairly. They provide a secure, comfortable and pressure free environment. Many jewelry stores and pawn shops have a reputation for not providing honest pricing when customers sell gold or silver. Atlantic Metals is not a pawn shop or jewelry store. They exclusively buy metals, coins and diamonds and strive to offer top prices for your items.
11318 N Community House Rd
Charlotte, NC 28277
Independence Coin
Independence Coin is a premier dealer of rare coins and currency in Pineville, NC. The business was originally founded in 1972, at a location on Independence Boulevard. Independence Coin currently operates at Tower Place Shopping Center on Highway 51. They are one of the few stores that only deal in numismatics, thus keeping their focus on coins and currency. They have a reputation for reasonable prices, quality service, expertise, and high professional standards.
8700 Pineville Matthews #580
Charlotte, NC 28A2226
Cascade Refining Outlet
Welcome to Cascade! We are located in Charlotte, North Carolina. Cascade purchases gold, silver, diamonds, and platinum and is open to the public. They offer no-pressure, no-strings-attached quotes on your precious metals, diamonds and estate jewelry according to the most current market price. Because they are the actual refinery, there is no middle man and they are able to give you the highest prices and payout for your precious metals and diamonds.
4436 Park Rd
Charlotte, NC 28209
South Charlotte Jewelry & Loan
South Charlotte Jewelry & Loan is South Charlotte's only locally owned pawn shop and the best place to sell your gold. Do you have old gold jewelry or coins just lying around collecting dust? If you need cash fast, visit South Charlotte Jewelry & Loan today. They offer free appraisal on any coins or currency. You will not find a more knowledgeable staff in the Carolinas.
7143 South Blvd B
Charlotte, NC 28273
K & T Coins & Jewelry
If you are looking for a straightforward dealer, you must visit K & T Coins & Jewelry. Servicing the Charlotte-Gastonia area, K & T's has the friendlist and most knowledgeable staff around. At K & T's Coins and Jewelry you know that you are always getting the most value for your dollar and you know you aren't being nickle and dimed.
2491 E Ozark Ave
Gastonia, NC 28054
Piedmont Gold Exchange
Since 1981, Piedmont Gold Exchange has gained the highest regard for their precious metals refining services. They have had the greatest honor to serve business to business as well as individuals with their services. For the past 35 plus years, they have upheld their commitment to businesses of all varieties and sizes around the world by providing them with the highest precious metals payouts in the industry. Whether you're selling jewelry, coins, diamonds, or that 100oz bar of silver you can rest assured you're always receiving the most from PGE!
120 Main St
Pineville, NC 28134
The Gold & Silver Mint
At Gold & Silver Mint, they guarantee that you'll receive the highest value for your gold and silver with immediate cash. You'll always know what your gold and silver is really worth based on current market prices. You'll walk away with cash in your hand and, more importantly, peace of mind that you made the right decision.
So clean out your old, broken, unwanted jewelry and turn it into cash today. Buy something new for the family. Go on a shopping spree or pay off some bills. You'll be pleasantly surprised how much more your gold and silver is worth at The Gold & Silver Mint!
4512 Potters Rd
Matthews, NC 28104
Be sure to check out these coin shops next time you're in Charlotte. Please contact us if you know of other coin shops that would like to be listed.