Money Metals is the top-ranked national dealer that both buys and sells precious metals. If you sell your gold to a local dealer near you, you will generally get paid less for your metals as compared to doing your transaction with Money Metals. Learn more about selling to us here.
---
Purchasing (or Selling) Gold and Silver in Houston, TX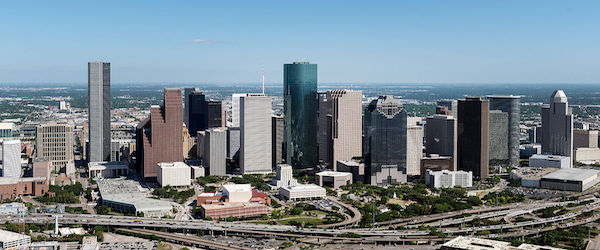 About Houston, TX
Nicknamed Space City, Houston is one of the most large and diverse metropolitans in the U.S.. Houston is home to NASA's Johnson Space Center, where the Mission Control Center is located. Houston is named after Sam Houston, a leader in the Texas Revolution. Home to more than 2.3 million people, Houston boasts the title of the fourth most heavily populated city in the country.
Local Gold and Silver in Houston, TX
Be sure to check out these coin and bullion shops next time you're in Houston, TX:
Houston Coin Buyer
Sell your coins to Houston Coin Buyer!! Houston's #1 Coin Shop for 27 years located in the heart of Houston, 1330 Westheimer road near Montrose just minutes from the Galleria. They buy large U.S. coin collections, U.S. rare gold, U.S. gold, U.S. currency Pre-1933 gold, and any type of coins. No collection is too large or too small. They also buy estate jewelry collection, gold & silver bullion, and fine watch collections. Walk-ins are welcome.
1330 Westheimer Rd #2
Houston, TX 77006
Royal Coin And Jewelry
Royal Coin and Jewelry is Houston's coin and currency authority. Royal Coin and Jewelry specialized in the buying, selling, and trading of US and foreign coin collections, gold, silver, and platinum bullion and scrap, currency, diamonds, and more.
4658 Beechnut St
Houston, TX 77096
Southern Star Coins
Southern Star Coins buys and sells coins and collectibles. They specialize in United States Minted coins and coins from around the World, along with U.S. Paper money and World Paper money. They also buy and sale professionally graded certified coins. PCGS, NGC, ANACS, ICG. coins along with Collector Coins, Bullion, Gold & Silver Coins, Pure Silver Coins, Proof Sets, Mint Sets, Pre-1958 Wheat Cents, Nickels, Pre-1965 90% Silver Dimes, Silver Quarters, Silver Half Dollars, Morgan Silver Dollars, Peace Dollars, Medals, Tokens, Coin Supplies, and much more.
10910 Katy Fwy
Houston, TX 77043
Houston Numismatic Exchange
Houston Numismatic Exchange in Houston, Texas, helps you realize the hidden value in your precious metals and provides a wide array of certified diamonds and rare international currency at great prices. They buy and sell rare and ancient currency as well as classic timepieces and authentic jewelry for any occasion. Theur company has been in business since 1965 and are members of GIA (Gemological Institute of America), PCGS (Professional Coin Grading Service), and NGC (Numismatic Guarantee Corporation). As the largest gold and silver dealer in Texas, there is nobody better suited for your needs than Houston Numismatic Exchange.
2486 Times Blvd
Houston, TX 77005
Hathorn Coin & Jewelry
Hathorn Coin & Jewelry has been a staple of the Houston coin market for years. Hathorn's have been involved with coin, jewelry, and precious metals for years. Come see them today.
11911 Katy Fwy
Houston, TX 77079
Lake Houston Coin & Bullion
Lake Houston Coin & Bullion is a full service dealer with over 40 years experience in the coin and precious metals market. LHCB offers a full range of services to answer the individual needs of our clients. These services include buying, selling and trading as well as free appraisals. LHCB believes it is their responsibility to be forthright and honest in all of their dealings and strive to answer any questions or concerns that may arise as you participate in the rare coin and precious metal market. So whether you are a first time visitor seeking education and guidance on the many different options available in today's market; a well seasoned numismatist looking for that special coin for your collection or an investor exploring the possibility of building, or adding to, your metals portfolio, they welcome the opportunity to earn your business.
Kingwood, TX 77325
Texas Gold & Silver Group
Texas Gold & Silver Group is family-owned and operated in Houston, TX. Since the company started selling and buying precious metals in 2006, they've treated every customer with respect and appreciation. Other companies may offer similar services, but their services are the best, and come with a personal touch.
10252 Almeda Genoa Rd
Houston, TX 77075
JR Bullion Rare Coins & Currency
J.R. Bullion is your premier gold buyer in Sugar Land/Houston. J.R. Bullion offers options for rare coins, gold and silver bullion, and more.
106 Bay View Dr
Sugar Land, TX 77478
Lone Star Gold Exchange
The Lone Star Gold Exchange is not the typical coin shop in the Houston area. They are family owned and operated and will stay that way for years to come. Lone Star prides themselves on their customer service and their friendly staff is always here to help. Their staff is very knowledgeable and they do their best to put the most money in your pockets.
1447 W Mt Houston Rd
Houston, TX 77038
If you know of other coin and bullion shops in Houston, TX that would like to be listed here, please contact us.