Money Metals is the top-ranked national dealer that both buys and sells precious metals. If you sell your gold to a local dealer near you, you will generally get paid less for your metals as compared to doing your transaction with Money Metals. Learn more about selling to us here.
---
Purchasing (or Selling) Gold and Silver in Jacksonville, FL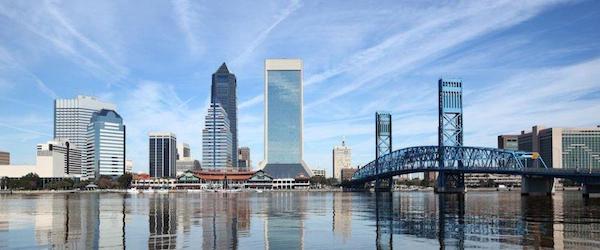 About Jacksonville, FL
The most populous city in the state of Florida, Jacksonville is located in northern Florida, only about thirty miles from the Georgia state line. Jacksonville is named after Andrew Jackson, the seventh president of the United States. Jacksonville is a major banking and finance hub.
Local Gold and Silver in Jacksonville, FL
Be sure to check out these coin and bullion shops next time you're in Jacksonville, FL:
Edgewood Coin Co
Edgewood Coin Co is your destination for rare inventory, competitive prices, and an honest and knowledgeable staff. Customers leave Edgewood Coin Co feeling very satisfied with their prices and service. Visit them today!
936 Edgewood Ave S
Jacksonville, FL 32205
A-Coin & Stamp Gallery, Inc.
A-Coin specializes in the buying and selling of jewelry, diamonds, watches, gold, silver, and more. The store's staff offers expert watch repair, custom jewelry work and appraisal services. Whatever the specific nature of your needs, you will always receive highly-competitive rates in exchange for your items. It's as simple as that!
6217 St Augustine Rd
Jacksonville, FL 32217
All Florida Coin & Stamp
All Florida Coin & Stamp provides the best prices on coins in Florida. With years of expertise, All Florida Coin & Stamp is your home for all your coin needs in Jacksonville.
1339 University Blvd N
Jacksonville, FL 32211
San Juan Precious Metals
Established in 1981, San Juan Precious Metals is one of the southeast's leading dealers of gold, silver, platinum, and palladium. San Juan Precious Metals also specializes in foreign and U.S. coins, currency, and stamps from all over the world. They are known for their exceptional knowledge, quality of service, and competitive prices.
4818 San Juan Ave
Jacksonville, FL 32210
Gold Buyers of North Main
At Gold Buyers North Main, customers are valued. They offer fair market value on gold, diamonds, platinum, silver, and more. They guarantee 100% customer satification. Visit the Gold Buyers today!
12961 Main St N #206
Jacksonville, FL 32218
Precious Metal Group
The Jacksonville Gold Store business is built on reliability, integrity and their ability to pay top price for gold and silver. Their goal is to provide customers with excellent service in a welcoming and safe atmosphere. They want each customer to be completely satisfied with his or her experience at Jacksonville Gold Store.
5410 Blanding Blvd
Jacksonville, FL 32244
Precious Metals Advisory
Precious Metals Advisory is a Jacksonville, Florida-based firm dedicated to providing news, information and sales of precious metals (Gold, Silver, Platinum Bullion coins, rounds and bars, domestic and foreign) at the lowest possible prices. They keep their overhead low so savings can be passed onto customers.
6034 Chester Ave Suite 107B
Jacksonville, FL 32217
Be sure to check out these coin shops next time you're in Jacksonville. Please contact us if you know of other coin shops that would like to be listed.