Purchasing (or Selling) Gold and Silver in Little Rock, AR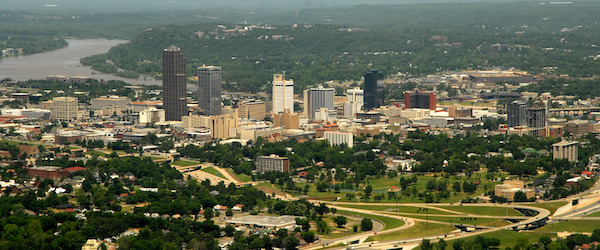 About Little Rock, AR
Located along the Arkansas River, Little Rock was named after a rock formation along the river. Little Rock is both the capital of Arkansas and the most populous city in the state with a population of just under 200,000 residents. Home to several prominent cultural sites such as museums, music halls, and theaters, Little Rock has grown into an important cultural and economic hub for the southern United States.
Local Gold and Silver in Little Rock, AR
Be sure to check out these coin and bullion shops next time you're in Little Rock, AR:
The Coin & Stamp Shop
The Coin & Stamp Shop is a dealer in rare and collectible coins, currency, and postage stamps for over 40 years. They also deal in gold and silver bullion items, have a complete line of coin and stamp supplies, and also offer complete appraisal service for your coin and stamp collections.
107 Main St
Little Rock, AR 72201
American Gold & Silver Exchange
Owner Keith Harvey will turn your precious metals and coins into cash for you. At American Gold & Silver Exchange, be sure that you're getting the best prices and the friendliest service like American Gold & Silver Exchange has done for the last ten years. If you are in need of extra cash or looking to make a one of a kind purchase, call or visit them today.
10300 N Rodney Parham Rd
Little Rock, AR 72211
NWA Gold & Silver
Have you thought about investing in gold? Are you more informed about investing in gold vs diamonds? Maybe you have some diamonds in your safety deposit box and are considering liquidating. NWA Gold & Silver will offer you the highest exchange rate in the industry when trading your diamonds for gold. Diamonds can be a very good investment if purchased correctly. However, in most cases, the average consumer finds it more difficult to secure sound investments when it comes to diamonds. Gold and other hard metals have always been a time-honored part of traditional investment plans. For the best deals on diamonds, estate jewelry, gold, watches, and more, come in today!
8400 W Markham St
Little Rock, AR 72205
Gold & Diamond Prospectors
Gold & Diamond Prospectors keeps silver stocked at reasonable prices based of the current spot price. Stop overpaying for your metals, shipping, and insurance. They offer 1 troy ounce silver coins along with 5 - 10 troy ounce silver ingots. All Silver coins and Ingots contain .999 pure silver content clearly displayed on each ingot and coin. Gold & Diamond Prospectors is the place to sell gold, silver, or diamonds. Bring in any precious metals, collectable coins, or diamonds and the appraisal is free.
9112 N Rodney Parham Rd #130
Little Rock, AR 72209
McIntire Rare Collectibles
McIntire Rare Collectibles is your full service coin, currency, jewelry, bullion, and civil war and military memorabilia store. If you are in the market to buy or sell gold and silver bullion, depend on McIntire Rare Collectibles for honest and fair service, not to mention the best prices in the area.
8 Crestview Dr # C
Jacksonville, AR 72076
Be sure to check out these coin shops next time you're in Little Rock, AR. Please contact us if you know of other coin shops that would like to be listed.