Money Metals is the top-ranked national dealer that both buys and sells precious metals. If you sell your gold to a local dealer near you, you will generally get paid less for your metals as compared to doing your transaction with Money Metals. Learn more about selling to us here.
---
Purchasing (or Selling) Gold and Silver in Los Angeles, CA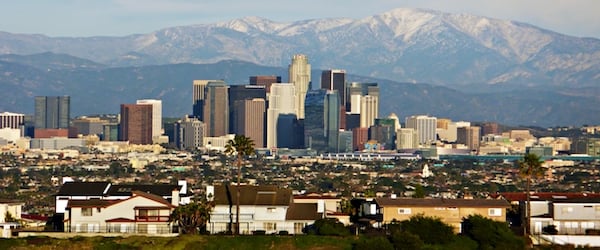 About Los Angeles, CA
Dubbed the "City of Angeles," Los Angeles is one of the biggest metropolises in the world. Boasting a population of almost four million, Los Angeles is the second most populated city in the United States, behind New York City. Los Angeles is also the home of Hollywood, one of the most important entertainment hubs in the world.
Local Gold and Silver in Los Angeles, CA
Be sure to check out these coin and bullion shops next time you're in Los Angeles, CA:
Los Angeles Gold & Silver
The principles at Los Angeles Gold & Silver have been buying, selling, appraising and consulting in the fields of Numismatics (Rare Coins) and Antiques since opening their first store in 1989. They are expert Numismatists and dealers in the fields of Antique Silver, Estate Jewelry, Diamonds, Fine Watches, and Decorative Arts. With 25 years of experience they have acquired in-depth knowledge of Fine Art, Photographs, Historical Documents, Autographs & Ephemera, Art Glass, and Antiques.
427 N Camden Dr
Beverly Hills, CA 90210
Kim Tho Gold
We buy, sell trade gold, gold coins, scrap gold and silver. We also carry gold coins and silver coins. Our most popular products maple leaf 1 oz gold coin, credit suisse 1 oz gold bar, american eagle gold coin and silver coin. You can order from us over the phone during business hours. We pay cash for gold when you bring the gold to us downtown Los Angeles.
650 S Hill St #211
Los Angeles, CA 90014
Gitanes Gold Coins
633 S Hill St # F17
Los Angeles, CA 90014
Pegasus Metals Inc
Serving jewelers, refiners, pawn shops, industries and companies generating precious metal scrap and the general public. They are the scrap gold, silver, platinum, and palladiun refiners choice of many recognized companies. Pegasus Metals LLC. provides significantly higher returns because of efficient and precise sampling techniques, accurate analysis, and recovery.
640 S Hill St, Suite 643
Los Angeles, CA 90014
Gold Dealer Los Angeles
Gold Platinum Recovery is a family owned business, serving the community for 28 years now. Their expert jewelers are here to evaluate and assess your gold, jewelry,watches and diamonds in order to give you cash on the spot. The process is quick and simple; Bring in your jewelry to one of their expert jewelers to evaluate the price and receive your cash righ away.
3200 Wilshire Blvd
Los Angeles, CA 90010
Coinex, Inc.
Coinex Inc. is one of the largest wholesalers of precious metals in North America, supplying diversified metal products and related services to many segments of the precious metals industry.
650 S Hill St #328A
Los Angeles, CA 90014
Southern California Coin & Stamps
Southern California Coin & Stamps has been offering value since 1974.
7635 Firestone Blvd
Downey, CA 90241
Paul Albarian & Associates, LLC Coin Dealer, Gold Dealer, Precious Metals, Pawn Shop
Paul Albarian & Associates, LLC specializes in buying and selling rare coins, precious metals, and jewelry. They are conveniently located in Burbank, California, at the corner of Riverside Drive and Olive Avenue.
3500 W Olive Ave #300
Burbank, CA 91505
Huntington Rare Coins
Huntington Rare Coins buys and sells, offering free and fair evaluations of rare coins, estate jewelry, scrap gold and silver, watches, diamonds and other collectibles. Now in their third generation, you can be assured of our extensive experience and knowledge. Their appraisers/buyers have up to 35 years of experience dealing in rare coins, precious metals, watches, estate jewelry and other collectibles. They are members of the leading trade organizations, and the owner, Wayne Wojdak is a 25 year life member of the American Numismatic association as well as having appeared as an expert on the hit television show "Pawn Stars."
31 W Del Mar Blvd
Pasadena, CA 91105
Gold & Diamond Exchange
11605 W Pico Blvd
Los Angeles, CA 90064
310Antiques
Once you've made the decision to sell your art, antiques, rare coins, jewelry, collectibles or silver, 310 Antiques is there to help you realize the best prices for your valuables. Their unparalleled breadth of knowledge and depth of experience at the world's top auctioneers and galleries combined with the finest service in Southern California, puts a leading professional on your side of the table without all of the overhead, fees and complications associated with larger institutions.
3159 Donald Douglas Loop S #300
Santa Monica, CA 90405
If you know of other coin and bullion shops in Los Angeles, CA that would like to be listed here, please contact us.