Money Metals is the top-ranked national dealer that both buys and sells precious metals. If you sell your gold to a local dealer near you, you will generally get paid less for your metals as compared to doing your transaction with Money Metals. Learn more about selling to us here.
---
Purchasing (or Selling) Gold and Silver in New York City, NY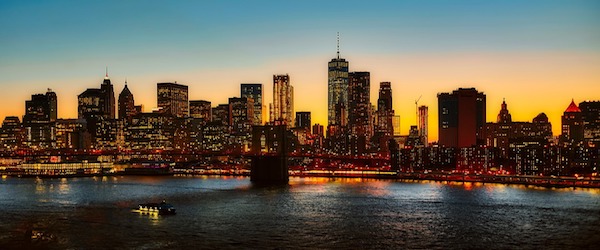 About New York City, NY
New York City is not only the most populous city in the United States at more than eight million residents, but it is also the city with the highest population density in the country. Made up of five boroughs -- Queens, Manhattan, Brooklyn, The Bronx, and Staten Island -- New York City is one of the biggest cultural, commercial, entertainment, and sports hubs in the world.
Local Gold and Silver in New York City, NY
Be sure to check out these coin and bullion shops next time you're in New York City, NY:
Global Gold & Silver, Inc
Founded in 2008, Global Gold & Silver has established itself into the most trusted and reputable Jewelry, Diamond and Precious Metal buyer in the Tri-State area.
Their staff consists of some of the most knowledgeable and well-trained jewelry experts in the country, including Gemological Institute of America graduate diamond gemologists. When you step into one of their stores or showrooms, you know that you're going to be helped by the best of the best.
Whether you're interested in selling a specialty item or if you just want to be sure that you're served at a timely fashion, you can make an appointment with one of their locations.
7 W 45th St #1200
New York, NY 10036
Manhattan Coin Shop
Manhattan Coin Shop buys and sells all coins of value. They have a large coin collection in stock and have new inventory added daily, so if you are looking to buy a coin, fill out the form with the type of coin you are looking to buy or call and they will let you know if that coin is in stock. If you are looking to sell your coin, they are the highest paying coin buyer in New York City. Being located in Manhattan allows us to pay the highest cash price for all coins of value.
30 W 47th St #846
New York, NY 10036
Vieira Coins & Collectibles, Inc.
Vieira Coins & Collectibles buys and sells old money, coin collections and other authenticate collectibles in Corona, New York. With more than 15 years of experience, they sell coins, paper money, collectibles, and antiques from the United States and other parts of the world. Vieira, business owner, is a proud member of American Numismatic Association, and is fluent in English, Spanish, and Portuguese. They work with the best coin companies in the world, NGC, PMG and PCGS.
37-56A Junction Blvd
Corona, NY 11368
Astoria Coins & Collectibles
Astoria Coins & Collectibles has been serving the Astoria and surrounding communities for over 40 years! They carry a wide variety of U.S. coins and bills, both large and small. They also have a nice selection of foreign coins and currencies. Astoria Coins & Collectibles carries bullion silver, beautiful sterling jewelry and a small selection of comic books.
2106 30th Ave
Long Island City, NY 11102
Bosco Paul J
Visit Bosco's for the best selection in the world! Located in the shadow of the Empire State Building, Bosco has been serving the community for many years and offers great prices and a friendly ambiance when you come into the store.
149 Madison Ave
New York, NY 10016
Lou's Coins
Lou's Coins is the best coin dealer in the area. Offering the best sell and buy prices, Lou's has a great inventory and a knowledgeable staff. Visit Lou's today.
185 6th Ave
New York, NY 10013
Brooklyn Gallery Coins & Stamps, Inc.
Brooklyn Gallery Coins & Stamps is the one place for all stamp and coin collecting products.
8725 4th Ave
Brooklyn, NY 11209
NYCity Buyers
NYCity Buyers strives to exceed customer expectations by providing a staff that is knowledgeable on jewelry market trends. When it comes to selling your valuables, NYCity Buyers beats their competitors. They are cash buyers of all jewelry, gold, silver, watches, diamonds as well as gold and silver coins.
NYCity Buyers offers it's customers the most simplest and quickest way to sell your gold, jewelry, watches, diamonds and coins.
88 Fulton St
New York, NY 10038
Hownil Coins
Hownil Coins is the premier shop for trading, selling and buying rare coins in New York City. With over 20 years of experience, Hownil Coins buys, sells and trades choice US coins. Additionally, they are now buying your old gold and silver jewelry at rates favorable to you.
Proudly serving New York City's five boroughs, they have earned a reputation as one of the best operations in the area through our commitment to customer satisfaction and fairness. They value the opportunity to offer their expertise and attention to detail. From the novice to those seasoned in numismatics, they have what you're looking for.
3236 Nostrand Ave
Brooklyn, NY 11229
Be sure to check out these coin shops next time you're in New York City. Please contact us if you know of other coin shops that would like to be listed.