Money Metals is the top-ranked national dealer that both buys and sells precious metals. If you sell your gold to a local dealer near you, you will generally get paid less for your metals as compared to doing your transaction with Money Metals. Learn more about selling to us here.
---
Purchasing (or Selling) Gold and Silver in Omaha, NE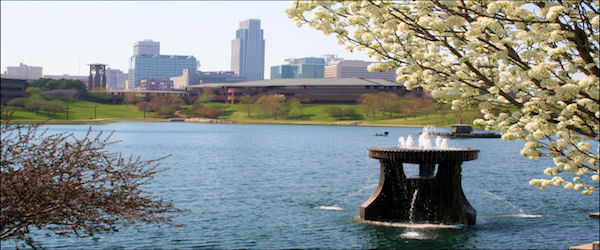 About Omaha, NE
Located on the Missouri River, Omaha is the largest city in the state of Nebraska. Founded in 1854, Omaha has a population of almost 500,000 residents. Omaha is home to several Fortune 500 companies including Berkshire Hathaway and Union Pacific Corporation.
Local Gold and Silver in Omaha, NE
Be sure to check out these coin and bullion shops next time you're in Omaha, NE:
A Coin Shop
Specializing in modern U.S. gold and platinum, pre-1933 U.S. gold, and world coins, A Coin Shop offers the best prices and the best service in Omaha. Come in today!
1404 S 13th St
Omaha, NE 68108
Coinhuskers
Based in Omaha, NE, Coinhuskers specializes in the instruction of buying & selling of precious metals, coins & currency. Coinhuskers also buys & sells rare coins, jewelry, watches, palladium, platinum, copper, currency (including foreign) and diamonds. Coinhuskers is PCGS & NGC authorized dealers! They look forward to establishing a business relationship with you and having the privilege of maximizing the return on your investment needs.
10813 Elm St
Omaha, NE 68144
ABC Coins & Collectables
Whether you're an avid collector, or just starting out, ABC Coins & Collectibles has exactly what you're looking for. When you need to know that you're getting the best deal for your valuables, bring them to their friendly professionals. For over 50 years, their knowledgeable experts have been in the coin buying and collecting industry. They've built their reputation on providing accurate and competitive prices, as well as an impressive inventory of hard-to-find pieces. Stop in today if you're looking to sell your collection, buy some new pieces, or get cash for gold or silver.
1826 N 144th St
Omaha, NE 68154
DSS Coin & Bullion
DSS Coin and Buliion in Omaha, Nebraska was opened by David Schroeder in 2001, and it now offers the most comprehensive service options in the market, with the best customer service. Going above and beyond, David and his crew are experts in the field and always keep their customers updated on new laws and regulations, use best practices, and use the most up to date prices for all collectibles.
1906 S 13th St
Omaha, NE 68108
Don's Coins & Jewelry
Servicing the area for more than 20 years, Don's Coins & Jewelry offers service to the residents of Omaha, NE. Their goal is to meet your service needs with the highest quality service. Featuring gold bullion, diamonds, rings, and more.
4855 S 137th St
Omaha, NE 68137
Millard Jewelry and Coin
Millard Jewelry & Coins consistently offers low prices on all precious metals, coins and bullion. Their volume allows them to pass along savings that are simply unmatched by other dealers. Millard prides themselves on customer satisfaction. Millard Jewelry & Coins has an A+ Rating with the Better Business Bureau and is committed to the highest quality customer experience. At Millard Jewelry & Coins they pride themselves on achieving a superior level of customer satisfaction.
4860 S 137th St
Omaha, NE 68137
Be sure to check out these coin shops next time you're in Omaha, NE. Please contact us if you know of other coin shops that would like to be listed.