Money Metals is the top-ranked national dealer that both buys and sells precious metals. If you sell your gold to a local dealer near you, you will generally get paid less for your metals as compared to doing your transaction with Money Metals. Learn more about selling to us here.
---
Purchasing (or Selling) Gold and Silver in Raleigh, NC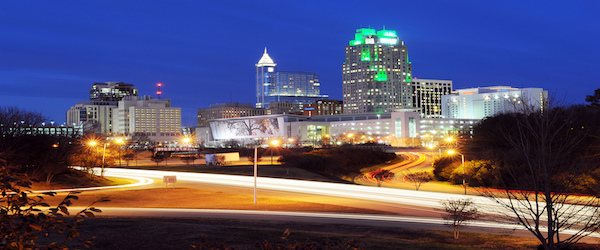 About Raleigh, NC
One of the fastest growing cities in the United States, Raleigh is the second most populous city in North Carolina with a population of almost 450,000 people. The city of Raleigh is known as the "City of Oaks" after the oak trees that cover the city. In 1959, the Research Triangle Park, a region ripe with research facilities and tech enterprises, was founded together with Durham and Chapel Hill.
Local Gold and Silver in Raleigh, NC
Be sure to check out these coin and bullion shops next time you're in Raleigh, NC:
Mattox Coins and Stamps
Mattox Coins & Stamps is an established and experienced corporation in Raleigh, NC for buying gold coins, rare coins, silver, gold, stamps, U.S. and worldwide currency and other collectibles from both individuals and institutions. Over the years Mattox Coins and Stamps has worked with many prestigious institutions and organizations such as Yale, Duke, the University of North Carolina, and Bank of America.
Mattox is an authorized dealers for ANACS, NGC, and PCGS. Their reputation is "golden" and you're sure to get courteous, reliable, and professional service. No need to walk the aisles of a flea market or carelessly flip through the Yellow Pages looking for a reputable dealer or agent. If you need to sell your coins, gold, silver, stamps, old letters, or currency, visit Mattox Coins and Stamps today.
505 Oberlin Rd #210
Raleigh, NC 27605
Rare Coins of Raleigh
Rare Coins of Raleigh provides a variety of numismatic items including rare coins, precious metals, paper money, tokens, coin collecting books, and supplies. They also provide a variety of numismatic services including; finding items on your want list, arranging flexible layaways, taking your trade-ins as you upgrade or modify your collection, providing appraisals for your collection, buying all or part of your collection and giving advice on all collecting matters.
3611 Spring Forest Rd #116
Raleigh, NC 27617
Golden Isles Coins
Golden Isles Coins and Jewelry is the best place to sell coins, bullion, flatware, scrap gold, diamonds, and more in Raleigh, NC. Wake County's premier coin shop, for the best prices and the most honest staff in the business, visit Golden Isles today.
200 W Peace St #130
Raleigh, NC 27603
Carolina Rare Coins and Currency
With over 40 years of experience, Barry Ciociola has the knowledge and experience necessary to meet your numismatic needs. Carolina Rare Coins and Currency is a coin dealer you can trust. With decades in the industry, Carolina Rare Coins and Currency has a reputation for putting the needs of their clients first.
8402 Six Forks Rd #104
Raleigh, NC 27615
NC Coppers
The Vision at NC Coppers is to bring the hobby of coin collecting to a new level of popularity by providing a truly "Full Service" Numismatics/Coin Collecting enterprise to North Carolina and the world. Many writers have predicted the demise of the local coin store as going away in favor of the vast cold and impersonal internet. Yes you may save a few bucks, but the value you receive is not just the price discounts or profits but in the discussion, knowledge, and passion of the real hobby. Coppers' maintains, buys, and sells gold and silver bullion in almost all forms.
1025 Blue Ridge Rd
Raleigh, NC 27607
American Gold Exchange & Pawn
American Gold Exchange Gold & Pawn, Inc. is a family owned and operated business that was established in 1994. Their customers are extremely important to them, so we work hard to earn and keep their trust and satisfaction by offering friendly, quick and confidential service.
As a full-service pawnshop, we purchase and offer loans on a variety of items such as silver, gold, platinum coins and jewelry, computers, and much more! American Gold Exchange Gold & Pawn is specially licensed as a precious metal buyer and they do not have any middlemen, enabling them to pay more!
3404 Poole Rd #104
Raleigh, NC 27610
Be sure to check out these coin shops next time you're in Raleigh. Please contact us if you know of other coin shops that would like to be listed.