Money Metals is the top-ranked national dealer that both buys and sells precious metals. If you sell your gold to a local dealer near you, you will generally get paid less for your metals as compared to doing your transaction with Money Metals. Learn more about selling to us here.
---
Purchasing (or Selling) Gold and Silver in San Antonio, TX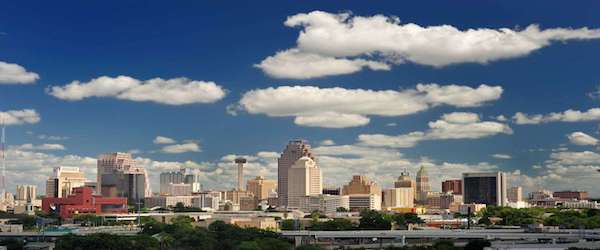 About San Antonio, TX
San Antonio, Spanish for Saint Anthony, was incorporated in 1837. The city of San Antonio is heavily influenced by Spanish culture, as it was founded as a Spanish mission and colonial outpost. Home to almost 1.5 million people, San Antonio is also home to cultural and social attractions such as The Riverwalk, The Alamo, SeaWorld, and a championship basketball team.
Local Gold and Silver in San Antonio, TX
Be sure to check out these coin and bullion shops next time you're in San Antonio, TX:
Royalty Coins Inc
Royalty Coins, Inc. has been providing professional and reliable service to San Antonio and the south Texas area since 1977. They have been in the same location for 21 years, located on the famous San Antonio Riverwalk only three blocks from the famous Texas shrine, the Alamo. Royalty Coins has served both the local numismatic community as well as thousands of tourists and conventioneers. Offering nationally competitive prices on rare coins, bullion, and jewelry, they promise fast, efficient service and stand behind their products.
431 E Commerce St
San Antonio, TX 78205
Rufer's Coin Co.
Rufer's Coin Co. is San Antonio's premier shop for coins and bullion. Rufer's offers fair prices and fair appraisals.
7500 Eckhert Rd #500
San Antonio, TX 78240
Harry's Coin and Jewelry
Harry's Coins & Jewelry in San Antonio, TX carries a vast inventory of diamonds, high-end pieces, luxury watches and much more. In Harry's store, you can browse and exchange jewelry in a comfortable environment where you can expect to pay up to 50% less than anywhere else!
6731 Bandera Rd
San Antonio, TX 78238
Alamo Heights Coin Shop
Alamo Heights Coin Shop is one of San Antonio's leading dealers in bullion, coins, and collectibles. They have built a reputation on value, experience, and service. Alamo Heights works with many investors and collectors, from the experienced, to those just starting out. They buy, sell and trade coins, precious metals, and collectibles. Having served the San Antonio community since 1977, they have earned a reputation as one of the best operations in the area through their commitment to customer satisfaction and fairness.
7223 Broadway St
Alamo Heights, TX 78209
Lone Star Coins
Lone Star Coins has a great inventory of bullion, rare coins, and unique collectibles.
2622 NW Loop 410
San Antonio, TX 78230
Texas Coins
Texas Coins is your home for coins, currency, bullion, and more. No deal is too large or too small for Texas Coins. Visit them today.
6866 Bandera Rd
San Antonio, TX 78238
Golden Cash Exchange (We Buy Gold)
Golden Cash Exchange sells and purchases GOLD, SILVER, and PLATINUM metals, and pay out in CASH on the spot. They provide free estimates. They have a unique process which makes selling your precious metals quick and easy while at the same time pressure free. Golden Cash Exchange offers the best melt-down prices as an individual company. They make it priority to work with each customer, whether you are a retail establishment, or an individual customer. They offer a high level of courtesy, and exceptional quality service!
5515 NW Loop 410
San Antonio, TX 78228
Nacogdoches Gold and Silver Exchange
The value of gold has more than quintupled during the last decade and now is the perfect time to sell your unwanted or broken jewelry or other items. Nacogdoches Gold and Silver Exchange is a family owned and operated business in San Antonio, Texas. They take the time to explain to their customers so that they can make informed decisions about their items.
13323 Nacogdoches Rd
San Antonio, TX 78217
Texas Gold and Silver Buyers
Texas Gold and Silver buyers buys all gold, silver, platinum, palladium, jewelry, bullion, scrap, dental gold, coins, diamonds, and all precious metals. They are San Antonio, Texas locally owned and operated and pride themselves on a friendly, safe, and honest customer service experience.
3435 Thousand Oaks #107
San Antonio, TX 78247
If you know of other coin and bullion shops in San Antonio, TX that would like to be listed here, please contact us.