Money Metals is the top-ranked national dealer that both buys and sells precious metals. If you sell your gold to a local dealer near you, you will generally get paid less for your metals as compared to doing your transaction with Money Metals. Learn more about selling to us here.
---
Purchasing (or Selling) Gold and Silver in Savannah, GA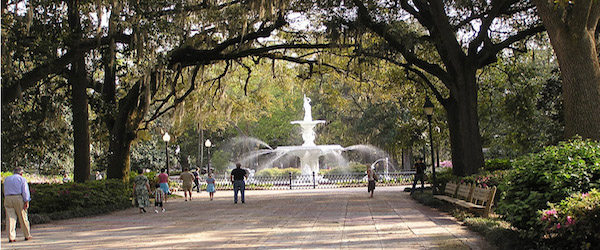 About Savannah, GA
Established in 1733, Savannah is the oldest city in the state of Georgia. Located on the Savannah River, Savannah was the first state capital of Georgia and has a population of almost 150,000 residents, making it the fourth most populous city in the state. Known for its cobblestone streets, historic buildings and district, and landmarks, Savannah attracts millions of tourists every year.
Local Gold and Silver in Savannah, GA
Be sure to check out these local coin and bullion shops next time you're in Savannah, GA:
Regal Coin Exchange
Serving the Savannah area for almost 50 years, Regal Coin Exchange makes sure you get the most value for your dollar. For friendly and honest people, visit Regal. Their selection is unmatched and all prices are current and fair. Don't buy your coins anywhere else.
3605 Waters Ave
Savannah, GA 31404
Cobb's Galleries
Cobb's Galleries is a must visit for any serious collector. Cobb's is Savannah's premier destination for buying, selling, and trading gold, silver, and platinum. Specializing in U.S. minted coins, commemoratives, and paper currency, make sure you stop into Cobb's Galleries for coins and currency, antiques, jewelry, and more.
122 E 37th St
Savannah, GA 31401
Miller's Coins and Currency
At Miller's Coins and Currency, you'll get a variety of coins that include gold, silver, platinum, and palladium. Miller's also deals in diamonds of all shapes and sizes. What's more? You can buy old paper money and other rare collectibles! Your search for coin jewelry ends here. Take advantage of their stunning collection to meet your needs. They buy and sell scrap gold jewelry, estate jewelry, Rolex products, diamonds, and more.
1212 U.S. 80 #700
Pooler, GA 31322
A & C Gold and Diamonds
If you want the best price and most accurate valuation for your Estate Jewelry, Diamonds, coins and coin collections, paper money, all gold and sterling silver items you simply have to consult the best.
That's where Craig Burgess of A & C Gold and Diamonds comes in. Between rare coins and jewelry, Craig has over 70 combined years of valuation. He is considered a leading authority in coins, diamonds, estate jewelry, currency, and all gold and silver items. In addition to being a professional numismatist he is a highly regarded jeweler as well.
9 W Derenne Ave
Savannah, GA 31405
Coastal Gold Exchange
To make sure you're getting the most for your unwanted gold and silver, visit Coastal Gold Exchange. Specializing in silver coins, jewelry, bullion, flatware, and more, CGE has a reputation in Savannah for being honest, knowledgable, and friendly.
1212 US-80
Pooler, GA 31322
Kelley & Kelley LLC
A locally owned family business, Kelley & Kelley has over 35 combined years experience in coins and has been serving the Savannah area since 2015. Specializing in buying, selling, and appraisal of gold, silver, platinum, and more, Kelley & Kelley offers trustworthiness and knowledge to their customers every day.
1305 Barnard St #54
Savannah, GA 31401
If you know of other coin and bullion shops in Savannah, GA that would like to be listed here, please contact us.