Money Metals is the top-ranked national dealer that both buys and sells precious metals. If you sell your gold to a local dealer near you, you will generally get paid less for your metals as compared to doing your transaction with Money Metals. Learn more about selling to us here.
---
Purchasing (or Selling) Gold and Silver in St. Louis, MO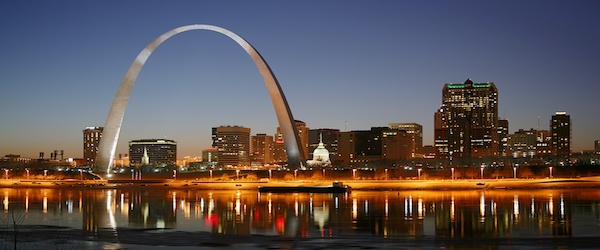 About St. Louis, MO
St. Louis is a major port city along the Mississippi River. With a population of more than 300,000 residents, St. Louis ranks as the second most populous city in Missouri. St. Louis was founded in 1764 and named after the French king, Louis IX. St. Louis is home to professional sports teams, museums, zoos, and the famous Gateway Arch.
Local Gold and Silver in St. Louis, MO
The following are dealers in the St. Louis, MO area. DISCLAIMER: Money Metals Exchange does not vet or endorse any other dealers, so if you decide to patronize any of the following establishments, be sure to do your own due dilligence.
Midwest Money Co Inc
Midwest Money Company is a St. Louis shop specializing in buying, selling, and trading silver coins, gold coins, numismatics, and more. Their prices are based on spot prices.
5900 Hampton Ave
St. Louis, MO 63109
S & L Coins
S & L Coins is always buying your gold and silver.
9300 Gravois Rd
St. Louis, MO 63123
Scotsman Coin & Jewelry
Scotsman Coin & Jewelry offers coins, currency, jewelry, diamonds, and more spanning from obsolete currency to modern era.
11005 Olive Blvd
Creve Coeur, MO 63141