Money Metals is the top-ranked national dealer that both buys and sells precious metals. If you sell your gold to a local dealer near you, you will generally get paid less for your metals as compared to doing your transaction with Money Metals. Learn more about selling to us here.
---
Purchasing (or Selling) Gold and Silver in Tampa, FL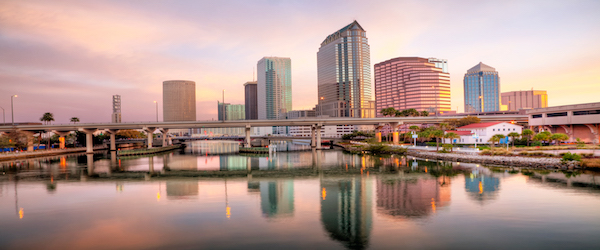 About Tampa, FL
The Tampa Bay Area is the second largest metropolis in the state, behind Miami. Over the last several years, Tampa has become a destination city. From 2000-2006, Tampa experienced a population growth rate of almost 15%. Archeologists say that the Tampa Bay area has been inhabited for thousands of years. Tampa is home to arts and culture, entertainment, food, sports, recreation, and more.
Local Gold and Silver in Tampa, FL
Be sure to check out these coin and bullion shops next time you're in Tampa, FL:
Tampa Coin Exchange
Tampa Coin Exchange has been a Florida coin dealer since 1998 and has a large customer following. Tampa Coin Exchange is the place for all your coin and collectible needs. They cater to collectors, dealers, and investors. Bring in individual pieces or large volumes to sell. Competitive pricing is offered for all coins, bullion, and scrap precious metals.
Walk-in inquiries are welcome and don't forget to get a FREE APPRAISALS on items you bring in. As an Authorized Dealer of Numismatic Guaranty Corporation (NGC) and Professional Coin Grading Service (PCGS) Tampa Coin Exchange will take care of all your grading needs. They offer an honest and friendly atmosphere.
5873 S Dale Mabry Hwy
Tampa, FL 33611
American Rare Coin Galleries
American Rare Coin Galleries is located in South Tampa at 4901 South West Shore Blvd at the intersection of West Shore and Gandy Boulevards. Owner David Goldsmith has over 40 years experience dealing in rare coins, gold, silver, and other collectables. He has attended over two thousand coin conventions throughout the country, and specializes in certified rarities, including: silver dollars, gold coins, type coins, and modern commemoratives.
American Rare Coin Galleries is an authorized PCGS (Professional Coin Grading Service) Dealer, as well as a long-time NGC (Numismatic Guaranty Corporation) Charter member. They offer quick coin certification at either of these services, and expert opinion on your grading options.
Their references include many banks and attorneys of the area, who call on them whenever there is an estate containing coins, gold, silver, fine jewelry, or collectables, as well as company banking references.
4901 S West Shore Blvd
Tampa, FL 33611
Tampa Bay Coin & Precious Metals
Tampa Bay Coin & Precious Metals buys and sells rare coins, precious metals, and many other valuable trinkets in Tampa, Florida. They have a clean and friendly store to service all your buying and selling needs. They offer free appraisals on coins and gold pieces, plus, if you're not sure your items are gold or silver, they can test them for free!
5835 Memorial Hwy #10
Tampa, FL 33615
The Gilder Shop
The Gilder Shop offers the best buy prices in Tampa. They pride themselves on being honest and making sure your dollar goes further when you come in. Specializing in coins and stamps, make sure to visit The Gilder Shop!
5802 N Armenia Ave
Tampa, FL 33603
Arthur Yates & Sons Jewelers
Since 1947, Arthur Yates and Son Jewelers has been the Tampa Bay Area's most trusted store for jewelry, gold and silver needs, and more. For 70 years they have prided themselves as being one of Tampa's oldest, most reliable, independent and family-owned jewelry stores.
1708 S Dale Mabry Hwy
Tampa, FL 33629
A Village Stamp & Coin
Sell coin collections and old paper money at A Village Stamp & Coin, serving Florida and the Tampa Bay Area since 1979.
A Village Stamp & Coin provides 150 years combined experience in rare coins, numismatics and coin collection appraisal. They are established dealers in gold and silver coins, certified coins and old currency, and provide appraisals for rare coins and stamps. For your convenience, a full inventory of coin and stamp supplies is available in the store.
Bring your coin collection or rare coins to their shop for an expert appraisal and immediate payment. They buy and sell gold and silver coins, bullion, bars, rare coins, copper, platinum, palladium, old currency both U.S. and foreign, rare stamps and certified coins for hobby and investment.
1747 W Fletcher Ave
Tampa, FL 33612
United Gold - Tampa
United Gold - Tampa should be your first and only stop when looking for gold and silver, coins, bullion, jewelry and more. They also offer free appraisals. For the best sell prices and buy back prices, visit United Gold - Tampa today!
2128 N Albany Ave
Tampa, FL 33607
Legacy Coins & Collectibles
Legacy Coins & Collectibles is the only Tampa Bay coins, currency and bullion dealer with a five-star rating on Google. That speaks volumes to their honesty, fair pricing, knowledge, and selection.
Legacy Coins & Collectibles was founded in 2008, offering a wide selection of coins, collectibles, currency and bullion. The shop is owned by Jerry Perrit, former finance professor and owner of Chicago-based Perritt Capital Management. Perritt acquired the business from Art Pinto, who serves as Legacy Coin's General Manager.
Pinto has been collecting coins since he was a child. He and Perritt began going to coin collector shows several years ago, and ultimately decided to open a storefront and fill the void of coin stores in the North Tampa area.
Together, they are able to accurately gauge worth by reviewing rarity, popularity among collectors, and condition. Their stock is vast and ever-changing, and they offer one-stop shopping for even the most discerning collectors.
1628 N Dale Mabry Hwy
Lutz, FL 33548
Be sure to check out these coin shops next time you're in Tampa. Please contact us if you know of other coin shops that would like to be listed.