Money Metals is the top-ranked national dealer that both buys and sells precious metals. If you sell your gold to a local dealer near you, you will generally get paid less for your metals as compared to doing your transaction with Money Metals. Learn more about selling to us here.
---
Purchasing (or Selling) Gold and Silver in Wichita, KS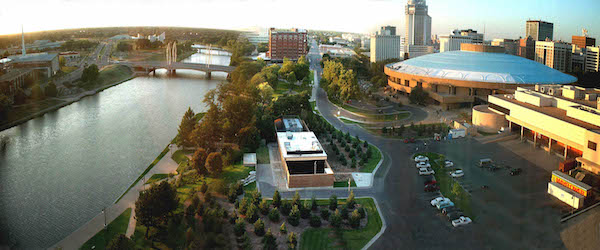 About Wichita, KS
Situated on the Arkansas River, Wichita is home to almost 400,000 residents, making it the most populous city in Kansas. Wichita was incorporated in 1870 but historians estimate that humans settled in the Wichita area as many as 5000 years ago. In the early 1900s, Wichita became an important city for U.S. aircraft development. Many prominent universities, museums, and entertainment arenas are located in Wichita.
Local Gold and Silver in Wichita, KS
Be sure to check out these coin and bullion shops next time you're in Wichita, KS:
Phil's Coins
Phil's Coins has been serving Wichita for over 25 years in the coin and bullion business. Phil's is Wichita's top buyer of your gold and silver items, including scrap jewelry. They will make an offer on all US & foreign coin collections regardless of content. If it is made of gold, silver, platinum, or palladium or has numismatic value, Phil's will buy it. There is no purchase too small or large; they will work with you to make sure you get the best offer possible. Visit them to see why they are Wichita's top buyer of precious metals and coins.
9344 W Central Ave
Wichita, KS 67212
Heartland Coin Gallery
Heartland Coin Gallery makes the process of selling, buying, and trading simple and trustworthy. Family-owned for 54 years, Heartland Coin Gallery is the trusted, premier, and full-service Coin dealer in the Midwest. Heartland Coin Gallery is always buying gold and silver for an honest and fair price in Wichita, Kansas. Now is the time to sell your unwanted items. They will give you an honest fair market value appraisal.
2621 N Greenwich Rd
Wichita, KS 67206
Coins & Gold
Coins & Gold is a full service coin business dealing in all aspects of the numismatic industry providing committed service to the young collector, serious investor and everything in between. They specialize in United States coinage of all denominations, as well as gold and silver bullion and currency. If you are searching for an elusive rare date to complete your collection, give Coins & Gold an opportunity to meet your needs.
1855 S Rock Rd #105
Wichita, KS 67207
Equity Standard Numismatics-KS
Located in Rockford Square, Equity Standard Numismatics of Kansas specializes in U.S. coins, bullion, and other currency. Their inventory is vast and continually changing. On top of being the best coin dealer in Kansas, Equity Standard Numismatics also buys gold, gold teeth, scrap gold, gold jewelry, platinum, silver, and much more. Visit Equity Standard Numismatics of Kansas for a great buying experience with the most knowledgable and experienced staff in the city.
1855 S Rock Rd
Wichita, KS 67207
Gold and Diamond Traders
Get cash for your gold and jewelry today from Gold and Diamond Traders. Sell your unwanted gold jewelry and get cash fast. Gold and Diamond Traders offers you a quick and safe way to liquidate your unwanted jewelry, coins, and precious stones, regardless of their condition. Since 1989, Gold and Diamond Traders has provided the wichita area with an easy way to get rid of old or unwanted items for the highest value in town.
4861 E Harry St
Wichita, KS 67218
Solid Rock Rarities
At Solid Rock Rarities LLC they believe that buying and selling coins should be fun and stress-free. Their most important objective is to understand your goals and needs, then apply all their resources to achieve them. Solid Rock is your trusted source for coins worth saving. Specializing in U.S. gold coins, early U.S. type coins, and key dates, visit Solid Rock Rarities to buy, sell, or trade coins and currency.
15200 E Timber Lake Cir
Wichita, KS 67230
Be sure to check out these coin shops next time you're in Wichita, KS. Please contact us if you know of other coin shops that would like to be listed.