Money Metals is the top-ranked national dealer that both buys and sells precious metals. If you sell your gold to a local dealer near you, you will generally get paid less for your metals as compared to doing your transaction with Money Metals. Learn more about selling to us here.
---
Purchasing (or Selling) Gold and Silver in Wilmington, DE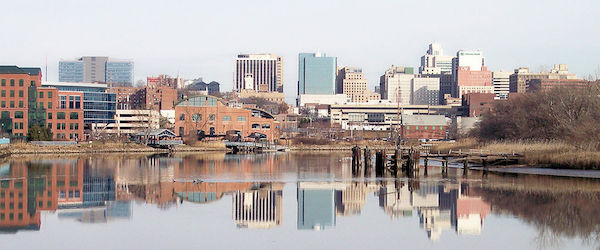 About Wilmington, DE
The largest city in the state of Delaware, Wilmington is built on the site of the first Swedish settlement in North America. With a population of more than 70,000 residents, Wilmington derives its name from the former Earl of Wilmington. Wilmington is a national financial hub and is home to headquarters of Bank of America, Chase Card Services, Barclays Bank, and more.
Local Gold and Silver in Wilmington, DE
Be sure to check out these coin and bullion shops next time you're in Wilmington, DE:
Dutch Country Auctions-The Stamp Center
The Stamp Center opened for business on August 4, 1979, and since then has enjoyed rapid growth and expansion, including the acquisition of Dutch Country Auctions in 1983. As a result of this growth and the addition of Dutch Country (which dates back to the 1950's) a comprehensive selection of services covering the ENTIRE philatelic, numismatic, and related fields are offered to a worldwide clientele.
Dutch's professional staff has a wide and varied background with years of experience and whether you are a private collector, estate executor, dealer or institution you can expect expert counseling, personal service and rely on our reputation for integrity and trust. Visit Dutch Country Auctions for all your coin and currency supply needs.
4115 Concord Pike
Wilmington, DE 19803
Diamond State Coins & Currency
Diamond State Coins and Currency was established in 1991 and has been doing business in Wilmington, Delaware on Marsh Road for over 13 years. Diamond State is the area's most aggressive buyer of coins, currency, bullion, gold/silver jewelry and sterling flatware. They offer a safe and secure location to liquidate your valuables and also offer 3 private appraisal rooms and a comfortable waiting area when necessary.
1705 Marsh Rd
Wilmington, DE 19810
9 to 5 Pawn & Jewelry Co.
For the best service and the best prices in Wilmington, stop by 9 to 5 Pawn. Carrying jewelry, diamonds, gold, silver, and more, 9 to 5 Pawn is family owned and operated and they pride themselves on their customer service. They buy back your unwanted metals at a great price.
4714 Kirkwood Hwy
Wilmington, DE 19808
Bob Paul Rare Coins
Bob Paul Rare Coins offers hand-selected quality coins from US coin shows, auctions, private collections, and many of the certified coins are personally sent for certification to PCGS and NGC by Bob. The coin market is competitive and the supply of older, quality coins is shrinking. Many coins are individually selected for their eye appeal, scarcity, as well as affordability for the typical collector, although every effort is made to provide a continual spectrum of collector coins ranging from expensive, hard-to-find higher grade coins to the more affordable mid grade coins. Whether you are a beginning collector or a seasoned veteran upgrading your collection to the highest grades you can afford, you will be able to find coins you need at Bob Paul Rare Coins.
100 Todds Ln
Wilmington, DE 19802
Be sure to check out these coin shops next time you're in Wilmington, DE. Please contact us if you know of other coin shops that would like to be listed.