The Highland Mint

History
The Highland Mint is a full service mint that was established in the early 1980's. With state-of-the-art facilities housed in a 40,000 square foot building in Melbourne, Florida, our complete services allow us to take any job from start to finish. In-house abilities include layout and design, sculpting and die making, processing of precious and non-precious metals, and stock tooling of different shapes and sizes, plus packaging and fulfillment services.
Highland Mint Silver Products:
1 Oz Trump Silver Rounds
View Details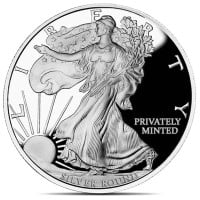 Walking Liberty 1 Oz Silver Rounds
View Details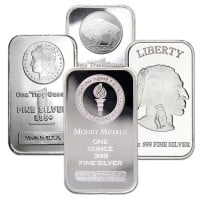 1 oz Silver Bars
View Details
Custom Minting
With our wide array of stock tooling we can offer you sizes from 10mm to over 3.5 inches at no additional charge, and our presses range from 350 tons psi to 1600 tons psi (3.2 million pounds of pressure per square inch). This gives us the ability to strike any dimension or thickness required, a flexibility that is second to none in the industry. Our in-house tool and die makers have the necessary skills and equipment to offer you complete service to quickly satisfy any of your needs, and our inventory of non-precious metals, along with our ability to melt and process silver, means that we usually have stock of the material needed to complete your job, right at our fingertips.
We also offer a wide variety of packaging alternatives to suit any budget or taste. As this is often from our own inventory, costs and lead times can be kept to a minimum. Our fulfillment center is able to handle any job, big or small, including credit card processing and multiple shipments, plus serialization and continuity programs. With our newly installed computer system we can accept orders in any format and automatically upload shipping information so you can track the progress of your shipment.
Licenses
The Highland Mint currently holds licenses with Major League Baseball, Major League Baseball Player's Association, Minor League Baseball, National Football League Properties, the National Basketball Association, the National Hockey League, and the National Hockey League Players Association. The Highland Mint has also joined forces with a number of other licensed companies to produce and/or distribute collectibles. Our licenses do not allow our products to be used as premiums; however, our relationships with the leagues facilitate the approval process of obtaining one. In many instances they have been used as corporate incentives and giveaways.
Highland Mint Silver Products: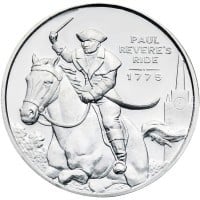 1/2 oz Paul Revere Silver Rounds
View Details
Morgan Design Silver Bar
View Details
Buffalo Design Silver Bar
View Details
Through the years, The Highland Mint has expanded its production base from the bronze, silver, and gold Mint-Cards to a full line of medallions, and the company now produces and/or distributes a wide variety of fully-licensed sports and non-sports collectibles, including Mint-Coins and Photo-Mints. The Highland Mint has also added creative elements to a number of its metal products, including mini and jumbo-sized items, color, high relief, sandblast features, and even football-shaped medallions. All products are limited editions and are individually numbered and accompanied by Certificates of Authenticity. Collectibles products are presented in custom jewelry boxes as well as other types of packaging. The latest addition to our product line is the Game-Used Photo-Mint Collection.
Quality
All of The Highland Mint precious metal products are created with the finest craftsmanship possible. Every detail and image on each medallion is hand-sculpted into plaster, which is then transformed into a die; each medallion is struck several times before going through a variety of finishing processes.