Royal Canadian Mint: A High Standard for Excellence and Innovation

Canada's official mint, The Royal Canadian Mint (RCM), makes some of the most popular gold bullion and silver bullion coins on the market. RCM operates two minting facilities which produce everything from Canada's circulation coins to bullion coins, medals, and circulation coins on behalf of other nations.
It was founded in 1908, and operates as a Crown Corporation of Canada. These organizations are state owned but "generally enjoy greater freedom from direct political control than government departments." Canada's mint is somewhat unusual because it is expected to turn a profit even though it is not privately owned.
The profit motive at least partially explains why the Mint has been so willing to innovate and launch a wider variety of superb quality coins and bars. Here's a glimpse into the RCM's history and achievements over the years.
Royal Canadian Mint Silver Products: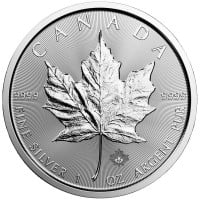 Canadian Silver Maple Leaf
View Details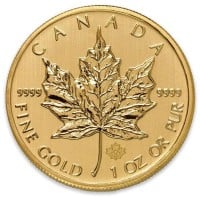 1 Oz Canadian Maple Leaf Gold Coin
View Details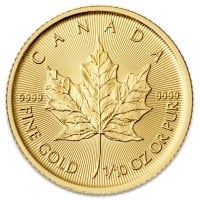 1/10 Oz Canadian Maple Leaf Golden Coin
View Details
Royal Canadian Mint History
Canada relied upon Britain's Royal Mint to produce circulation coins for more than 50 years after the nation was founded. The nation's quickly growing population put Canada in dire need of more coin production. However, the process of authorizing and building an independent national mint with the needed capacity would take decades.
The first step was an 1890 proposal for building a branch operation of Britain's Royal Mint located in Canada. The proposal languished for 11 years, before authorization was finally granted in 1901 to build a facility in Ottawa. Seven years of delays, planning and construction followed. The Mint finally began production of Canada's circulation coins in 1908. Lord Earl Grey himself activated the presses.
The Royal Mint in Ottawa operated for more than 20 years before gaining independence from Britain. It was renamed the Royal Canadian Mint in 1931 and began operations under the control of Canada's Department of Finance.
Where are the mints in Canada?
Late in 1960, the master of the mint of the Ottawa facility proposed the construction of a second facility. The Mint was operating at maximum capacity, and unable to keep up with demand. A large portion of circulation coins had to be made with the help of the Philadelphia branch of the US Mint.
Politicians wrestled over whether a second location was truly needed and where it should be built for 11 years. They eventually agreed to construct a new mint facility in Winnipeg. Land was purchased in 1972, and construction began. It was completed in 1976.
During the 11-year debate over building a second location, the Royal Canadian mint was reorganized as a Crown corporation. The expectation was for it to operate more like a private corporation and turn a profit.
The original Ottawa facility was declared a National Historic Site of Canada in 1979.
Today the Winnipeg facility produces circulation coins for Canada as well as for other nations such as Cuba, Norway, Colombia and Iceland. The Ottawa Mint is responsible for striking collectible coins and bullion coins.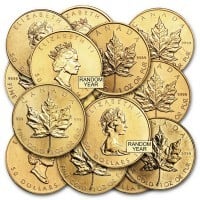 Scruffy Gold Maple Leaf
View Details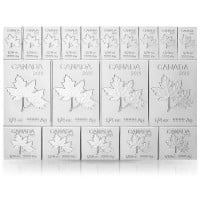 Royal Canadian Mint MapleFlex Bar
View Details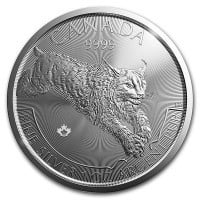 RCM Predator Series Silver Lynx
View Details
World Record
The year 2007 saw another interesting milestone for the Royal Canadian Mint. To mark the launch of one-ounce Gold Maple Leaf bullion coins made from "five nines" (99.999%) pure gold, the Mint produced a handful of massive 100 kilogram gold Maple Leaf coins. The face value of each coin is $1 million CAN. Guinness World Records certified them as the world's largest gold coins.
The record lasted until 2011 when Australia's Perth Mint struck its 2,231-pound coin of 99.99% pure gold.
Awards
Royal Canadian Mint coins have been racking up awards over the past 30 years. The Mint has claimed prizes for artistry, innovation and "Coin of the Year" on multiple occasions. It's 2012 Coin of the Year commemorated the Queen's Diamond Jubilee. 1,500 coins were struck in 99.999 pure gold with a genuine Canadian diamond inset, viewable from both sides.
Palladium Bullion Pioneers
Palladium bullion has been growing in popularity in recent years. The Royal Canadian Mint was the first to strike a production coin using the platinum group metal in 2005. The decision to issue a palladium version of its iconic Maple Leaf was an attempt to meet the rising demand.
To date only two sovereign mints have produced these coins in quantity, with the other being the US Mint which began issuance in 2017.
RCM produced the Palladium Maple Leaf, which had a fineness rating of .9995, between 2005 and 2007, and again in 2009. Production then went on hiatus until 2015 when it was resumed and continues to this day.
Canadian Gold Maple Leaf
The Maple Leaf, Canada's popular gold coins were first struck in 1979 and initially carried a fineness rating of .999. The purity was upgraded to "four nines" (.9999) in late 1982.
The Royal Canadian Mint became the world's first to produce 99.999% pure gold coins in 2005 and it remains the only sovereign mint to do so. These higher purity coins have generally been part of a special series, with limited mintages. The total supply of 99.999% Gold Maple Leaf coins is tiny relative to those with 99.99% purity.
Rare Coins
The 1911 Canadian Silver Dollar is only found in three examples. Interestingly, only two were made from actual silver, the other was struck in lead. One of the silver coins is on display in a museum in Ottawa while the other silver coin was sold at auction in 2003. Its price? Around 1 million dollars. These are the rarest and most valuable Canadian coins.
There were fewer than 30 coins struck in the "Dot Cent" group of pennies struck in 1936. Today only three of these coins have been identified in mint condition. During the most recent auction for one, the penny fetched $253,000 – more than 25 million times its face value.
The 1921 Canadian 50-cent piece is also sought after by collectors. Nearly 30,000 of these coins were struck and released, but only around 100 of them are believed to still exist. The vast majority have been melted, significantly increasing the value of those that remain.
Final Words
The Royal Canadian Mint has a rich history. In recent decades it has cultivated a reputation of innovation and quality. RCM's well-made coins honor the country's wildlife, heroes, and national symbols, while paying homage to the Mint's British heritage.
The interesting designs and unique features have made their bullion coins popular with investors around the world. Buyers can act with confidence knowing they will get a beautiful product which will be well positioned to appreciate and easy to sell.