Time to Play the Unusually Low Platinum:Gold Ratio?
While gold (and to lesser extent silver) continues to grab headlines in the markets, platinum tends to be ignored.
Nearly 30 times rarer than gold, platinum has recently been trading at prices BELOW gold, an anomaly seldom seen in the past several decades.
Granted, gold has risen primarily due to its rediscovered use as a monetary and safe-haven asset during these times of substantial global fiat currency turmoil. But, like gold, platinum is a tangible asset that can be owned in the form of bullion coins and bars. It also has huge upside potential.
Platinum Is Cheaper Than Gold. Will It Last?
Historically speaking, platinum has generally sold for around twice the price of gold. Platinum was two times the price of the yellow metal as recently as July 2008, before the financial collapse took both metals down. Since then, platinum has lagged the prime monetary metals; i.e., gold and silver.
And over the past three months, platinum has traded below gold, marking the longest period in over 20 years that an ounce of platinum could be bought for less than an ounce of gold. Don't expect platinum's relative cheapness to last forever.
To be sure, with an overwhelming percentage of demand coming from the industrial sector (especially from its use in catalytic converters in automobiles), platinum is a more speculative investment than either gold or silver. And thus it can often be more volatile, both to the upside and the downside.
A primary driver suggesting that platinum will be an excellent play going forward is that nearly three quarters of the world's supply for the metal comes from a single country – South Africa. Given the ongoing destruction of the post-apartheid South African economy, it's not difficult to imagine disruptions in the supply of platinum, causing an immediate shortage and price spike.
In fact, the events of early 2008 were likely a prelude. Massive electrical blackouts shut down production at many of the country's mines. Furthermore, rumors about a potential move by the South African government to nationalize all mines has dissuaded many mining companies from either opening or expanding production in the country.
Even with the economic slowdown in many parts of the Western world, the outlook for auto demand (and thus the demand for platinum) remains strong – thanks to a rising middle class in both China and India – where an amazing 40% of the world's population resides.
Overall, the downside risk to owning platinum at current price levels is minimal given its unusual discount to the gold price. Those looking for good relative value might consider diversifying their precious metals portfolio by adding some platinum bullion or even trading in some gold for platinum.
You Have Great Options for Owning Physical Platinum
When it comes to the physical platinum bullion products available for investment, you have several options.
In the platinum coin market, supply is rather tight given that the U.S. Mint discontinued platinum American Eagle coins at the end of 2008, meaning all U.S. minted platinum is available only on the secondary market. One-ounce platinum Eagles are generally the most scarce, but fractional size Eagles (half, quarter, and tenth) tend to be more available.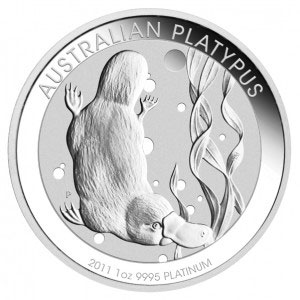 Other platinum coins include the Maple Leaf from Canada (itself no longer minted), the Koala and Platypus (both from Australia's Perth Mint), and the Noble (from the Isle of Man). In bar form, the one-ounce PAMP/Credit Suisse products offer lower premiums than coins, and each bar is individually assayed, certified, and sealed in protective packaging.
Given the limited number of mints currently minting platinum bullion, inventory is often scarce in some products, and premiums fluctuate regularly as a result. At present, the one-ounce Australian Platypus (pictured above) is readily available through Money Metals Exchange at 1-800-800-1865. The best bargain in platinum bullion products (in terms of being priced closest to melt value) is, as of this writing, the Platypus coin.
Call Money Metals Exchange to Buy or Sell Precious Metals Coins, Bars, and Rounds. – 1-800-800-1865.
---