Volatility, Inflation Fears, and Platinum
The metals performed well last week. Silver closed up about 5-1/2% for the week at $32.60.Gold closed up nearly 4% at $1,750/oz.
It is reassuring to see buyers for silver show up and buy heavily whenever prices drop toward the $30 level. However, silver continues to range in the same $30 - $35 trading area which has been established over the past 2 months – while awaiting the next catalyst to break out and move higher. Gold continues to be strongly supported at $1,680, but needs some new buyers to break above $1,800.
Europe Financial Mess Leads to Volatility, New Inflation Concerns
Asset markets, including precious metals, remain volatile. Euphoria broke out early last week, as the stock markets roared upward. On Wednesday, we found out why.
Central banks around the world locked arms and promised to help private member banks. They lowered "swap rates," essentially a move to counteract mounting difficulties for European banks trying to get U.S. dollars. Markets, hopelessly addicted to newly printed cash and waiting eagerly for any sign that more is coming, leaped higher on the announcement. The Dow soared – up 787 points for last week – the second highest nominal weekly gain ever.
Reality began setting in late on Friday however, as markets weakened toward the weekly closing bell. Lowering "swap rates" by 1/2% isn't all that significant, and it does nothing to resolve the underlying problems. Banks (and nations) remain massively over-indebted.
On Friday, fiscal conservatives in the U.S. Congress took issue with the backdoor bailout of Europe via the International Monetary Fund (IMF). The IMF is supposed to be raising money from member nations to backstop troubled Europe nations, like Italy. It now appears the U.S. House of Representatives will move to block the Treasury from providing what amounts to nearly $200 billion (the U.S.'s pro-rata share of the planned IMF bail-out). So look for markets to cycle from manic to depressive as hopes for free money fade once again – at least for the next few days.
This big volatility will continue until something truly significant is done by central banks – the ECB and our Federal Reserve in particular. We remain convinced that central banks will act and act big. Stress on their private member banks, particularly in Europe, is rising fast. More bail-outs, stimulus and QE is coming – probably in a matter of months.
Platinum Demand Rises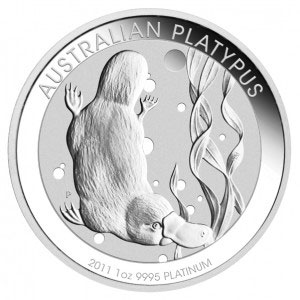 Last week was quiet in the physical bullion markets. Monday saw a surge in buying activity, mirroring the stock markets, but trading volume was on the lighter side through the balance of the week. Premiums stood unchanged across the range of products.
We've seen a marked increase in demand for Platinum 1 ounce coins and bars over the past 3 weeks.Platinum, at $1,545/oz, is nearly $200/oz. below the gold price. This may be an aberration. Platinum nearly always trades at a significant premium to gold, and investors are starting to take notice.
We Buy Back Too! We want customers to know that Money Metals Exchange is here to buy back gold, silver, platinum, and palladium in the common bullion forms. We certainly don't advocate selling at this time, as we think the bull market in metals has years left to run. However, if you decide to sell for whatever reason, we can lock a price with you right over the phone, deliver a purchase order to confirm the transaction, and send your payment promptly – as soon as we receive the metal. You will find we are as easy to deal with when you sell as we are when you buy!
---