Demand Rises, Silver Eagle Sales Soar
The gold and silver markets rang in the New Year with a nice rally, as both metals were up during the first week of 2012. Spot silver gained $.96/oz to close at $28.76 and has risen slightly this morning as well. Meanwhile, gold settled at $1,617.00, up a healthy $52/oz for last week – even as the dollar strengthened.
Silver futures are once again trading range bound, as they did during most of the Fall, albeit at a lower level since early December's price correction. The trading range is between solidly set between $26.00 and $30.00/oz. Breaking through $30.00 on the upside would be a good start on establishing a trend higher, but the futures market is going to need a catalyst to attract speculative long buyers.
Gold fared better than silver in recent months, and, from a technical perspective, less damage has been done to its price chart. It will need to hold above the current resistance level at $1,620 in order to get started on a trend higher.
For last week, platinum eked out a gain of $7/oz to close $1,407, but palladium had a lousy week closing down $39/oz at $617. Worries about slowing automotive demand worldwide weighed on these industrial metals last week. Both metals are firming up this morning.
The "open interest" – i.e., the number of futures contracts in existence on the COMEX – of speculative longs for all precious metals remains at very low levels. Open interest for silver is at the lowest level in 6 years. This is ordinarily a bullish sign that the bottom may be in, but, as we have discussed, the MF Global bankruptcy delivered an enormous blow to investor confidence in the futures market. It remains to be seen when and if the traditional exchanges will recover.
Continued Rising Demand for Physical Metal in 2012
The precious metals markets enter 2012 with virtually the same fundamental outlook as they did in 2011. For that matter, the fundamentals are substantially the same as they were when the 2008 financial crisis erupted and investors worldwide woke up and began grappling with the reality of massive debt and government deficits. Fiat currencies around the world remain in crisis. As long as this crisis continues to be unresolved, we expect the trend detailed in the following chart to continue: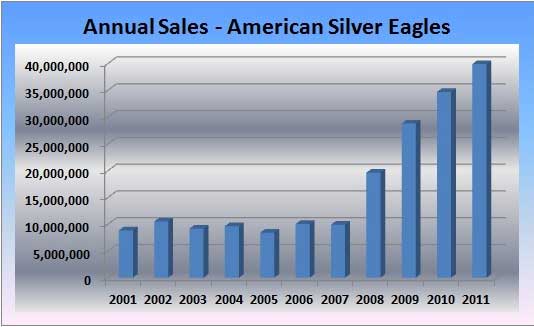 here has been a lot of price volatility in gold and silver over the past four years, and particularly in 2011, but demand for physical coins, rounds, and bars has grown at a strong and relatively steady pace. Investors seeking to protect themselves from devaluing currencies are buying when prices are up – and buying even more aggressively as prices correct. Physical selling remains negligible. For this reason we expect demand for physical bullion to set new records once again in 2012.
But more price volatility in 2012 is likely in the cards, especially if turmoil continues to roil the futures markets. Rapid price rises and corrections have always been part of the landscape in metals investing, and we expect that will be doubly true over the coming year.
There is simply way too much going on in the world for anyone to predict price action in the very short run. With "black swan" type events such as a failure of the euro, war with Iran, an exodus from the COMEX, or any number of other surprise events, it is especially difficult to call price tops and bottoms.
As long as there is a bull market in metals, investors must establish a meaningful position – irrespective of the current price – and accumulate on price corrections. Regardless of price volatility in the short run, continued growth in demand for scarce physical bullion will force prices much higher over time.
Premiums & Buying Trends
Trading activity was moderate at Money Metals Exchange over the past week. Silver accounted for about two thirds of overall sales. Selling activity remains extremely limited – less than 5% of Money Metals's volume.
Premiums were essentially unchanged over the past week. Inventory is in good shape with most items available to ship promptly. Most of the delay in shipping new orders for pre-1965 silver is gone.
We expect 2012 American Eagles in silver and gold to be available to customers in the next 2-3 weeks.
We Buy Back Too!
We want customers to know that Money Metals Exchange is here to buy back gold, silver, platinum, and palladium in the common bullion forms. We certainly don't advocate selling at this time, as we think the bull market in metals has years left to run. However, if you decide to sell for whatever reason, we can lock a price with you right over the phone, deliver a purchase order to confirm the transaction, and send your payment promptly – as soon as we receive the metal. You will find we are as easy to deal with when you sell as we are when you buy!
Call Money Metals Exchange to Buy or
Sell Precious Metals Coins, Bars, and Rounds.
---