Winter 2012 (Q1) FREE Newsletter Now Available
Precious metals headed into February on a load of steam after posting their best January performance in years. For the month, gold gained 11.1%, while silver rocketed 19.3%!
The metals were probably due to take a breather, and they got a mild one last week. The price of gold fell less than 1% from the prior week to close at $1,727/oz. Silver was down less than $0.30 to close the week at $33.70/oz. Platinum settled at $1,626/oz, essentially unchanged from last week.
Meanwhile, the big winner in precious metals was palladium, as it escaped the downward pressure that forced the other metals lower on Friday (a day when gold was down nearly 2%). Palladium rose $30 for the week to close at $711/oz. It was the first weekly close above $700 for palladium since mid September.
All the metals opened slightly lower this morning.
Following the prior week's strong gains in both gold and silver – rallies driven mostly by the Fed's announcement on Jan. 25th to keep short-term interest rates at zero percent all the way through 2014 – the metals had been moving higher most of the week.
But Friday morning's U.S. employment report pushed equities higher and metals lower, as the "risk on" trade found favor once again.
While the headline unemployment number fell, more than a million workers were removed from the rolls, largely because they had given up on finding work. But despite this dismal news, short–term-oriented market participants tend to focus on the government's bogus numbers, which in this case show signs of economic recovery. As a consequence, price softness in the precious metals may persist for a few more days.
Free Precious Metals Quarterly Now Available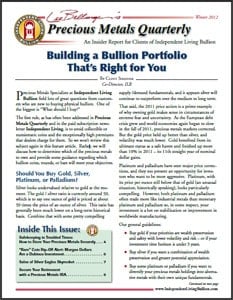 Money Metals Exchange has just released the Winter 2012 edition of Precious Metals Quarterly, an insider report on the market for physical gold and silver. You can personally access all the great FREE articles right here. Here's an overview of this quarter's highly informative newsletter:
Building a Bullion Portfolio That's Right for You
Safekeeping in Troubled Times: How to Store Your Precious Metals Securely
"Rare" Coin Rip-Off Alert: Morgan Dollars Are a Dubious Investment
Sales of Silver Eagles Skyrocket
Premiums & Buying Trends
Like other precious metals dealers, Money Metals Exchange has experienced sluggish sales volumes (despite the higher prices) in recent weeks. Larger buyers have tended to dominate. Premiums on coins, bars, and rounds were fairly stable, but did fall slightly once again on pre-1965 90% silver coin bags, as more sellers meant more supply of this no-longer-minted product.
As a reminder, the recently introduced minimum bag size on the 90% silver junk coins presents customers with a lower entry point into this highly recommended form of silver. The $50 face value bag (containing 35.75 oz of silver) can now be bought at prices under $1,300.
We Buy Back Too!
We want customers to know that Money Metals Exchange is here to buy back gold, silver, platinum, and palladium in the common bullion forms. We certainly don't advocate selling at this time, as we think the bull market in metals has years left to run. However, if you decide to sell for whatever reason, we can lock a price with you right over the phone, deliver a purchase order to confirm the transaction, and send your payment promptly after we receive the metal. You will find we are as easy to deal with when you sell as we are when you buy! Just call 1-800-800-1865
.
---