Bernanke, Platinum - See what's next...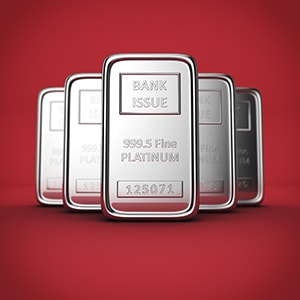 The precious metals, with the notable exception of platinum, traded range bound and finished little changed last week.
Gold traded within a $45 range and closed on Friday at $1,727.00. Silver spot prices finished at $33.65. Palladium also finished essentially unchanged for the week at $711/oz. Platinum outperformed all the other metals, gaining $39 for the week to close at $1,665/oz.
Bernanke Reiterates Vows to Produce More Inflation
Events are pushing and pulling metals prices, and we await the next catalyst for a move higher.
On the one hand, hints of another round of Quantitative Easing by the Federal Reserve continue to boost the market. Bernanke spoke in front of Congress this week and reiterated his readiness to expand the money supply to guarantee inflation.
On the other hand, the European debt crisis rolls on – lending short-term strength to the dollar and putting pressure on metals prices.
We expect Bernanke to "win" this tug of war.
Platinum Continues Its Rise
Platinum's upward price action was largely driven by a news story reinforcing a platinum fundamental, i.e., platinum mine production is perpetually at risk. South African platinum miners, who produce about 75% of the world supply, are under pressure on a number of fronts. Last week brought heightened risk of labor stoppages on top of other challenges that have plagued the industry for some time.
MiningWeekly and Lonmin CEO Ian Farmer noted, "Government safety stoppages, labour management difficulties, skills shortages, transformation and equity ownership challenges, rising community expectations, resource nationalism and high electricity prices were making operating in South Africa increasingly difficult."
Despite a month of out-performance in platinum bullion, the metal continues to trade below the price of gold. Historically, platinum has more often traded at a sizeablepremium to gold. For those who want to diversify into an undervalued precious metal with its own unique fundamentals, platinum is a compelling option.
Premiums & Buying Trends
Investor inflows into the metals picked up a bit last week at Money Metals Exchange. Silver sales, as usual, outpaced gold sales by nearly 2 to 1. Larger transactions provided a disproportionate share of the total yet again, including a healthy increase in the number of customers buying bullion inside their self-directed IRA.
Customers sold a bit more metal than average last week, as a few investors took profits based on the nice gains in precious metals prices over the past 6 weeks.
Premiums for junk silver prices fell once again, by about another 10 cents. This form of silver continues to be priced especially attractively and is a popular form of physical silver for investment. Premiums held steady on most other products.
We Buy Back Too!
We want customers to know that Money Metals Exchange is here to buy back gold, silver, platinum, and palladium in the common bullion forms. We certainly don't advocate selling at this time, as we think the bull market in metals has years left to run. However, if you decide to sell for whatever reason, we can lock a price with you right over the phone, deliver a purchase order to confirm the transaction, and send your payment promptly after we receive the metal. You will find we are as easy to deal with when you sell as we are when you buy!
---