Gold and Silver Volatile as Markets Show Signs of Bottoming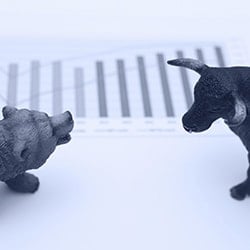 Gold and silver enter the week looking for some direction after a week of whipsaw-like moves and a rare divergence between the two monetary metals.
Gold put on some nice gains, rising $26 last week to finish at $1,659/oz. Meanwhile silver lost $0.29/oz and closed at $31.57.
Both metals appeared ready for a breakout on Thursday as traders speculated on the likelihood of more Quantitative Easing and drove prices substantially higher. However, those gains were completely undone on Friday as the same schizophrenic traders began worrying about a slowdown in Chinese GDP as well as the debt crisis in Europe, and they sold other assets to buy the U.S. dollar.
In the other metals, platinum lost ground once again, falling $12 to settle at $1,590/oz on Friday, making its discount relative to the gold price almost $70 after briefly overtaking the yellow metal less than a month earlier. Palladium was flat and closed at $647/oz, up a mere dollar.
Volatility Expands across Markets
Metals and commodities investors, accustomed to higher levels of volatility, have been getting all they can handle over the past few months. They got some company last week in the form of stock investors. The S&P 500, which has risen almost uninterrupted in 2012, lost 2% in a very volatile week of trading. Four of the five trading days saw moves of at least 1%, in one direction or the other.
This sort of volatility is trying precious metals investors' nerves, but no one should adopt short-term thinking as long as the long-term fundamentals remain intact, which they are.
COMEX Reduces Margin Requirements on Silver
For the second time this year, the CME Group reduced margin requirements on silver futures contracts – by 12.5% on Thursday. This may be an attempt to reverse the decline in open interest and lure traders back into the market to make more speculative bets. CME officials raised margin requirements multiple times in 2011 on those wishing to take a position in the silver market when prices were climbing rapidly.
Low levels of open interest and falling margin requirements are something we expect to see in markets which are forming a bottom and preparing to move higher. The futures market will need a return of speculative long buyers in order to fuel a price trend higher. Unfortunately, all of this matters because the paper trading market still plays a dominant role in setting gold and silver prices. This is in the process of changing, as buyers and sellers of actual physical metal are starting to gain an upper hand.
Premiums and Buying Trends
Money Metals Exchange had a relatively quiet week of buying and selling with activity lower than the week prior. Buyers, as usual, heavily favored silver. Customer selling was negligible.
Premiums fell a bit on pre-1965 silver junk coins, but held steady across the other popular gold and silver bullion products.
Tax Filing and IRA Contribution Deadline Arrives
Tuesday, April 17th, is the tax filing deadline and the deadline for making any IRA contributions that you wish to apply to tax year 2011. For an overview of how you can set up an IRA that holds real, physical precious metals bullion coins, see Money Metals's step-by-step "Secure Your Retirement with a Self-Directed Precious Metals IRA" guide.
"What is the difference between a taxidermist and a tax collector? The taxidermist takes only your skin".
Mark Twain
Call Money Metals Exchange to Buy or
Sell Precious Metals Coins, Bars, and Rounds.– 1-800-800-1865.
---