Buffett Sidekick Trashes Gold Investors
The precious metals this week look to rebound from last week's sell off. Economic data – including jobs data – missed expectations, and stocks, commodities, and precious metals all fell for the week while the dollar strengthened. However, the metals did diverge from riskier assets on Friday and rallied into the market close, even as the Dow lost 168 points and oil lost nearly 4% to close under $100/barrel for the first time in months. For the week, gold lost $21/oz and closed at $1,643. Silver lost $0.92/oz and closed at $30.38. The platinum group metals fared worse, with platinum losing $46/oz to finish at $1,533 and palladium giving up $32/oz to close at $655.We'll see if Friday's rally in gold and silver prices can be sustained. Signs that investors are treating the metals as a safety asset would be bullish. Certainly, worsening economic data and falling stock prices will increase the odds of more stimulus and money printing from the U.S. Federal Reserve.
Physical Bullion Demand Steadily Rises as Demand from Metals ETFs Falls
Data from the World Gold Council indicates an interesting trend in investment demand for bullion. Demand for gold bars and coins rose significantly again in 2011, while gold demand inside exchange-traded funds (ETFs) slumped. Apparently investors are shying away from the counter-party risks associated with owning paper gold and silver; they are making the choice to own real physical metal instead.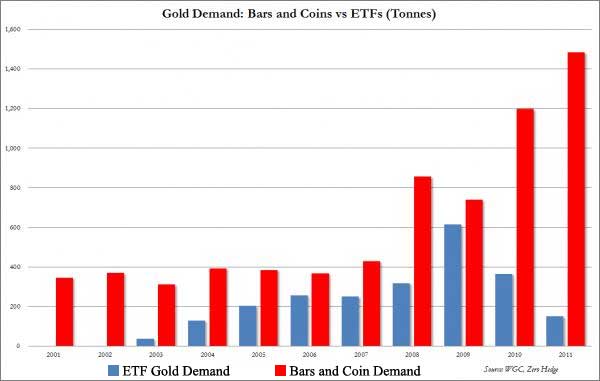 Warren Buffett's Sidekick, Charlie Munger,Disparages Gold Investors
Berkshire Hathaway Vice Chairman Charlie Munger doesn't think much of the investors behind the rising demand for physical gold outlined in the chart above. He commented last week, "Gold is a great thing to sew onto your garments if you're a Jewish family in Vienna in 1939, but civilized people don't buy gold." It's a view he shares with his partner Warren Buffett.
The comment is pretty astonishing given the investment performance of precious metals versus stocks generally and versus his company, Berkshire Hathaway, in particular. Perhaps Mr. Munger should look at a chart of his own company's share price performance over the past 10 years compared to gold. Shares of BRK are up 61%, while the gold price is up 425%.
Premiums and Buying Trends
Money Metals Exchange had a busy week of trading last week with investors stepping forward to place larger sized orders. Sales of gold roughly matched sales of silver, breaking the pattern of the past couple of weeks in which silver exceeds gold by about 2 to 1. Customer selling, as usual, was negligible.
Premiums were flat for the week across the range of products.
Last week's Open Enrollment Week promotion for our monthly gold/silver savings plan resulted in a phenomenal 400 new signups! While the extra free bonuses have now expired, you may still join our national movement of gold and silver savers right here.
We continue to keep an eye out for bargain opportunities to pass along to our customers, as wholesalers seek creative ways to unload certain products. As always, we will keep you informed of any such opportunities to pick up gold and silver coins at an abnormal discount.
We are at present able to offer century-old (and older) U.S. Liberty gold coins without the hefty numismatic premiums tacked on by unscrupulous "rare" coin dealers. You can now buy these historic coins at bullion prices (less than 6% over the spot market price) from Money Metals Exchange.
---