Gold/Silver Price Weakness: A Buying Opportunity?
Precious metals have recently been performing like risk assets, rather than the safe-haven assets they truly are.
Last week, they sold off along with the equity markets. Investors, again frightened by news out of Europe, dumped pretty much everything to buy U.S. dollars and Treasuries, though the U.S. dollar strengthened only marginally. The dollar index remains below 80 – a key level for this index of unbacked currencies.
Gold fell $62/oz (3.8%) and closed at $1,581. Silver lost $1.47/oz (4.8%) and closed at $28.91. Platinum gave up $62/oz (4.0%) to finish at $1,471. Meanwhile, palladium was the worst performer – losing $50/oz (7.6%) to close at $605. Over the last two weeks alone, the industrial metal has dropped some 12%.
Metals prices are slipping again this morning, attracting some bargain hunting.
Metals Markets Get What They Want and... Sell Off??
The metals markets seem to rise and fall based largely upon expectations of more stimulus and Quantitative Easing (new money printing to buy U.S. debt instruments). Ben Bernanke helped spark the current weakness in precious metals prices when, early this year, he downplayed the need for more QE.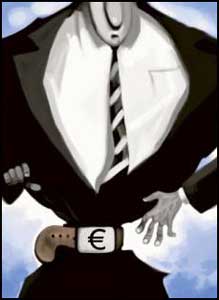 Elections in both Greece and France resulted in new socialist leaders who promise to end austerity before it even begins. The Greeks and the French stared into the eyes of smaller government and flinched. Their alternative? More spending on social programs, more stimulus, and more borrowing – a doubling down on the policies that put them into the crisis in the first place.
We aren't far behind here in the United States. Stock markets are falling, and we are seeing signs of weakness in the leading economic indicators.
Ben Bernanke and the Fed have been crowing about rising equity prices as proof that near-zero interest rates and Fed buying of U.S. Treasuries are working to get America's economy back on its feet. If stock prices continue to fall, investors can reasonably expect the Fed to once again reach into its bag-of-trick (not tricks) and start printing money.
There is no sign anywhere that governments are ready to live within their means or abandon currency devaluation as the solution to the problems of insurmountable debt and deficits.
One of the best ways for investors to profit is to keep focused on market fundamentals and seize any opportunity where the conventional wisdom has it wrong.
Gold/Silver Premiums Fall, Physical Demand Increases
Premiums have been drifting lower over the past few months, and prices for gold, silver, platinum, and palladium are nearing their December 2011 lows. The price is set in the paper futures markets, but there are signs that real physical demand is rallying. Central banks are buying gold aggressively according to recent World Gold Council statistics. And sales of American Gold Eagles are up 52% already in May vs April.
If you have made the decision to own precious metals or are wanting to build your position, you have an opportunity to get them on sale right now.
(Also, don't forget that Money Metals has a great Referral Program, that gets you FREE SILVER for your efforts!)
Premiums and Buying Trends
Money Metals Exchange had another steady week of activity, as bargain hunters came out – especially those looking for an opportunity to buy silver below $30/oz. As usual, sales of silver outweighed sales of gold by 2 to 1. Customer selling remained negligible.
Premiums fell slightly on gold products and appear ready to dip on silver bars and rounds.
---