Dollar Rally to Crush Gold?
The precious metals faltered last week, giving back most of the gains from the previous week, as the U.S. dollar strengthened.
Gold lost $18/oz (-1.1%) for the week, closing at $1,583. Silver relinquished $0.42/oz (-1.5%) to finish at $27.13. Platinum was nearly flat – down only $3/oz at $1,451 – and palladium gave up $6/oz to settle at $581.
Strength in the U.S. Dollar Will Be Fleeting
Only two stories seem to be driving the U.S. Dollar index and inversely related precious metals prices: the European debt crisis and the timing and scale of the next Quantitative Easing program from the Federal Reserve. The dollar rallies and metals suffer when optimism fades in Europe or, perversely, when economic news in the U.S. is bad, but not bad enough to force the Fed to engage in more money printing.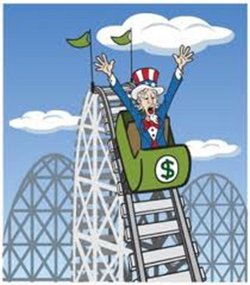 Right now the dollar, as compared to most other un-backed fiat currencies, looks strong – it made a 2-year high versus the Euro last week. But even though they are currently out of the spotlight, debt problems in the U.S. are just as severe as those in Europe.
It isn't that there aren't other stories out there with the potential to dethrone the dollar and boost gold and silver prices. Last week, we detailed a rule change proposed by the Fed, the Treasury, and the FDIC which would classify gold held by U.S. banks as zero risk. If the rule change goes into effect as planned in January 2013, we think it will be a game changer. Banks will be able to diversify with gold and move some reserve assets away from cash and Treasuries without suffering the huge regulatory penalty currently in place.
Virtually every day, we're getting more evidence of the universal commitment of world leaders to the printing press as the solution to every economic problem. Chinese and European central bankers both lowered interest rates again, and the Bank of England expanded its program to monetize UK bonds – again.
There is an onslaught of news and events that can potentially act as a catalyst. Pay attention and don't fall into the trap of expecting the status quo to last. Anyone believing investors will continue fleeing into dollars indefinitely, or expecting the Fed governors to continue sitting on their hands forever, is asking for trouble.
We expect the dollar's fortunes to reverse – and possibly violently – when some event forces attention back on the problems in the U.S. Who knows what the event will be, but there are plenty of possibilities. Perhaps it will be the wrangling over raising the federal debt ceiling this fall.
Investors should be positioning themselves for dollar weakness, not dollar strength in the long-run.
---