Paper Markets Go Haywire; Gold/Silver Speculation to Rise
The gold and silver markets rallied strongly on Friday heading into the weekend and held steady on Monday morning after posting a mixed performance overall last week. Gold prices fell modestly mid-week after the Fed and European Central Bank both balked on even more monetary easing in the short run. Prices then rebounded late in the week and gold regained the important $1,600 level – closing Friday at $1,605/oz, down $20 for the week (-1.2%). Silver followed gold down early, but rallied even more strongly as the week ended – mustering a small weekly gain of $0.03/oz and finishing at $27.85. The platinum group metals rose modestly. Platinum, like silver, posted a gain of less than 1%, up $4/oz to settle at $1,411, while palladium rose $7/oz and closed at $584 (+1.2%).
High Frequency Trading Compounds the Risks of Holding Paper Securities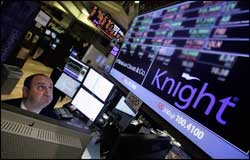 The paper markets got another blow to confidence last week, as a trading algorithm run by Knight Capital wreaked havoc in the equity markets. Share prices in 140 publicly traded companies, including blue chip stocks like Anheuser-Busch and Caterpillar, gyrated wildly after an error in Knight's software sent hundreds of thousands of irrational trades into the market over the course of an hour.
When it was over, Knight Capital, a market maker which is involved in 11% of the trades done on the public exchanges, lost $440 million and found itself on the verge of collapse.
The episode reminded investors of the 2010 "Flash Crash" where another rogue high-frequency trading algorithm produced losses of over $1 trillion in nominal value in the course of a few minutes. Today, according to Boston financial services research firm Aite Group, nearly 80% of all trading volume is generated by machines. The markets look less and less like a playing field for flesh-and-blood investors.
Individual stock traders now battle at a distinct disadvantage to operators of sophisticated programs with special access to the exchanges. Their machines can trade tens of thousands of times per second. And the risks are growing.
Unfortunately, investors in today's securities markets can't rely entirely on good analysis and wise stock picking to succeed.
CME Group to Lower Silver Margin Requirements for Third Time Since February
The CME Group, which operates the COMEX futures exchange, plans to reduce the margin requirement for traders buying silver contracts once again. Margins rose dramatically during the big run up in silver prices in early 2011. Lowering the percentage of funds that traders must put up as a deposit, the move offers speculators the opportunity to increase the leverage in their silver investment, whether they are long or short.
Historically, increases and decreases in these requirements are correlated with price action. Investors often see margin requirements rising as the prices near a short-term top, and margins being reduced as prices near a bottom.
The speculative crowd of traders – meaning those willing to accept more risk in return for bigger potential gains – often provide the fuel for big price moves, either up or down. This group is largely out of the silver market at present, but lowered margins should help entice bullish speculators back to the market.
Margins will also be reduced in platinum and palladium futures markets.
Trading Activity of All Kinds on the Rise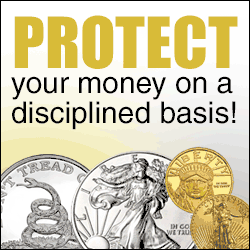 Transactional volume picked up last week at Money Metals Exchange, with a noticeable jump in purchases of $100,000 or more. There was also a modest increase in customer selling, but it's unclear whether this is a trend or a one-week anomaly.
There were more customers making exchange transactions as well. These exchanges involved customers swapping larger bars for smaller denomination coins or rounds, customers moving out of gold and into silver, and a few folks unloading numismatic coins – which carry collectible premiums that tend to erode away in a financial crisis – in favor of bullion.
Some value-oriented bullion holders are taking advantage of the opportunity to exchange gold bullion for silver and/or platinum while they remain relatively cheap on a historical basis versus gold (platinum now sells at an unusual $200 per-ounce discount). If you are under-invested in the white metals, trading out of some of your gold is one way to acquire more white metal – though we certainly don't recommend parting with all your gold.
Premiums rose slightly on silver and gold American Eagles. Premiums remain moderately elevated on pre-1965 90% silver coins and inventories of 90% silver remain somewhat tight.
---