Metals Head into Period of Historical Strength; Rally Ahead?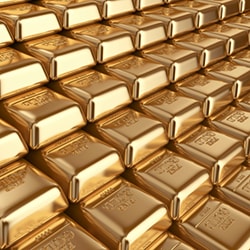 The recent downward action in precious metals may be at or near an end, at least according to one indicator.
The metals finished down for the week on Friday, the second week of lower prices following two months of price increases. But the forward-looking HUI gold stocks index closed with a slight gain on Friday (+0.3%) to finish just above break-even for the week, creating a bullish divergence.
For the week, gold prices fell $34/oz (-1.9%) and closed at $1,722. Silver lost $1.38/oz (-4.1%) and settled at $32.14/oz. It has given back over 7% in the last two weeks. Platinum closed at $1,625, down $35/oz (-2.1%). Palladium, which held up slightly better than its peers, finished at $630, a drop of $7/oz (-1.1%).
Price Correction = Good Opportunity for Investors Ready to Buy
Metals investors looking for a good entry point are getting that opportunity now. We got a healthy pullback, and historically, the two strongest months in the precious metals lie just ahead.
Silver prices now trade about 8% below the highs put in on October 4th, and since then gold prices are down almost 4%. While it's too early to call the pullback over, the case for jumping in here is strong.
As mentioned, we look for a pick up in physical demand in November and December, which are historically strong months for metals. The lunar New Year in Asia, the wedding season in India, and the Christmas holiday season typically generate big demand for jewelry and gifts worldwide.
Don't Let Your Heirs Make a Big Mistake
Investors in precious metals should always be cognizant that the investment in bullion remains well outside the mainstream. This fact is generally good news, as it is strong evidence we remain early in the bull market. Later we expect participation to be much broader. However, it illustrates a need for investors to provide some instruction to potential heirs who may very well be completely unversed – both with regard to the rationale for holding onto physical gold and silver that is passed to them and to properly liquidating the position when necessary.
From time to time, we get calls from heirs who inherited bullion and found our phone number among the records. Often they are trying to find out how quickly they can sell the metals and convert the holding to cash. Sometimes they need cash for legitimate purposes. But in altogether too many cases, they may be rushing to dispose of a great investment – simply because they don't understand it – and may have regrets later.
The good news is that these heirs called Money Metals Exchange – where we treat customers fairly regardless of their experience level. Should they ask our Specialists for advice, they will be told to hang on to the position, if possible, while the bull market remains intact. And, if the heir is determined to sell, our buy prices (posted right on our website) are very competitive; typically 97% - 105% of full melt value, depending on the item.
Here is the nightmare scenario for an investor who diligently builds a position in bullion and then passes it on: the heir immediately drives to the "We Buy Gold" operation that stood out because of someone wearing a sandwich board to lure in traffic. These shady businesses may offer only around 60% of melt value!
We highly recommend you talk with your potential heirs about your holdings in metals. Attaching an instructional letter in your will is also a great idea. Let them know why you made the investment and encourage them to really deliberate before liquidating.
Just as importantly, explain that bullion coins, rounds, and bars are investment grade products and should never be sold to a scrap dealer or anyone else at a steep discount to their intrinsic value.
---