Post-Election Projections for Precious Metals; New Product Specials
On the eve of the election, it's worth considering how precious metals might react after the votes have all been tallied.
Gold and silver appear to be well positioned to rally this month after having retreated in October, though they do enter the week with a degree of negative momentum. Both metals sold off and breached support levels on Friday. Gold broke below $1,700 to close at $1,679/oz. (-2.0% for the week). Silver plunged 4.1% on Friday as a gimmicky pre-election "better than expected" jobs report strengthened the dollar. Silver lost 3.6% for the week, finishing at $30.98/oz.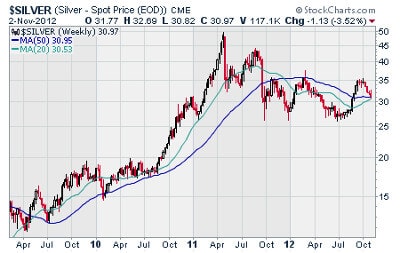 The lower prices on Friday led to a mini buying frenzy in the physical bullion market, as bargain-hunting customers swooped in with a much higher level of purchases from Money Metals Exchange.
Looking at a weekly chart of silver, we see that prices could find support near current levels, which are undergirded by the 50-week and 20-week moving averages. Once the 20-week moving average line crosses cleanly above the 50-week (an event that last occurred in May 2009), it will confirm an intermediate-term uptrend taking hold.
Meanwhile, the race for the White House remains close. National polls of likely voters show a dead heat. But the Electoral College is where the election is decided, and in a number of important swing states, particularly Ohio, incumbent Barack Obama has a slight advantage according to all the major polls, with the exception of Rasmussen.
Previous Post-Election Rallies in Gold
Since the secular bull market in gold began in 2001, we've gone through two presidential elections. Following President George W. Bush's re-election in 2004, gold rose modestly – by 3.1% from the day after the election through the end of the year. In 2008, gold fell for a few days following Obama's victory before rallying strongly over the next few weeks. From November 5th through December 31st, gold gained 19.1%.
In the 2010 mid-term election, Republicans made historic gains in Congress. From post-election day (November 3rd) through December 31st, gold rallied 6.3%.
The bottom line is that there's a tendency for gold (and silver) to rally in the weeks following elections,regardless of who wins. That said, the price gains may have more to do with gold's seasonal strength during this part of the year than with the welcome conclusion of campaign silly season.
It's All about the Fed
The conventional thinking among precious metals bulls is that an Obama victory would be more immediately bullish for gold and silver. They say a doubling down on Obamanomics and its enablers at the Federal Reserve would be dollar bearish. That may be true, but Romney won't stop the dollar-bearish forces already locked in place, either.
As Senator Charles Schumer (D-NY) put it, "The Fed is the only game in town." And precious metals are the only currencies in town when it comes to holding value as central banks around the world race to depreciate.
---