Gold Investors Eye Fiscal Cliff - Fall 2012 Newsletter Now Online
Markets around the world got the answer to a big question after last week's presidential election, and the reaction may be quite indicative of what's to come. Obama's re-election cemented the notion of "more of the same" for investors, and the unchanged fiscal and monetary backdrops should continue to support gold and silver prices.
U.S. equities enter the week with negative momentum, coming off their worst weekly performance in more than five months. At the same time, precious metals prices rose sharply and are up this morning as well.
For the week gold rose $53/oz (+3.2%) and closed at $1,732. Silver jumped $1.69/oz (+5.5%) and finished at $32.67. Platinum settled at $1,558/oz, a gain of $13/oz (+0.9%), and palladium was up $10/oz (+1.7%) to close at $611.
Looking ahead to potential market-moving news this week, on Wednesday the latest Federal Open Market Committee meeting minutes get released. Retail sales and Producer Price Index data also come out on Wednesday. On Thursday, new Consumer Price Index (CPI) figures will be announced.
Election behind Us, Fiscal Cliff Dead Ahead
Obama's victory delivered a clear message to investors: brace for higher taxes and forget about fiscal discipline. Calls for a smaller government that lives within its means will continue to be ignored by a re-emboldened political class whose top priority now is "raising revenue."
The election gave Republican Party leadership a bit different take-away than the one delivered by voters who re-elected a Republican House majority in the hope that it would support free markets, limited government, and liberty. House Speaker John Boehner told the Washington Post that Republicans are now "ready to accept new revenues" in order to "do what's best for our country."
"Revenues" is the word politicians cowardly use to avoid having to say "taxes." As politicians seek a compromise to avoid the so-called "fiscal cliff," markets could get jerked around by the unfolding drama.
In addition, the federal government is once again bumping up against the debt ceiling, and the debate on whether or not to raise the borrowing limit may get some attention. However, the demoralized Republican leadership seems unlikely to make another stand on that issue. We suspect they will quietly approve another increase – perhaps at midnight on Christmas Eve just before they slip out of town. This has been tried before with other unpopular and controversial decisions.
Hot off the Presses: FREE Precious Metals Quarterly Newsletter Now Available!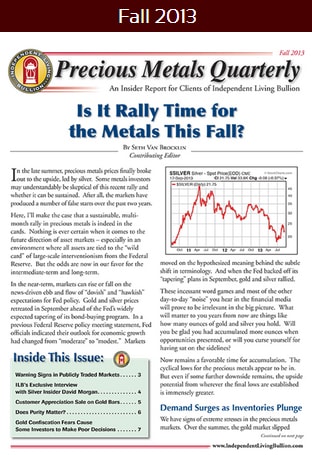 The Fall 2012 issue of Precious Metals Quarterly, a free newsletter published by Money Metals Exchange, is now available online.
The new issue contains must-read information about the precious metals markets, including a primer on the process of buying and selling bullion coins, bars, and rounds. Plus, we update you on the issue of bullion vs. rare coins.
The newsletter also gets into the nitty-gritty on palladium and answers some great questions from customers.
You can access Precious Metals Quarterly right here.
---