Year End Report: Gold/Silver Prices Up; Eagles Sales Off
The gold and silver markets enter this week on a bit firmer footing, having navigated the thinly traded holiday week without the steep sell-offs that marked the week leading up to Christmas. Today, the final trading day of 2012, both metals are poised to lock in annual price gains – gold is up approximately 7% and silver is up 9% year over year.
Investors will continue to focus on Washington DC and continuing negotiations to avoid the so-called "Fiscal Cliff." It's possible that no deal will be reached, leaving the Federal Reserve with the herculean task of trying to counteract the adverse economic impact of the scheduled tax hikes and spending cuts. "Bad news" is probably good for precious metals prices.
As of this writing, gold trades at $1,663/oz, up $3 from last week. Spot silver trades at $30.15 – down 5 cents from a week ago.
Platinum and Palladium are set to finish 2012 outperforming gold and silver – both up roughly 10%. Currently platinum trades at $1,527/oz (down $20 versus last Monday). The palladium spot price is $703/oz up $12 week over week.
Some Year-End Thoughts
Even though we are more than a decade into the bull market for gold and silver, metals investors still endure sideways looks from mainstream financial marketers. It's a testament to just how early we are in this bull market.
It is tough running separately from the herd. Add the inherent volatility in the market – the thrilling price rises and the gut-wrenching declines – and you can see why someone investing in gold and silver bullion has to be made of a bit firmer stuff.
Metals investors definitely got tested in 2012, as gold and silver markets consolidated and failed to break out to new highs. After big price increases in early 2011, prices for both gold and silver corrected dramatically and to this day remain mired in a wide trading range. Sure, not too exciting, but remember that metals prices are up for the year. This price consolidation is likely near its end. They end when the froth and steam gets worked out of overheated markets.
Here are charts showing the past decade of sales for the American Eagle bullion coins: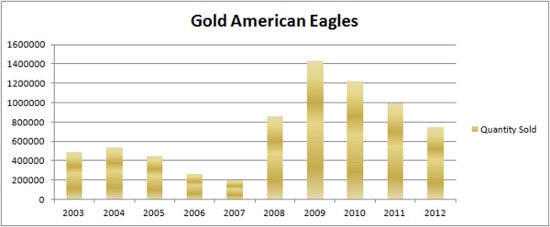 Gold American Eagle sales have declined over each of the last three years. Meanwhile 2012 marked the first time in six years where sales of Silver Eagles didn't exceed sales from the previous year.
These charts provide a snapshot of what has happened to overall demand for physical gold and silver. It has fallen from recent highs, but it remains nearly double the levels before the 2008 Financial Crisis ushered in the new age of trillion-dollar deficits financed by money creation at the Federal Reserve.
At Money Metals Exchange, we find these charts particularly striking in light of the growth in our customer base over the past year. We have more than double the number of active customers today than we did one year ago.
As we enter 2013, conditions look ripe for the next leg up in precious metals prices. Fundamentally, the case for owning bullion is better than ever.
Here's wishing you a VERY HAPPY New Year!
Potential Market-Moving News This Week
The COMEX will be open regular hours (as will Money Metals Exchange) on Monday, but it's closed on the 1st before re-opening Wednesday the 2nd.
Those negotiating on both sides of the "Fiscal Cliff" appear dug in. The debate will continue to dominate the financial news. Any compromise is likely to boost markets of all kinds in the short run, but gold and silver may respond positively to most scenarios.
Wednesday, Jan. 2nd - FOMC Minutes Released. Minutes from the Fed's meeting in early December will likely reinforce the Fed's intent to stay the course with its capital-destroying Zero Interest Rate Policy and unlimited bond purchases.
Friday Jan. 4th - Employment Report. Recently the metals markets have traded with an inverse correlation to employment numbers. Investors interpret bad news on the jobs front as increasing the likelihood of additional stimulus.
---