Breaking: Silver Bulls and Bears in Epic Tug-of-War at $30 Level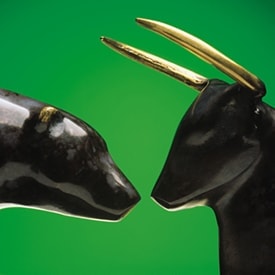 The gold and silver markets enter the week looking for direction. A rally in prices early last week – based on optimism surrounding an agreement in Congress to avert the fiscal cliff – stalled out and reversed. The cause? Newly released notes from the Federal Open Market Committee's December meeting indicated that a few members want to see monetary stimulus curtailed later in 2013.
The announcement immediately following the December meeting indicated the Fed plans to stay the course with respect to zero percent interest rates, bond purchases, and money creation until the unemployment rate drops below 6.5%. However, the meeting minutes revealed there was dissension.
It certainly isn't unusual for Fed board members to take contradictory positions. We would encourage readers to focus on actual policy. Members have dissented before, but the size and duration of the stimulus continues growing rapidly.
If you haven't already listened to our exclusive interview with silver guru David Morgan, listen to it. Hear his 2013 forecast for precious metals and much more.
Gold enters the new week trading at $1,648/oz, down $15 from this time a week ago. Silver currently trades at $30.08 – down 7 cents week over week. Platinum is trading at $1,559/oz and palladium spot price is $681/oz – down $44 and $22 respectively since last Monday morning.
The bulls and bears in the silver market have spent the past ten trading days engaging in an epic tug-of-war on either side of the $30 level. On Friday, prices briefly broke down below $29.50 but finished the day back above $30 – a bullish reversal.
If the bulls can follow through this week by putting together positive closes above near-term resistance levels, the bears will be forced to capitulate – and a powerful short-covering rally could ensue.
Inventory Tightness and Rising Premiums Emerge in Bellwether Bullion Products
Premiums for pre-1965 silver coins jumped significantly several months ago, as Money Metals Exchange noted on a number of occasions. Despite elevated premiums, availability was never a serious issue, and orders were able to be fulfilled immediately.
Last week, however, inventories began showing considerable strain. Master wholesalers began quoting lead times for delivery. The largest of these firms temporarily stopped accepting new orders altogether. And premiums continue to rise.
Money Metals is still accepting new orders on 90% silver coins from buyers who don't mind waiting for delivery. Our Specialists do encourage customers to look at other popular bullion products where premiums remain relatively flat and inventory is readily available – at least for the moment.
Premiums have also risen dramatically on South African Gold Krugerrands over the past month. Together with pre-1965 silver, the Krugerrand acts as a bellwether product. Often what happens to premiums and availability on these products presages similar action in other bullion products.
The reason is that gold Krugerrands and pre-1965 silver coins are available in the secondary market almost exclusively. The U.S. Mint stopped production of 90% silver prior to 1965, and only a tiny fraction of the 48 million ounces of Krugerrands produced since 1967 are newly minted each year. Mints and refiners won't be increasing output to capitalize on rising demand and higher prices. Virtually every ounce sold must come from the stock held by other investors.
This means availability and premiums reflect the attitudes of investors currently holding those items. For the moment, these folks are generally holding out for higher prices, and the supply coming to market isn't enough to meet demand.
As premiums on Krugerrands and pre-1965 silver coins rise, we can expect to see some demand shift to other products. Premiums on most other products are holding relatively stable, but that can change in a hurry. Krugerrand premiums are already within half a percent of the premium on American Gold Eagles. Normally this spread would be three times that amount. We expect something to give; either higher premiums for American Eagles (and other popular gold coins) or lower premiums on Krugerrands. The same principle is true for 90% silver coins vis-a-vis Silver Eagles.
Given the large amount of buying demand from our customers, we look for premiums on other bullion products to be heading higher soon.
Potential Market-Moving News This Week
The financial media and Congress promptly shifted the focus from the fiscal cliff to a showdown over the debt ceiling. The U.S. government hit the borrowing cap on Dec. 31st. The Treasury once again employed gimmicks and tricks to avoid any shutdown, but those measures can only work temporarily.
The economic calendar of scheduled events is fairly light this week:
Tuesday, Jan. 8th - Consumer Credit. The stock markets generally interpret more borrowing by already over-indebted consumers (and nations) as bullish.
Thursday Jan. 10th - Fed Balance Sheet. Investors will get another look at the metastasizing Fed balance sheet. It has been growing exponentially since embarking on the current policy of Quantitative Easing in 2008.
---