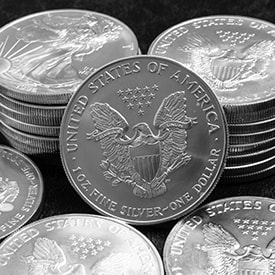 Gold and silver broke through tough overhead resistance levels and entered the holiday-shortened week in the U.S. looking stronger than they have since last fall. Disclosures of market positions show growing inflows of speculative money in precious metals (and commodities).
We also see hints of tightness in supply, particularly surrounding silver. Last Thursday, the U.S. Mint stopped taking orders for the silver American Eagle – the world's most popular bullion coin.
At the same time, the dysfunctional Mint dumped a ton of Gold Buffalo coins to a handful of insiders, and Money Metals Exchange grabbed some of these marked-down pure gold coins for our valued customers (details below).
Dysfunctional U.S. Mint Halts Sales of Silver American Eagles
The U.S. Mint unexpectedly stopped accepting new orders for American Eagle Silver bullion coins on Thursday, throwing the physical silver markets into a bit of turmoil. Roughly 33 million of those coins were minted and sold into the market last year. A disruption in the supply of such a popular product worldwide has immediate and wide-ranging impacts.
The Mint began taking orders for the 2013 coins on Jan. 7th and promptly got buried by demand. Almost 4 million ounces got sold on the first day – an all-time single-day record. After just 9 days, the Mint's supply ran dry. Although the Mint expects to resume production next week, government bureaucrats will limit the amount that can be purchased.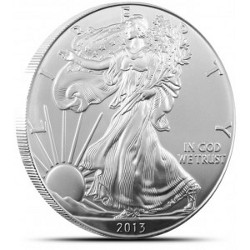 Money Metals Exchange recently highlighted extreme tightness in 90% silver U.S. coins as well. The tightness there likely rippled through markets and drove some of the extra demand for Eagles. And now the shortage of Eagles has created ripple effects. Premiums for silver Canadian Maple Leafs jumped immediately, and order volume surged for that alternative 1-oz coin, as well as for bars and 1-oz rounds.
It appears the U.S. Mint is dealing with a shortage in the blanks they need to produce the coins. Time will tell whether or not this shortage will persist. Only a small handful of producers, such as Idaho's Sunshine Mint, are accredited to provide the blanks needed. By law, the Mint can only use silver produced in U.S. mines. And it must compete with the private sector to get its supply.
Rather than paying high premiums for Eagles, with uncertainty over when to expect delivery, we urge customers to consider silver bullion bars' price to help sway your decision when it comes to investing in silver. Maybe start with just a one-ounce silver bar, then work your way up to larger bar sizes.
Potential Market-Moving News This Week
Precious metals and commodities got a boost last week from speculative investors who returned some focus to the sector after being preoccupied elsewhere in recent weeks. It was enough to break through some important overhead resistance levels and polish the gold and silver price charts, which, in turn, should attract more technical traders.
Metals are also getting some help in the news. The silver American Eagle shortage has the silver market buzzing. Additionally, Congress looks likely to kick the debt ceiling can down the road by three months, which has some traders breathing a little sigh of relief. U.S. stock markets hit a 5-year high on Friday, and precious metals, which are currently trading correlated, also got a boost.
Money Metals Exchange is maintaining regular hours on Monday, Jan. 21st – Martin Luther King Day.
The following scheduled events may impact the metals markets this week:
Tuesday, Jan. 22st – Existing Home Sales. Home sales, boosted by exceptional amounts of government stimulus in the mortgage markets, are expected to continue strengthening. A positive report may boost metals, even if it is primarily because metals are, for now, trading akin to risk assets such as stocks.
Thursday Jan. 24th – Jobless Claims & Leading Economic Indicators. These reports may give mixed signals. Jobs numbers, heavily supplemented by government spin, are improving. However, the most recent report on Leading Economic Indicators has been foreshadowing a slowdown.

About the Author:
Clint Siegner is a Director at Money Metals Exchange, a precious metals dealer recently named "Best in the USA" by an independent global ratings group. A graduate of Linfield College in Oregon, Siegner puts his experience in business management along with his passion for personal liberty, limited government, and honest money into the development of Money Metals' brand and reach. This includes writing extensively on the bullion markets and their intersection with policy and world affairs.