Fed Sparks Gold Selloff; Offshore Vault Locks Out U.S. Citizens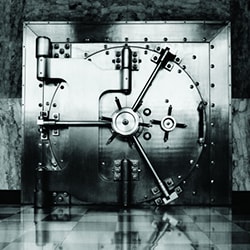 The metals markets open the new week battered after a second week of heavy selling that pushed prices through lower support levels. These prices have not been seen since last August.
Prices suffered last week after traders in the futures markets sold in reaction to bearish technical signals, including gold's 50-day average price falling below the 200-day average. Investors also reacted to the release of the latest Federal Reserve meeting minutes which included hints that the Fed may need to tighten monetary policy.
As usual, the heavy selling in futures markets was met with heavy buying in the physical bullion markets. Bargain hunters came out to take advantage of the big downward move and kept our Specialists at Money Metals Exchange very busy.
Why Do Markets Still Pay Attention to "Fed Speak"?
The Fed released the minutes from the January meeting of FOMC members on Wednesday. Within an hour, an absurd number of paper gold ounces traded on the COMEX and prices fell dramatically. We've seen markets react violently to talk from Bernanke and his crew before.
Board members periodically stand out front talking about tightening monetary policy, but the printing presses just continue running at full tilt in the background. We are currently on the 4th iteration of QE, and it represents the largest and most aggressive to date. The Fed Funds rate stands at essentially zero. And the Fed purchased more than 70% of all Treasuries issued last year.
The rhetoric favoring the ultra-accommodative policy of the past several years has often waxed and waned, but the policy that actually gets implemented grows perpetually more aggressive.
International Precious Metals Storage Firm Turns Away U.S. Customers
The U.S. tax and regulatory environment inflicted another casualty last week. ViaMat, a Swiss firm providing vaulting and transport services for bullion and other valuables, threw in the towel and instructed U.S. customers they will need to go elsewhere:
"We are currently experiencing rapid and substantial changes in the general regulations within this business. The changes mainly relate to the tax structures and taxation systems of various countries. As a consequence of these changes VIA MAT INTERNATIONAL has taken the decision to stop offering this service at its vault [sic] outside of the U.S. to private customers with potential U.S.-tax liability."
The move mirrors action taken by Wegelin, the oldest bank in Switzerland, back in 2011. The bank stopped accepting business from the U.S., rather than buckle under pressure from U.S. regulators and hand over confidential account information.
To be clear, the regulations impacting ViaMat and other firms are focused on U.S. citizens with assets overseas. Investors storing precious metals inside the U.S. are not subject to any new rules — at least for now.
Potential Market-Moving News This Week
The investment calendar this week features reports on housing, manufacturing, and consumer sentiment.
Here are some items that may impact the metals markets:
Tuesday, Feb. 26th & Wednesday Feb. 27th — Ben Bernanke Speaks. Investors will be treated to a double-shot of Fed speak. The stock markets remain near five year highs, so Bernanke may find the leeway to posture in favor of reducing the stimulus.
Thursday, Feb. 28th — GDP. We will get an updated estimate of GDP for the fourth quarter 2012. The most recent estimate surprised to the downside.
Friday, March 1st — Consumer Sentiment. Sentiment rose slightly in mid-February, though we remain below the recent high levels reached in October and November
---