Is a Gold/Silver Short Squeeze Brewing? Or a Collapse?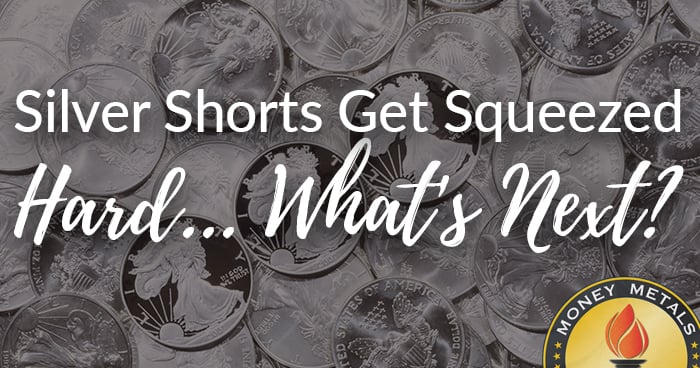 Gold and silver prices are in their 3rd week of suffering even as demand in the market for physical bullion is strengthening. Speculators may be shunning paper gold and silver, but investors concerned about inflation and leery of traditional securities, including stocks and bonds, feel very differently about tangible bullion.
Speculators and hedge funds are betting heavily on lower prices, and their short positions, as detailed on the Commitment of Traders report, are piling up. Gold and silver futures rallied early last week, and promptly fell down; another bearish signal for trader types and chart watchers. Meanwhile, the large commercial banks are happily taking the other side of the trade – dramatically reducing short interest and positioning themselves for a move higher.
If history is any guide, we can expect another demonstration on why it is unhealthy to trade against the big commercials when the respective positions reach these extremes. The current set-up portends good news for precious metals bulls. Lower prices are possible, but are unlikely to be sustained.
U.S. Mint Reports Record Sales through February
Sales of the American Eagle coins, in both gold and silver, set an all-time record for the combined months of January and February. The U.S. Mint's report on bullion Eagles, the most popular bullion coins in the world, is one of the best barometers of retail buying activity publicly available. Year to date, nearly 10,866,000 silver Eagles have sold; up from 7,597,000 ounces through the same period last year and 9,662,000 in 2011.
You might recall that the U.S. Mint stopped accepting silver orders for two weeks in January. The interruption, and the short-term spike in premiums, apparently didn't dampen investor's appetite.
For gold Eagles, the Mint booked sales through February of 230,500 ounces. Compare that to sales of 148,000 ounces sold between Jan. - Feb. 2012 and 226,000 ounces during the same two-month period in 2011.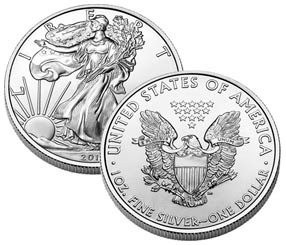 And demand isn't limited to the retail sector. Institutional buying, including from central banks, also shows strength. On February 23rd, Reuters reported an increase in the gold stockpiles of both Russia and Turkey -- for the second straight month. Joni Teves, an analyst with UBS in London, called Chinese demand for gold "impressive" in a February 25th report. It is also worth noting that many experts believe the Chinese central bank is actually buying much more than it reports, as officials there try to quietly diversify away from the U.S. dollar and dollar-denominated debt.
Inventories of Pre-1965 Silver Coins All But Gone
Stocks dwindled and premiums rose once again last week for 90% silver coins ("junk silver") minted prior to 1965. Half dollars are the toughest to come by, with dealers, including Money Metals Exchange, mostly sold out completely and unable to accept an order of any size. Money Metals expects to sell out of "junk silver" dimes and quarters very soon, unless something shakes loose.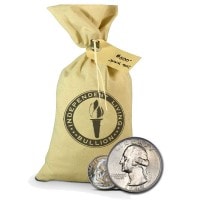 Lower silver prices exacerbate the problem. With the silver spot price back below $30/oz, investors who own the 90% coins aren't eager to part with their holdings, making supply of this secondary market product scarce. Money Metalshas boosted buy premiums for these coins dramatically, but incoming stocks remain far short of demand. Some combination of higher silver prices and/or even higher premiums are needed to draw supplies back into the market.
Note: although we are working on a good sized buy-back of 90% silver bags, which should give us a little breathing room. However, that the potential seller is requiring a substantial premium above melt value (and rightfully so given the tightness in supply) to part with his stash. So even if we are able to complete the transaction, don't expect premiums to come down from the current already elevated levels.
Money Metals has been reporting on the scarcity of these coins for some time. We suggest buyers who aren't specifically looking for 90% coins seriously consider buying rounds or the popular one-ounce bullion coins, such as the American Eagle or Canadian Maple Leaf. Premiums have not risen appreciably, bid/ask spreads are low, and we can ship promptly.
Potential Market-Moving News This Week
Manufacturing and employment data will dominate the week's calendar.
Wednesday, March 6th — Factory Orders. Recent data on the manufacturing sector has been mixed. The dollar continues to strengthen relative to other major currencies and this could weigh on manufacturing if sustained. It makes U.S. manufactured products more expensive for buyers overseas.
Wednesday, March 6th — Beige Book. On Thursday, the Fed will release its standard report on general economic conditions, referred to as the "Beige Book." Fed board members review this report during FOMC meetings and make decisions regarding monetary policy. Ben Bernanke's comments last week hint that the Fed considers the economic "recovery" fragile. We expect the Beige Book to reflect that.
Thursday, March 7th — Jobless Claims. The report on numbers of people filing for unemployment claims was slightly better than expected last week.
---