Stocks Soar on Fed "Reflation" -- Will Metals Prices Follow?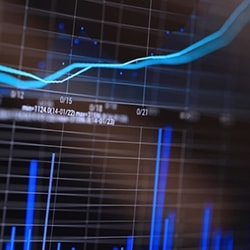 Precious metals enter the week on slightly stronger footing. This despite ongoing strength in the U.S. dollar, which continues gaining relative to other major world currencies – particularly the Yen. The dollar is the short-term beneficiary of a concerted effort to weaken the Japanese currency.
We've been watching the competitive devaluation game around the world since the 2008 financial crisis, as central banks try to boost exports, create prosperity, and mitigate untenable debts using the magic of money creation. Japan is out front for now, but leaders elsewhere are already jostling to take the next turn.
Stock Market Throws a Party with Federal Reserve Cash
The Dow Jones Industrial Average continues its run – making an all-time nominal high last week. The performance is the result of massive currency debasement. General economic conditions certainly aren't driving the move upward. Consider the following list of statistics compiled by ZeroHedge – comparing economic conditions in October 2007, the last time the Dow traded at a record high, with conditions today:
Dow Jones Industrial Average: Then 14164.5; Now 14164.5
Regular Gas Price: Then $2.75; Now $3.73
GDP Growth (according to overstated government numbers): Then +2.5%; Now +1.6%
Americans Unemployed (in Labor Force): Then 6.7 million; Now 13.2 million
Americans On Food Stamps: Then 26.9 million; Now 47.69 million
Size of Fed's Balance Sheet: Then $0.89 trillion; Now $3.01 trillion
U.S. Debt as a Percentage of GDP: Then ~38%; Now 74.2%
U.S. Budget Deficit: Then $97 billion; Now $975.6 billion
Total U.S. Debt Outstanding: Then $9.008 trillion; Now $16.43 trillion
U.S. Household Debt: Then $13.5 trillion; Now $12.87 trillion
Labor Force Participation Rate: Then 65.8%; Now 63.6%
Consumer Confidence: Then 99.5; Now 69.6
S&P Rating of the U.S.: Then AAA; Now AA+
10-Year Treasury Yield: Then 4.64%; Now 1.89%
USD to Japanese Yen: Then 117; Now 93
Euro to USD: Then 1.4145; Now 1.3050
Gold: Then $748; Now $1583
NYSE Avg Volume (per day): Then 1.3 billion shares; Now 545 million shares
Money Metals Exchange sees higher stock prices as no surprise. However, Federal Reserve Chairman Ben Bernanke loves to point at the stock indices as a sign of recovery and take credit for how well the stimulus is working. We beg to differ.
The statistics above also highlight the value of holding gold and silver. Stocks may have regained their 2007 nominal highs, but gold (and silver) prices have more than doubled over the same period.
Sentiment Takes Its Toll on the Metals ETFs
Money Metals reported last week on speculators and hedge funds selling in the gold and silver futures markets. The "hot" money is either going short or heading for other playgrounds as prices continue to wallow in a consolidation that has lasted nearly two years. This dynamic isn't limited to futures. Precious metals Exchange Traded Funds (ETFs) – paper proxies for bullion traded on stock exchanges – are also being sold, putting some downward pressure on spot prices.
ETFs have sold a record 140 tons of gold since Jan. 1st, according to Toronto's newspaper The Globe and Mail. Perhaps a selling climax is what it is going to take for metals to bottom out and for prices to start the next leg higher. Capitulation often precedes a rally. And, given the extreme positions being taken on the COMEX and in ETFs, we may be at or very close to a nadir.
The Treasury and the Fed will release data this week. We will get some insight on the amount of Treasury debt to be auctioned in order to cover the deficit as well as data on the money supply and the Fed's balance sheet. Reports on price inflation at both the consumer and producer level also come out this week.
Tuesday, March 12th — Treasury Budget. The Treasury Budget report could be interesting, as it will reveal something about the actual net impact of the much ballyhooed "sequester" on projected deficits.
Wednesday, March13th — Retail Sales. Retail trade represents more than two-thirds of economic activity in the U.S. The most recent data for February disappointed -- consumers are dealing with higher gas prices and higher taxes.
Thursday, March 14th — Producer Price Index. Producer prices edged up in January after 4 months of declines.
Friday, March 15th — Consumer Price Index. The January CPI showed inflation running below 2%. We can expect that to rise with higher gasoline prices. Investors should understand that both the Producer Price Index and Consumer Price Index are perpetually modified and managed to provide the illusion of lower inflation. Moreover, the Bureau of Labor Statistics likes to promote a "core" number that excludes food and energy prices.
---