WSJ Argues Fed Will Slow Down Money Printing - For Real?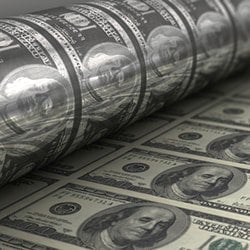 Metals investors may once again find themselves at the mercy of Fed rhetoric this week. An article by the Wall Street Journal's Jon Hilsenrath, published after the market's close on Friday, outlines plans for the Federal Reserve to exit Quantitative Easing. If the markets take that seriously, we could see selling just about everywhere; stocks, bonds, commodities and precious metals.
Of course, if we do see significant selling in stocks and bonds, the Fed would likely switch posture once again and reaffirm their commitment to the stimulus program!
Weaning the markets from money printing is a nice idea, but the Wall Street Journalarticle was light on the details regarding how they expect the Fed to pull that off. The Fed is buying approximately 90% of new Treasury issuance. That implies the government doesn't have a long queue of investors clamoring to step in and fund its debt.
Don't Let Fear of Gold Confiscation Lead to Decisions You Will Regret
Precious metals buyers almost universally have a healthy suspicion of government. Most likely because they have taken more lessons from history than your average citizen.
Most Money Metals Exchange customers know Franklin Roosevelt outlawed ownership of gold bullion in 1933 and ordered owners to turn it in. It remained illegal to own gold until 1975. These facts long ago disappeared down the Orwellian memory hole for most people.
The threat of another gold (or silver) confiscation makes some of our customers nervous. There is certainly no indication that today's leaders have any finer moral character or respect for property rights than Roosevelt and his accomplices did. That said, we don't think this potential threat should cloud good judgment. No investor should avoid building a position in physical bullion and instead buy "rare" coins with the assumption they will be immune from confiscation.
First off, metals investors should know that the dynamic behind Roosevelt's decision to confiscate no longer exists today. In 1933, the dollar was backed by gold. Roosevelt wanted to print more dollars to help pay for expanding government programs, so he needed more gold reserves. These days, bureaucrats dream up and launch expansive programs totally unencumbered by the need for even a single ounce of gold.
If government officials ever do come looking for gold, it would most likely be part of a currency reform, meaning they destroyed the fiat dollar and have to re-constitute a new metals-backed currency citizens will trust.
The dealers selling "rare" coins love to talk about the possibility of another gold confiscation. They point to an exemption in Roosevelt's executive order for coins of a rare and collectible nature and claim that their products would be "confiscation-proof."
It's easy to get customers to overlook 40% (or higher) mark-ups for supposedly rare or numismatic coins if you can distract them with the fear of confiscation. But paying huge premiums to buy pre-1933 or "proof" coins virtually guarantees confiscation of some 40% of your investment in the form of higher transactions costs that is unlikely to be recovered upon sale. Putting aside the high transaction costs, there are many other problems, such as liquidity and the subjectivity of valuation.
Inventories and Premiums Getting Back into Shape
Premiums for popular items such as silver American Eagles, Canadian Silver Maple Leafs, and 90% silver U.S. coins fell again last week. Lead times for delivery came down slightly. Premiums remain well above those prior to last month's price correction, but for the moment at least, demand has stabilized at a level that mints and refiners should be able to keep up with.
Virtually all popular bullion products are available for ordering, provided buyers can live with 1-3 week delays on shipping. The exception is the 1/10th gold American Eagle. The U.S. Mint stopped accepting new orders nearly three weeks ago, and there is no word on when it expects to resume sales of these coins.
For customers seeking gold bullion items in stock for fast shipment and lower premiums, we recommend gold Kangaroos from Australia's Perth Mint or 1 oz gold bars. The best value in silver bullion coins right now are 1-ounce Philharmonics from the Austrian Mint.
Potential Market-Moving News This Week
Investors will get a look at the latest Bureau of Labor Statistics inflation numbers this week. Unless the BLS has begun including stock prices in their calculations, official price inflation should remain below the Fed's own published targets of 1-1/2 – 2%. There will also be reports on housing and consumer sentiment.
Monday, May13th – Retail Sales. Retail sales disappointed in March, but may show some recovery for April.
Wednesday, May 15th – Producer Price Index. Commodities prices are down a bit for the year, though crude oil remains near $100/barrel. Higher than expected PPI numbers would help put inflation concerns back in focus.
Thursday, May 16th – Consumer Price Index. Ditto for this week's CPI; expect price inflation as it's calculated officially to be well under control.
Friday, May 17th – Consumer Sentiment. Sentiment has been slipping in recent months. Despite assurances that the U.S. economy is recovering and higher stock prices, we remain at generational lows when it comes to the rate of employment; the percentage of eligible adults who actually have a job.
---