Insider Report: Equities Rise as Retail Gold/Silver Prices Drop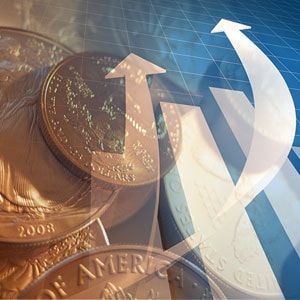 The gold and silver futures markets are entering another week challenged by poor sentiment among traders. For the moment, this crowd is all too happy to sell the metals. They appear eager to buy stocks instead.
Equity markets continue a seemingly inexorable march higher; the S&P 500 sets a new all-time record on an almost daily basis. At least some of the capital fueling the rise is coming from large institutional shareholders of the gold and silver ETFs. Those funds report large outflows as big-time money managers chase the double digit gains being posted in equities instead.
Also dragging down gold and silver prices is the perception of a strengthening U.S. dollar. The greenback is the beneficiary of recent efforts by European and Japanese central bankers to devalue their currencies.
The dollar is also getting a boost from posturing by our own Federal Reserve about the withdrawal of QE and low reported price inflation. Fortunately for metals investors, there is a limit on how much dollar strength Federal Reserve Chairman Ben Bernanke and his crew will tolerate.
Patience Proving to Be a Virtue for Bullion Investors
The April price drops in the gold and silver futures markets stirred a rush in demand for physical metal that wiped out inventories virtually overnight. Now, with the rush largely behind us, mints and refiners are catching up. Premiums and delivery delays shrank again for a second week. Money Metals Exchange can now ship most silver products with shorter lead times of one week or less. The same is true for most gold products.
Premiums remain higher than the levels of five weeks ago on government issue bullion coins, but have fallen well below their recent peak. Silver American Eagles, silver Maple Leafs, and pre-1965 90% silver coins – products which saw the heftiest premium increases in the second half of April – show the steepest declines, although they are still elevated.
The bullion buyers who acted within the first day or two after prices fell dramatically in mid April got in before premiums rose. Now, it looks like buyers who have been patient will also be rewarded.
Spot prices remain near their April lows and many products, including 1-oz silver rounds, 10 and 100 oz silver bars, along with gold 1-oz bars and gold Kangaroos are available with premiums at or very near the pre-selloff levels. Buyers of these products will realize the full savings associated with today's lower spot prices.
This is good news for dealers and customers alike. From time to time, the relatively small gold and silver bullion markets will be hit by a surprise surge in demand. Such events make doing business a bit more difficult, so we are glad the worst of the supply constraints are behind us for now.
Customers prefer fast delivery and low premiums. And we prefer happy customers!
Potential Market-Moving News This Week
Wednesday, May 22nd – FOMC Minutes. The announcement following the Federal Open Market Committee meeting three weeks ago didn't offer much of significant note for investors. This week the full minutes of the meeting will be released.
Thursday, May 23rd – New Home Sales. Housing is a bright spot in the U.S. economy. It and the equity markets are currently the biggest beneficiaries of inflationary policies. Markets supported almost entirely on extraordinarily low interest rates, money creation, and government loan guarantees – what could go wrong?!
Friday, May 24th – Durable Goods. Durable goods orders fell 5.8 percent in March – a surprise miss versus expectations.
---